Fact Check: Is Joe Biden's HHS Implementing Mask Mandates Again?
The use of masks to mitigate the spread of COVID-19 has lingered as a talking point, particularly among conservative politicians, even as case numbers and severity of the virus have fallen from the peak of the pandemic.
Many leading Republicans have been critical of the preventative measure, including (among others) Florida Governor Ron DeSantis, who earlier this year chastised a group of students wearing masks at a public conference, and Texas Senator Ted Cruz who has criticized mask mandates.
The debate was reignited again this week when a report by the U.S. Department of Health & Humanities (HHS) sparked rumors that the Biden Administration was trying to once again enforce mask use across the country.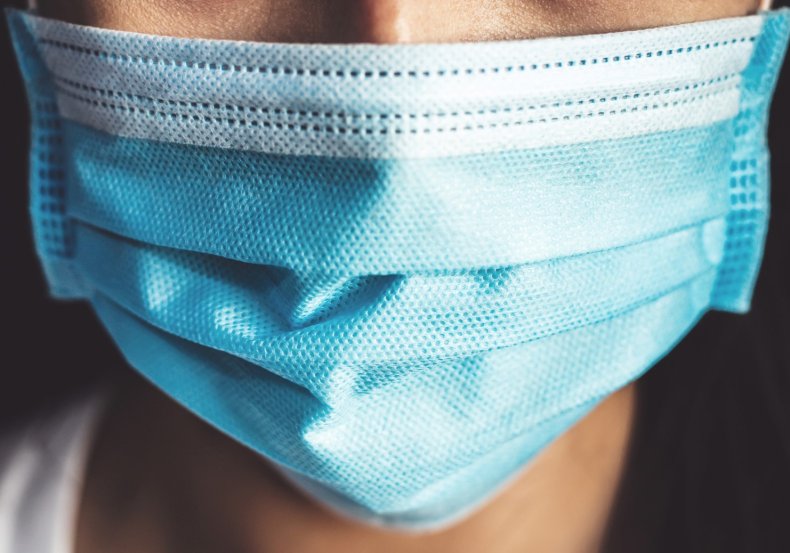 The Claim
A tweet, posted on November 22, 2022, by Senator Marsha Blackburn (R-TN), which has received more than 46,000 engagements, claims that the Biden White House is "trying to implement mask mandates again."
"Retweet if you're not putting up with this nonsense anymore!" she added.
The Facts
The HHS report, released on November 21, 2022, makes a series of recommendations about COVID-19 preventative measures specifically targeted at preventing Long COVID and protecting those with the illness.
According to the HHS, Long COVID, a term used to describe COVID-associated chronic illness, is said to affect between 7.7 million to 23 million Americans, which it expects "will only continue to grow as COVID-19 continues to circulate."
Per HHS, researchers say they have cataloged "more than 50 conditions linked to Long COVID that impact nearly every organ system," with evidence suggesting "that between 5 percent and 30 percent of those who had COVID-19 may have Long COVID symptoms."
The report follows an April 2022 memorandum by the Biden Administration—"Addressing the Long-Term Effects of COVID-19"—that directed the HHS to "coordinate a government wide-response".
Commenting on the report, Adm Rachel Levine, M.D., Assistant Secretary for Health, said: "Listening to and learning from the experiences of Long COVID patients is essential to accelerating understanding and breakthroughs. The Health+ Long COVID Report is evidence of our commitment to engaging communities to provide patient-led solutions."
Commissioned by HHS and produced by Coforma, "an independent third-party design and research agency", it is said to combine more than 1,000 hours of interviews, workshops, and research with the American public.
The report states: "This report, a result of this process, includes an exploration of how and why the impact of Long COVID on individual lives varies from person to person, the reasons for which have the potential to increase health disparities between peoples and communities."
Addressing the effects of Long COVID, it suggests an "opportunity" to "establish public policies that protect everyone from Long COVID," which includes the encouragement "or mandate policies and protocols regarding masking and social distancing in public spaces that protect people from infection or reinfection and possible Long COVID."
However, this does not automatically mean that the Biden White House will enforce such mandates, and there is nothing in the document that states the White House's commitment to the report's findings.
The Public Health Service Act grants HHS the legal authority for responding to public health emergencies and "authorizes the HHS Secretary to lead all Federal public health and medical response to public health emergencies."
The organization encompasses 12 operating divisions of "health and human services that conduct life-saving research for the nation, protecting and serving all Americans."
Nonetheless, there is nothing to indicate that this provides the authority to immediately introduce or demand the enforcement of the recommendations in its report.
"We've been clear that decisions about requiring masks in communities are decisions that should be made by local leaders. That continues to be our position," the HHS told Newsweek in a background comment.
"The Long COVID report was commissioned by HHS and conducted and produced by an independent, third-party design and research agency.
"All recommendations in it are from research participants (Long COVID patients, their caregivers, health care providers, advocates, and other subject-matter experts.)
"These insights are valuable as we push forward on advancing our understanding of Long COVID and its impacts."
While the White House has enforced mask mandates before, its use has been limited in scope.
In January 2021, President Joe Biden signed an executive order mandating mask-wearing among federal agencies and properties, as part of a "100 Day Masking Challenge", based on recommendations by the U.S. Centers for Disease Control and Prevention (CDC).
Most mask mandates were enforced at the state level; many states began lifting these restrictions in early 2021.
However, even if the White House wished to mandate the use of masks in the future, its past record of enforcing such action has not been wholly successful.
In April 2022, a Florida judge, Kathryn Kimball Mizelle, ruled that a federal transportation mask mandate was unlawful and "exceeded" the CDC'S authority.
Following the news, airlines began to make the wearing of masks optional.
Newsweek has contacted the White House and Senator Marsha Blackburn for comment.
The Ruling
Unverified.
A report by the HHS states a series of recommendations that could include encouragement or mandating of mask-wearing as a response to Long COVID.
It is among a series of recommendations that, at least as of November 23, have not been taken up or implemented.
Although the HHS holds sway over public health guidance, the report does not say whether its recommendations will be federally enforced.
President Joe Biden and the White House have not publicly stated that they plan to introduce mask mandates off the back of the report.
FACT CHECK BY Newsweek's Fact Check Team