Fact Check: Marjorie Taylor Greene Says 95% of BLM/Antifa Charges Dropped
Rep. Marjorie Taylor Greene (R-GA) recently spoke out in support of the family of Matthew Perna, a January 6 protestor who died by suicide following a guilty plea for their role in the Capitol riot.
Perna, 37, died at his home last week; his family claimed that the delay of hearings and other postponements within the justice system had "killed his spirit."
Greene, who has appeared with Perna's family, subsequently attempted to draw a comparison between the response to those who were charged after January 6 with protests that followed George Floyd's murder in 2020.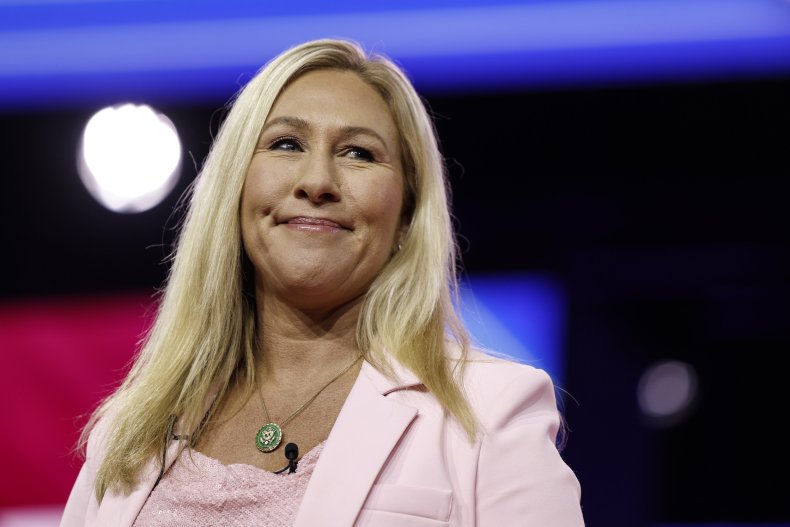 The Claim
A tweet posted by Marjorie Taylor Greene, on March 12, 2023, which has been viewed 1.1 million times, claimed that "over 95% of Antifa and BLM rioters charges were dropped".
Greene tweeted: "Matthew Perna committed suicide because of the extreme persecution he was undergoing by our own government.
"All he did was walk through open doors.
"But over 95% of Antifa and BLM rioters charges were dropped.
"I will not vote to fund a two-tiered justice system."
The Facts
Greene's latest claim attempts to create a parallel between the number of protestors arrested and charged in one day on January 6 versus the many protestors that took part in rioting and action across the U.S. in 2020 and beyond.
There is some truth to what Greene says here; since rioting took place in 2020, following the death of George Floyd, a large number of charges against protestors have been dropped.
While not 95 percent in every region across the U.S., prosecutors in a number of large cities such as Dallas and Philadelphia were reported to have dropped this proportion, according to an analysis of law enforcement records by The Guardian.
On a specific point, we can't say with certainty whether all of those people who were arrested were associated directly with Antifa or BLM causes or followings; police do not typically collect such data on arrests of individuals.
That said, whether the numbers of those whose charges were dropped came to 95 percent or slightly lower, the spirit of what Greene is saying here is broadly correct, i.e. that the overwhelming majority of those charged at these protests have been dropped.
While it is inaccurate to imply that it was "over 95 percent" across the U.S., there is sufficient evidence to support her argument in broad terms.
In the case of the George Floyd protests, many of the arrests were for minor offenses that prosecutors decided not to pursue; elsewhere, they believed there was insufficient evidence to prosecute.
A representative for the Georgian Republican who spoke to Newsweek provided the analysis by The Guardian.
Almost all charges cited were dropped for low-level misdemeanors, The Guardian reported, such as breaking curfew. Other charges lacked evidence, such as body-cam footage.
A 2020 article by The New York Times reported that factors like the coronavirus pandemic, the scale of attempting to charge thousands of minor offenses through the courts, and the likelihood of these charges succeeding, influenced decision-making.
Moreover, the Times reported that "prosecutors declined to pursue many of the cases because they concluded that the protesters were exercising their basic civil rights" and such cases "rarely succeed in court."
The publication also reported that mass arrests are often used by police merely to clear streets rather than tackle crime, and that the chaotic nature of the protests put additional pressure on officers, whose notetaking—often essential for charges—was inadequate.
Documentary evidence of criminal activity may have been easier to come by for prosecutors looking into January 6.
The protests and disorder in 2020 were sprawling and scattered, sometimes spread across relatively large urban areas and at night; by comparison, the January 6 riot took place in one central location during the day, its events closely recorded by legacy media, social media, police, security, and other footage.
Of the roughly 120,000 people who are thought to have arrived at the Mall on January 6, around 940 people have been charged for federal offenses related to the protest, according to a tally by George Washington University's Program on Extremism.
This means that of all those who attended the event less than one percent have been charged with any federal crime so far.
The Ruling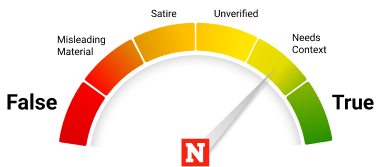 Needs Context.
Marjorie Taylor Greene is, broadly speaking, correct in saying that an overwhelming majority—even if not 95 percent across the U.S.—of protestors arrested at demonstrations following George Floyd's death had charges dropped.
This was often due to prosecutors deciding there was a lack of evidence or that the offenses, such as curfew breaking, were too minor to pursue; some arrests were made primarily to disperse crowds; and a low likelihood of some charges succeeding in court.
By comparison, January 6 investigations were aided by troves of documentary evidence because the incident was so well covered by many cameras across a relatively small area.
FACT CHECK BY Newsweek's Fact Check team