Fact Check: Does a Photo Show Rand Paul Getting a COVID Vaccine?
A photo of Senator Rand Paul (R-KY) receiving an injection has been spread on social media as his stances on vaccinations have been questioned.
The Claim
As Sen. Paul's positions on vaccines and restrictions amid the pandemic have faced scrutiny in some corners, Twitter users have shared a photo showing him receiving an injection and suggested it is him being vaccinated against COVID-19.
The Facts
Paul said in May that he will not get vaccinated as he has already had COVID-19. He also authored a column for the Courier Journal in which he pushed against the suggestion that people who have already been infected should receive the vaccine.
In a video posted to his Twitter account on Sunday, August 8, he argued against "mandates, lockdowns, and harmful policies of the petty tyrants and bureaucrats."
In this, he spoke of people making their "own health choices" and spoke of him and his staff having "either had COVID, had the vaccine, or been offered the vaccine."
The Centers for Disease Control and Prevention (CDC), which Paul criticizes in his video, continues to recommend people still get the vaccine even if they have previously been infected with COVID. An answer on an FAQ page on the CDC site states: "Yes, you should be vaccinated regardless of whether you already had COVID-19. That's because experts do not yet know how long you are protected from getting sick again after recovering from COVID-19."
Several Twitter users responded to posts of Paul's video on the platform with a photo of the senator with his sleeve rolled up receiving a vaccine—suggesting this was an inoculation from COVID-19.
However, while the photo is real and shows Paul receiving an injection, it was taken long before the COVID-19 pandemic.
In the photo, neither he or the person performing the injection is wearing a mask—an indication that the photo is not taken during COVID times.
The photo is from February 2015 and was taken by The New York Times reporter Jeremy W. Peters.
It shows Paul receiving a hepatitis A booster shot in the Capitol physician's office. At the time, Paul also shared a photo of himself receiving the booster.
Paul invited The New York Times to see him get the booster, after facing criticism over comments he made during a measles outbreak, a report from the time states.
Paul had said parents should be allowed to decide if their children are vaccinated or not, stating that he had heard stories from parents who said their children had suffered mental disorders having been vaccinated.
The New York Times quoted him as saying: "It just annoys me that I'm being characterized as someone who's against vaccines. That's not what I said. I said I've heard of people who've had vaccines, and they see a temporal association and they believe that."
Charles Booker, who is running a campaign against Paul in Kentucky ahead of 2022, shared the image of Paul though noted it was old.
"This is an old picture folks. Just calling out the hypocrisy," Booker said. "Listen to the proven medical experts. Not guys like this."
The discussion comes with many in the U.S. still skeptical over receiving COVID vaccines, with around a fifth still insisting they will not.
Recent polling showed three main reasons behind people not getting the COVID vaccine. These were wanting to wait for full Food and Drug Administration (FDA) approval, not trusting vaccines generally, and already having had coronavirus.
The Ruling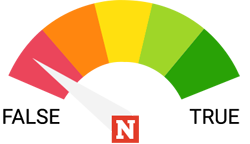 False.
FACT CHECK BY NEWSWEEK
The photo being circulated of Ran Paul receiving a vaccine is from 2015, long before the COVID-19 pandemic began.
The photo shows Paul receiving a hepatitis A booster shot at the Capitol in February 2015, not receiving a COVID vaccine—which he has said he will not get.
Newsweek has contacted Paul's office for comment.