Fact Check: Is Putin First 'Direct' Nuke Threat Since Cuban Missile Crisis?
Russian President Vladimir Putin has made numerous allusions to his country's willingness to employ nuclear weapons in its ongoing war with Ukraine if Western countries aligned with NATO—including the United States—were to enter the war.
In a nationally televised address last month, Putin said Russia—in the interest of self-defense—would "make use of all weapon systems available to us," up to and including nuclear weapons.
"The citizens of Russia can rest assured that the territorial integrity of our Motherland, our independence and freedom will be defended—I repeat—by all the systems available to us," he said. "Those who are using nuclear blackmail against us should know that the wind rose can turn around."
The world took him at his word. One week after his address, President Joe Biden's national security adviser, Jake Sullivan, said the U.S. would likely not be supportive of Ukraine's bid to join NATO, a move that would bring the country under Western military protection but almost assuredly escalate tensions with Russia.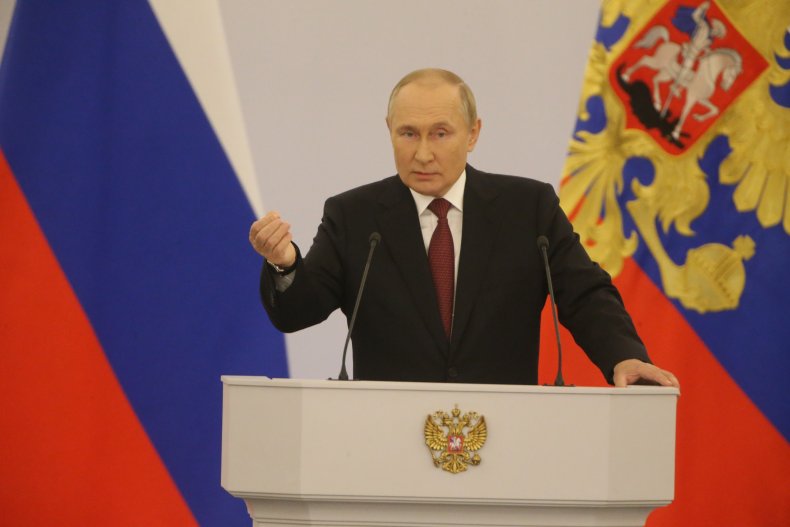 However, as Russia's prospects to win the war begin to dim—and recent suggestions by figures like Chechen leader Ramzan Kadyrov and former Russian President Dmitry Medvedev that the country consider dipping into its estimated arsenal of 2,000 low-yield nuclear warheads to offset losses—U.S. leaders including Biden have begun to entertain the possibility Russia might pursue the use of weaponry that has not been used against a human target since World War II.
But are we really as close to nuclear apocalypse as Biden and other world leaders believe?
The Claim
"For the first time since the Cuban Missile Crisis, we have a direct threat of the use [of a] nuclear weapon if in fact things continue down the path they are going," Biden told donors at the home of investor James Murdoch this week.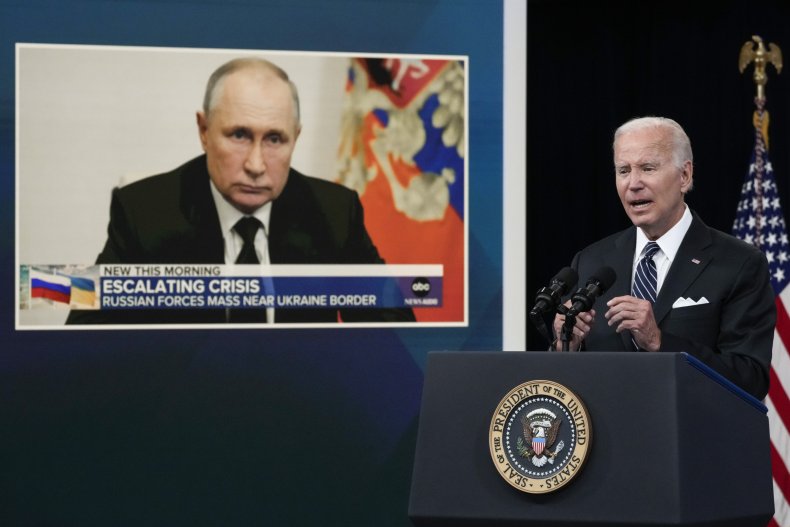 The Facts
Putin said in his address to his nation late last month that his nuclear rhetoric was "not a bluff," a claim that was described by some Western observers as mere bluster. On Friday, White House Press Secretary Karine Jean-Pierre told reporters there is no information that Russia is preparing to "imminently" use nuclear weapons.
"There is no 'general mobilization,'" Bruno Tertrais, deputy director of a French think tank, the Foundation for Strategic Research, wrote in a tweet following Putin's speech. "There is no (new or specific) 'nuclear threat.' And when one says 'it's not a bluff,' it's generally a position of weakness. So cool down everyone."
Others, however, treated the threat with more severity.
"Asking ourselves if the Kremlin is actually bluffing is a waste of time," Alexandra Vacroux, executive director of the Davis Center for Russian and Eurasian Studies at Harvard University, wrote in a Boston Globe op-ed shortly after the announcement. "The Kremlin is warning us that they are ready to violate the nuclear taboo if Russia's very existence is threatened. And they would."
What made the Cuban Missile Crisis such a salient event was its proximity—communist Cuba was then an ally of Russia, and the U.S. had reason to believe the island was being outfitted with nuclear weapons that the U.S. government deemed an imminent threat.
The Cuban Missile Crisis was also seen as the result of a series of miscommunications between Washington, D.C., and the Kremlin. To this point, Russia has primarily threatened the use of nuclear arms in Ukraine as a means to keep NATO at bay on a broader, geopolitical scale.
On Friday, a Russian government news agency said claims likening Putin's nuclear threats to the 1962 Cuban missile crisis were "nonsense," suggesting that the country's situation was actually far worse at that time.
"The Cuban Missile Crisis was a completely different beast, where you had a direct nuclear imminent nuclear standoff between the United States and the Soviet Union," Hans M. Kristensen, director of the Nuclear Information Project at the Federation of American Scientists, told Newsweek. "And it wasn't just in words. Forces were deployed and on alert and ready to go. That's not what we see now."
The weaponry is certainly there. As of 2022, Russia—according to estimates by the Federation of American Scientists—has about 5,977 nuclear warheads at its disposal, roughly 500 more than the U.S. And unlike the U.S., Russia's arsenal, like most of the world's nuclear arms-bearing countries, is growing, with about 1,600 of their missiles currently deployed in strategic locations throughout the country.
While long seen as a deterrent to conflict—similar to how they were seen in the Cold War—Putin has begun using nuclear weapons as a means of leverage to keep other countries from involvement in Ukraine as his armies continue their occupation, a notable shift from the strategies deployed by other nuclear arms-bearing nations in the past.
"This is the first time that a nuclear-armed state has used the shield of nuclear coercion to engage in a full-scale conventional war and to try to take and hold territory," Nina Tannenwald, a professor of international relations in the Political Science Department at Brown University, told Newsweek. "Russia's nuclear threats [especially initially] were not directed at Ukraine but rather a deterrent threat to NATO to stay out of the war."
Satellite images dating to 2018 show the Russian navy engaging in rearmament operations at strategic missile storage sites off the country's northwestern coast, demonstrating the country's efforts at modernizing its arsenal.
He also ordered the country's nuclear forces to be on high alert level earlier this year, as his initial plans for a "three day" special operation in Ukraine fell through.
That, in itself, poses enough risk—particularly during a time of active conflict.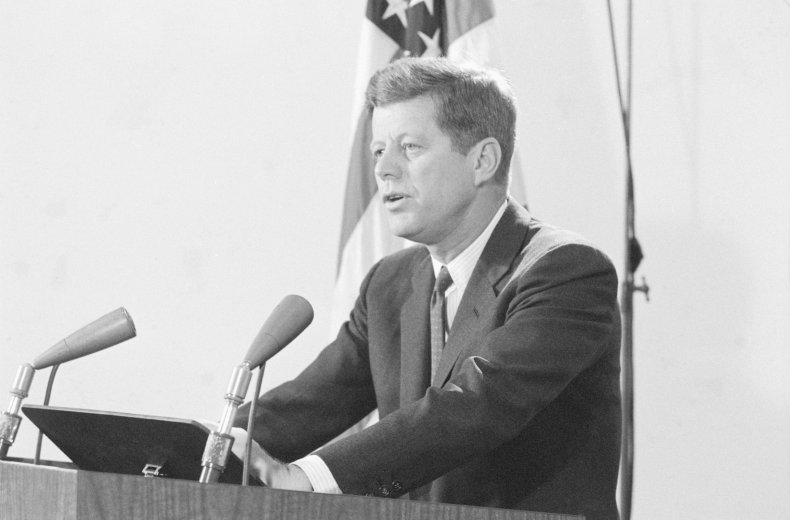 "By increasing the alert level of Russian nuclear forces, Putin increases the risk of nuclear use through miscalculation or accident in the fog of war," Tannenwald wrote for Scientific American this year.
"In the worst scenario, if the war is going badly, Putin could reach for a tactical nuclear weapon out of desperation. While this is still unlikely, the risk is not zero. And increasing that risk is unacceptable."
It's important to note Russia has threatened the use of nuclear weapons before—during its 2014 invasion of Crimea and in 2015, when it threatened Danish warships with nuclear weapons in the event the country hosted NATO's missile defense system.
The U.S. has also engaged in nuclear threats. In 2013, then-president Barack Obama flew nuclear-capable bombers over the Korean peninsula in a rare show of force amid an increase in North Korean missile tests and development. Four years later, President Donald Trump said the nation would be met with a fire and fury "the likes of which this world has never seen before" in response to North Korean nuclear threats.
Notably, other authoritarian world leaders have made more menacing and explicit threats than Putin has so far, including North Koreas leader Kim Jong Un, who as recently as last month said a recently passed law would allow the country to make "pre-emptive strikes."
And dangerous rhetoric has emanated from two other nuclear-capable nations, India and Pakistan, in 2019 and during other periods of escalation.
Arguably the very existence of nuclear weapons in the arsenals of geopolitical adversaries keeps the threat level perpetually elevated. The key, however, is the element of mutually assured destruction if Russia were to deploy nuclear weapons.
Whether the result is nuclear fallout entering their borders or sheer outrage over the use of nuclear weapons against Ukrainian citizens, NATO-aligned forces could enter the conflict, escalating the war even further.
"You don't want to, again, get into a nuclear escalation here," former CIA Director and retired four-star army General David Petraeus said of a potential conflict on ABC News last weekend. "But you have to show that this cannot be accepted in any way."
But notably, red lines have been drawn. Russia has threatened the use of nuclear weapons only in the instance of NATO's involvement. And the United States has demurred from involvement unless Russia attacks a NATO-aligned country, which it hasn't done. Russia has also notably declined to attack NATO supply lines of weapons and supplies into Ukraine, a move NATO Secretary General Jens Stoltenberg said would represent a serious escalation of the war.
"Comparing it to the Cuban Missile Crisis and what have you, that is tough language from a U.S. president at this stage," Kristensen said. "Especially because it sort of disconnects from what we have heard from the intelligence community saying that we haven't actually observed anything that indicates they're preparing to use [nuclear weapons]."
The Ruling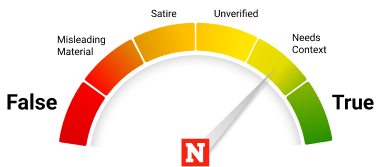 Needs Context.
Any threat of nuclear war is severe. And Russia—and Putin in particular—has a history of threatening nuclear escalation to strengthen its posture in conflict.
The ongoing war in Ukraine, the fact that it is going poorly for Russia, and the country's recent investments in nuclear arms, create plenty of cause for concern.
However, it is arguable whether this is the most severe, direct threat the country has faced since the Cuban Missile Crisis, particularly when the risk of Russia actually using their weapons is an open question.
Other clashes, between these two nations and elsewhere, have seen the world come to the brink of a nuclear escalation a number of times since the 1960s.
Update 10/7/22, 4:12 p.m. ET: This story was updated with additional information and comments.