Fact Check: Was Regeneron's COVID-19 Treatment Tested on Cells Derived From Fetal Tissue?
Regeneron's monoclonal antibody treatment was a focus of discussion following its usage by high-profile figures fighting COVID-19.
The Claim
Texas Governor Greg Abbott received the treatment, known as REGEN-COV, after testing positive for COVID-19.
His usage of REGEN-COV came under scrutiny due to how it was tested—with people linking the treatment to fetal tissue.
Kaivan Shroff, a Democratic strategist, tweeted on Wednesday, September 1: "Just days ago Texas Governor Greg Abbott took Regeneron for COVID—a drug tested on cells derived from fetal tissue. The hypocrisy never stops."
His tweet has 35,000 likes and has been retweeted more than 10,000 times at the time of writing.
Others have also made a link between fetal cells and testing of the treatment.
Former President Donald Trump also used Regeneron's treatment when he had COVID-19.
The Facts
Regeneron's monoclonal antibody treatment, REGEN-COV, is a mixture of two separate monoclonal antibodies—casirivimab and imdevimab.
These antibodies are administered to people to treat COVID-19.
The U.S. Food and Drug Administration (FDA) authorized the treatment for "emergency use as post-exposure prophylaxis (prevention) for COVID-19 in adults and pediatric individuals (12 years of age and older weighing at least 40 kg) who are at high risk for progression to severe COVID-19, including hospitalization or death."
It is not deemed a substitute for vaccination.
In the development of the Regeneron treatment, the HEK293T cell line was used in an experiment during the testing process.
These cells are a variant of HEK293 cells. HEK293 cells were originally "derived in 1973 from the kidney of an aborted human embryo of unknown parenthood," according to a 2014 article in the science journal Nature.
The cells are cloned and those used in recent times are not from the original fetal tissue, though that is where they originated.
A spokesperson for Regeneron confirmed to Newsweek one experiment in testing the treatment used the HEK293T cell line.
"Of the many experiments, one involved using the HEK293T cell line to help us select potent virus-neutralizing antibodies," they said.
"HEK293T is a 40+ year old 'immortalized' cell line that was originally derived from embryonic kidney cells in the 1970s.
"It's commercially available and very commonly used by research labs and have been involved in the development of important vaccines and therapeutics for conditions such as hemophilias A/B & Type 2 diabetes."
They added: "We did not use human stem cells or human embryonic stem cells in our COVID-19 program. Like many other science-focused organizations, we do use these tools in a responsible and limited manner for certain early research."
Regeneron spokesperson Alexandra Bowie previously told MIT Technology Review that "the 293T cell lines available today are not considered fetal tissue, and we did not otherwise use fetal tissue."
The Ruling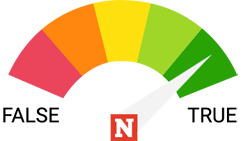 True.
FACT CHECK BY NEWSWEEK
While testing and developing the treatment did not use new or recent fetal cells, it did use a cell line derived from fetal tissue.
HEK293T cells are a variant of HEK293 cell line, which originate from an aborted fetus. These cell lines have since been cloned and are used in research to this day.