Fact Check: TRUTH Social Users Must Agree Not to 'Disparage' the Site
Former President Donald Trump's announcement of a new social media platform to be launched has been a major talking point online and come under scrutiny.
The Claim
Social media users have flagged purported aspects of the terms and conditions, including one point suggesting users agree not to "disparage" the site.
The Facts
While the platform is not yet live, Newsweek checked the terms of service currently available on the website, which states they were last updated on September 20, 2021.
A section titled "prohibited activities" states: "You may not access or use the Site for any purpose other than that for which we make the Site available. The Site may not be used in connection with any commercial endeavors except those that are specifically endorsed or approved by us."
It then goes on to stipulate a list of actions users agree not to do. In this, it lists "disparage, tarnish, or otherwise harm, in our opinion, us and/or the Site."
There is also a section addressing "excessive us of capital letters," which states users must not "upload or transmit (or attempt to upload or to transmit) viruses, Trojan horses, or other material, including excessive use of capital letters and spamming (continuous posting of repetitive text), that interferes with any party's uninterrupted use and enjoyment of the Site or modifies, impairs, disrupts, alters, or interferes with the use, features, functions, operation, or maintenance of the Site."
A national rollout of the site is expected in the first quarter of 2022, after a beta launch for "invited guests" which is set to begin in November 2021.
In a press release, Trump said: "I'm excited to soon begin sharing my thoughts on TRUTH Social and to fight back against Big Tech. Everyone asks me why doesn't someone stand up to Big Tech? Well, we will be soon!"
Trump has long been critical of existing mainstream social media platforms, having faced bans from many including Twitter and Facebook.
Commenting on TRUTH Social, Donald Trump Jr. said it will "cancel cancel culture."
"What we are trying to do is create a big tent, an open and free network for people to be able to assert your First Amendment rights," he said to Fox News' Sean Hannity.
Though the site is not set to roll out until next year, people have reported being able to sign up for accounts.
The Ruling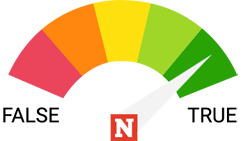 True.
FACT CHECK BY NEWSWEEK
Yes, the terms of service for TRUTH Social do state that users agree not to disparage the site.
This is one of a 24-point list of actions users agree not to do.