25 Facts About The Queen You Probably Didn't Know
Queen Elizabeth II pledged her "whole life" to public service before became a global icon during her nearly seven decades on the throne.
The monarch, 95, has met 13 U.S. presidents, advised numerous U.K. prime ministers and inspired millions.
During a famous speech on her 21st birthday in 1947, Elizabeth said: "I declare before you all that my whole life whether it be long or short shall be devoted to your service and the service of our great imperial family to which we all belong."
The intervening years contain extraordinary facts and stories about the world's longest reigning living monarch.
First Female Royal to Serve in the Military Full Time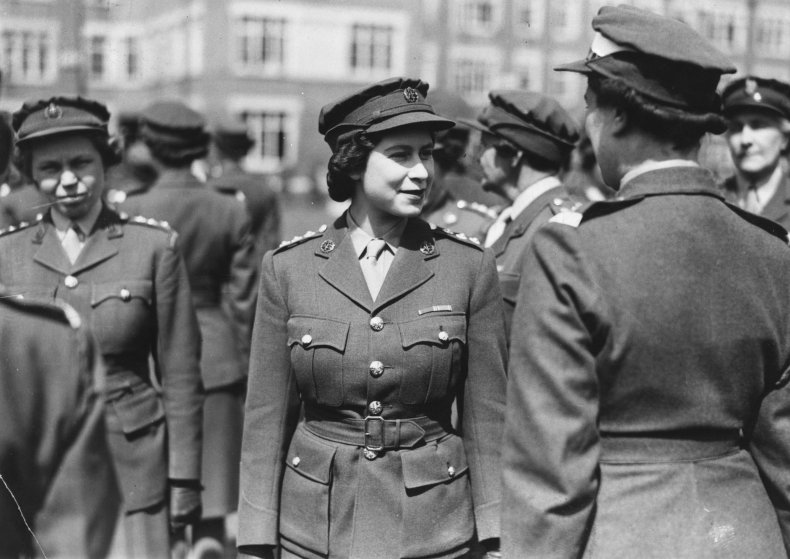 Elizabeth singed up to the Auxiliary Territorial Service (ATS) of the British Armed Forces in 1945 at the very end of World War II.
The official Royal Family website states: "The Queen's relationship with the Armed Forces began when, as Princess Elizabeth, she joined the Auxiliary Territorial Service (ATS) in 1945, becoming the first female member of the Royal Family to join the Armed Services as a full-time active member.
"During her time in the ATS, the Princess learnt to drive and to maintain vehicles."
The Queen Wore Military Uniform on the Buckingham Palace Balcony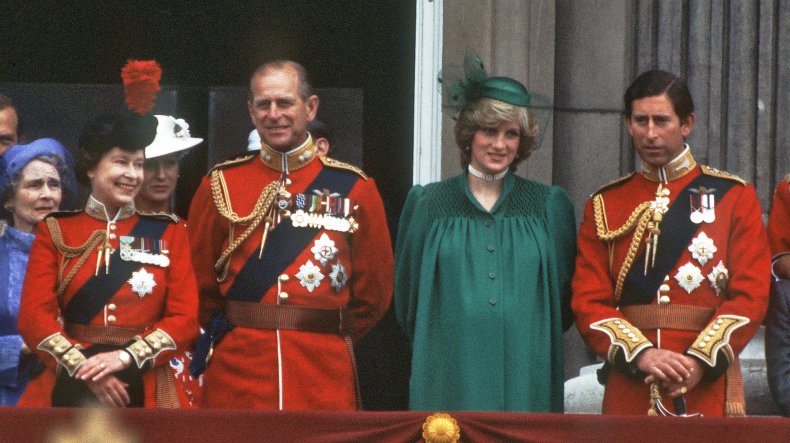 Having served in the forces, Elizabeth was not shy about wearing her uniform on the Buckingham Palace balcony alongside her male family members, complete with a number of medals.
The queen is commander-in-chief of the British Armed Forces though she has worn her uniform less in her later years.
Elizabeth Was Unreachable in Kenya When Her Father Died
Princess Elizabeth became Queen Elizabeth II after the death of her father, King George VI, on February 6, 1952.
At the time she was two months off her 26th birthday and cut of from the world on a royal tour of Kenya with husband Prince Philip.
A telegram sent from Buckingham Palace did not reach the royal couple and Elizabeth's private secretary found out through a call from a local journalist.
Prince Philip's equerry then confirmed the news by listening to the BBC World Service on the radio.
Prince Philip Broke the News to Elizabeth That She was Queen
Prince Philip told the queen about the death of her father during their stay in Kenya, according to biography Prince Philip Revealed by Ingrid Seward.
Pamela Mountbatten, the queen's lady-in-waiting, is quoted as saying: "He [Philip] put a newspaper over his face and just remained like that for about five minutes.
"The shock of what had happened and the enormity of the consequences, briefly disconnected Philip, who knew he was going to have to break the news to his wife.
"And then he pulled himself together and said he must go and find the princess—she was having a rest in her bedroom—and they went for a walk in the garden and you could tell, walking up and down, up and down, that he was telling her."
She added: "And then I gave her a hug and said how sorry I was. And then suddenly, I thought, my God, but she's queen."
The Queen Danced With Ghana's President While America Was Still Segregated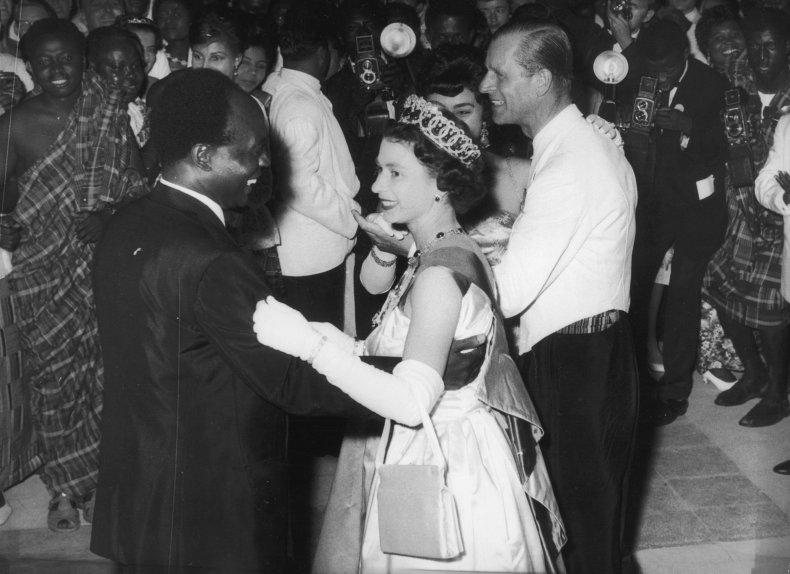 Elizabeth's proudest accomplishment during her reign is said to be the Commonwealth of Nations which redefined Britain's relationship with the countries that previously made up its empire.
In 1961, Britain and America feared Ghana was at risk of leaving the Commonwealth and falling under the influence of the Soviet Union.
So Elizabeth was called in to launch a charm offensive, visiting the country's President Kwame Nkrumah.
The royal was photographed dancing with him arm in arm at a time when there was still racial segregation in America.
Just six months earlier, a bus of civil rights protesters known as "Freedom Riders" had been firebombed by the Ku Klux Klan in Anniston, Alabama.
Queen Elizabeth II's Relatives Have to Curtsey to Her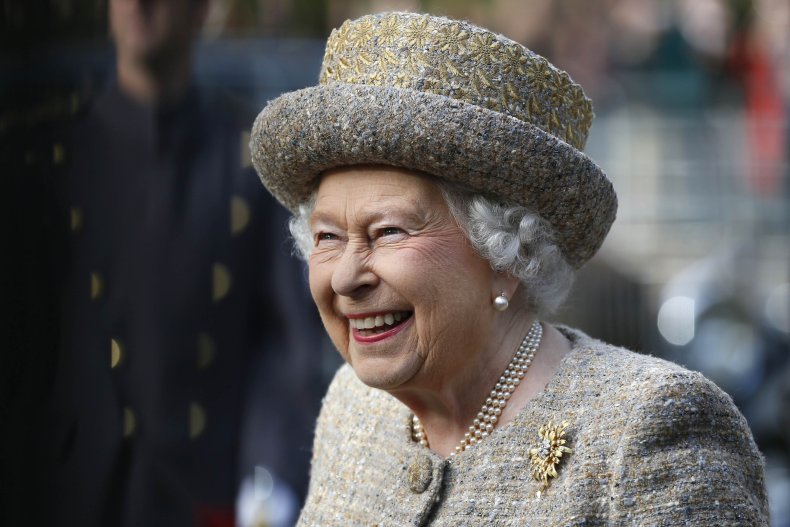 Meghan Markle described in her Oprah Winfrey interview how she was surprised to learn she had to curtsey to the monarch even when there were no cameras around.
The Duchess of Sussex said in March: "Harry and I were in the car and he says, 'OK, well my grandmother is there, you're going to meet her'.
"'OK, great'. I loved my grandmother, I used to take care of my grandmother. [He said] 'Do you know how to curtsey?' 'What?' 'Do you know how to curtsey?' I thought genuinely that's what happens outside, that was part of the fanfare. I didn't think that's what happens inside. I go, 'But it's your grandmother'. He goes, 'It's the Queen!'"
The Queen Survived Several Assassination Attempts
Elizabeth has survived several attempts on her life during her years on the throne.
Marcus Sarjeant, 17 at the time, fired blanks at the monarch while she was riding her horse during Trooping the Colour in 1981.
However, the queen, a life long lover fan of all things equestrian, managed to keep her horse under control and was unharmed.
Four months later, in October 1981, New Zealand teenager Christopher John Lewis fired on the queen with a .22 rifle during a royal visit.
However, the 17-year-old missed and Elizabeth lived to reign another day.
Quoted in The Guardian, the 1981 annual police report reads: "The discharge of a firearm during the visit of Her Majesty the Queen serves to remind us all of the potential risks to royalty, particularly during public walks."
The World's Longest Reigning Living Monarch
The queen succeeded to the throne on February 6, 1952, the day her father died, and marks 70 years in 2022.
No other living monarch has served as long, since the death of Thailand's King Bhumibol Adulyadej in 2016 after 70 years and 126 days on the throne.
The queen will have to continue until she reaches 72 years and 110 days, however, before she becomes the longest reigning monarch in history, beating Louis XIV.
Elizabeth Was Not Supposed to Be Queen
In childhood, Princess Elizabeth was not originally a direct heir to the throne and was therefore not destined from birth to be queen.
It was only when her uncle Edward VIII abdicated in order to marry American divorcee Wallis Simpson in 1936 that her father became King George VI, changing her destiny forever.
She was only ten at the time and within 15 years went from being a relatively minor royal, the equivalent of Princess Beatrice and Princess Eugenie, to being Britain's head of state.
The Queen Gave Her First Public Broadcast Aged 14
Elizabeth spoke to her nation over BBC radio during World War II in a message for evacuee children, who had been sent from their homes in big cities to stay with strangers in the countryside to escape the Blitz.
The queen and her sister, Princess Margaret, were themselves sent off to Windsor Castle during the war.
Elizabeth said: "We know, everyone of us, that in the end all will be well; for God will care for us and give us victory and peace. And when peace comes, remember it will be for us, the children of today, to make the world of tomorrow a better and happier place."
Elizabeth Is Queen in 16 Different Countries
The queen is head of state not only in the U.K. but another 15 countries including: Australia, New Zealand, Canada, Antigua and Barbuda, Barbados, The Bahamas, Belize, Grenada, Jamaica, Papua New Guinea, Saint Lucia, Solomon Islands, St Kitts and Nevis, and St Vincent and the Grenadines.
The Queen Once Found an Intruder in Her Bedroom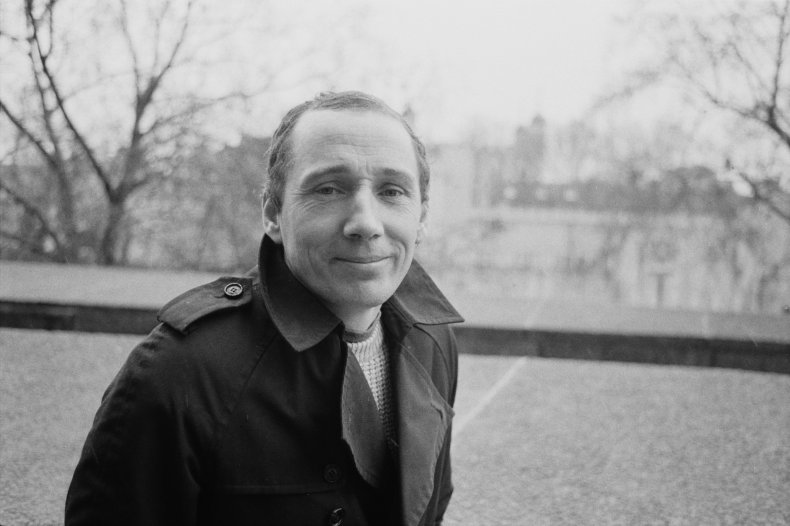 Michael Fagan startled the queen when he broke into her bedroom in 1982 after taking too many magic mushrooms some months earlier.
In 2012, he told The Independent: "I found rooms saying 'Diana's room,' 'Charles's room'; they all had names on them. But I couldn't find a door which said 'WC.' All I found were some bins with 'corgi food' written on them. I was breaking my neck to go to the toilet.
"What do I do? Pee on the carpet? So I had to pee on the corgi food. I got into Charles's room and took the wine off the shelf and drunk it. It was cheap Californian."
The episode was brought to life in season four of Netflix series The Crown.
The Queen Has Met Every U.S. President, Except One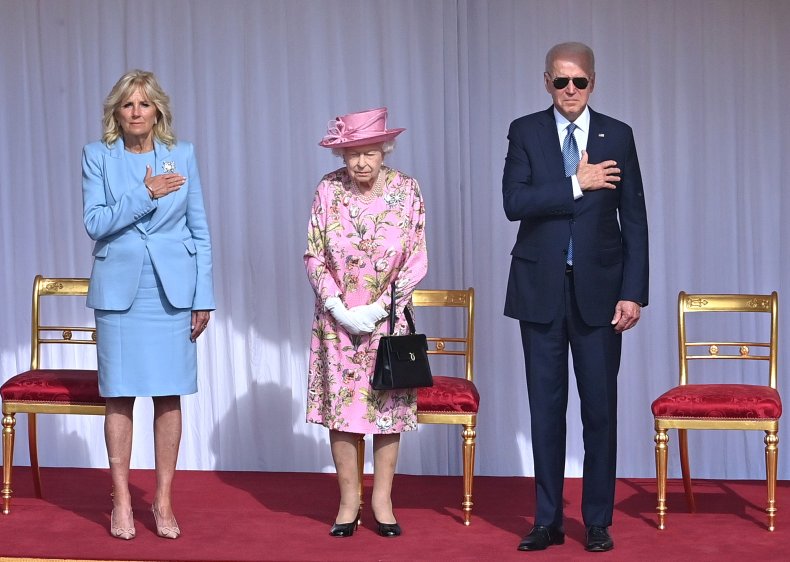 Queen Elizabeth II met her thirteenth U.S. president in June when Joe Biden visited Britain for the G7 summit.
The U.S. President told journalists at Heathrow Airport: "I don't think she'll be insulted, but she reminded me of my mother."
An etiquette expert told Newsweek he breached protocol by not taking off his sunglasses to meet the monarch.
The Queen Asked for Six Extra Days to Mourn Prince Philip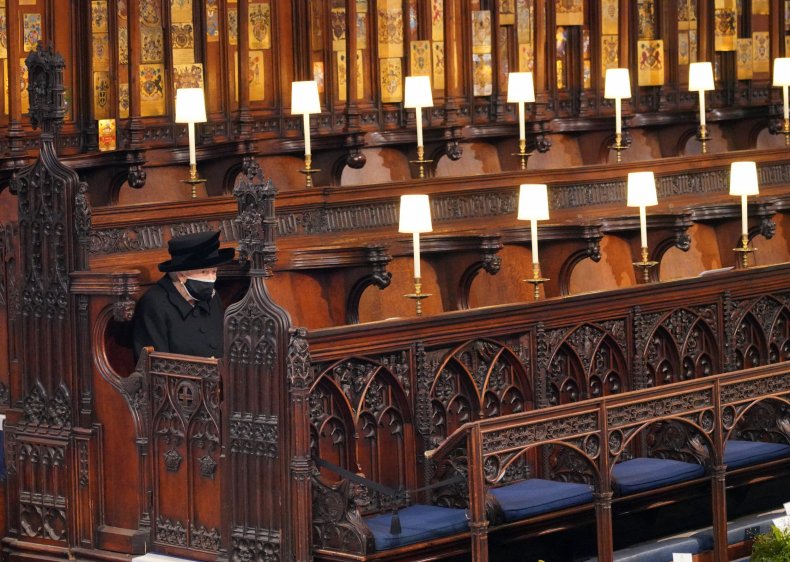 Royal tradition dictates an eight day mourning period after a royal death but the queen defied the expectations of royal experts by requesting 14 days.
An initial notice on the royal family website announced "National Mourning beginning on Friday 9 April until Saturday 17 April."
A later update read: "Additionally, it is The Queen's wish that the Royal Family will observe two weeks of Royal Mourning starting on Friday 9 April."
Elizabeth Owns Race Horses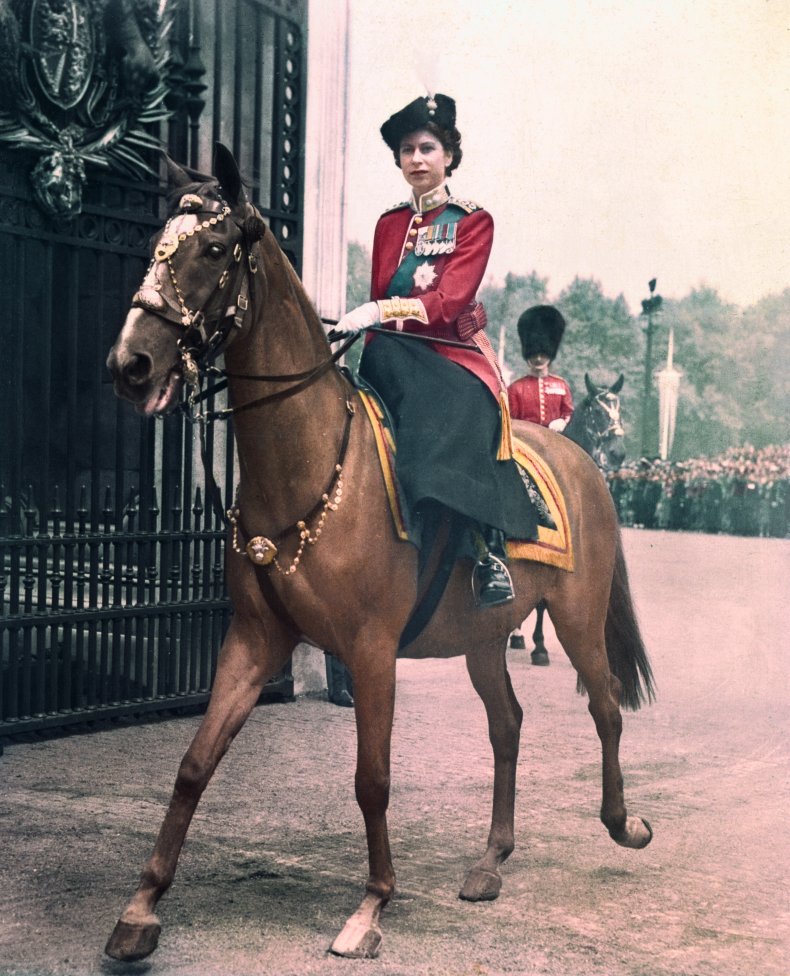 The queen is a lifelong lover of horses and owns, and has also bred, a number of successful race horses.
Her staff told Horse and Hound magazine of some of her favorites last summer, including Aureole, Doutelle and Highclere.
Her head groom Terry Pendry wrote in Horse and Hound: "These incredibly highly charged creatures, full of blood and muscle, are developed from birth with kid gloves and the sophisticated jigsaw of trying to put all the pieces together is a constant challenge that continues to intrigue The Queen.
"To deal with the constant challenges and disappointments, as all horse people will know, the greatest asset you need to have with horses is patience – which luckily The Queen has in spades."
Queen Elizabeth II Created a New Breed of Dog
Elizabeth's love of Corgis is one of the most famous facts about her but less well known is the role she played in creating a new breed of dog, the Dorgi.
One of her corgis bred with Princess Margaret's daschund Pipkin to create a cross between the two.
The Queen Cannot Legally Sell Her Most Famous Palaces
The Royal Family cannot sell occupied royal palaces like Windsor Castle, Buckingham Palace and Kensington Palace as they are not her personal property.
The royal residences, where the queen still lives, are instead held by whoever is the reigning monarch "in right of the Crown."
The distinction means the state buildings pass on to the next monarch at the point of succession.
So, if she were to abdicate then Buckingham Palace and Winsdor Castle would pass on to Prince Charles while she was still alive, unlike an inheritance which is passed on in death.
The whole of the Crown Estate has the same status, as described on its website: "The Crown Estate belongs to the reigning monarch 'in right of The Crown', that is, it is owned by the monarch for the duration of their reign, by virtue of their accession to the throne. But it is not the private property of the monarch—it cannot be sold by the monarch, nor do revenues from it belong to the monarch."
She does, however, have privately owned property including Balmoral Castle and Sandringham Estate.
Almost a Third of Britons Say They've Seen The Queen
Research done by polling agency YouGov at the time of Prince Harry and Meghan Markle's wedding in May 2018 revealed 31 percent of people in Britain said they have met or seen the queen.
A further 22 percent said the same about Prince Philip, 17 percent about Princess Anne and 16 percent about Prince Charles.
Elizabeth Has Four Children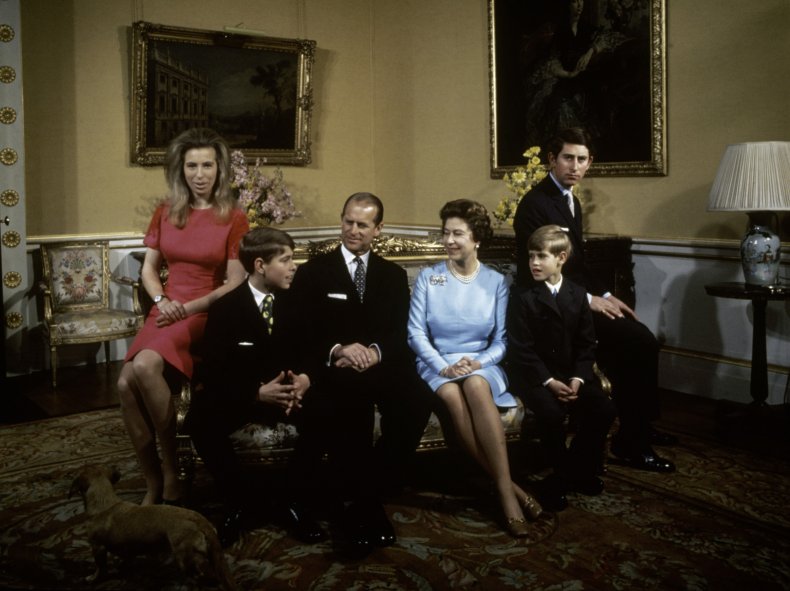 The queen gave birth four times starting at the age of 22 when she had Prince Charles, followed by Princess Anne, Prince Andrew and Prince Edward.
She did however have a ten year gap between Anne, born in 1950, and Andrew born in 1960.
While the princess was born before the Duke of York, Andrew is ahead of her in the line of succession which historically passes through male heirs, though this was recently changed.
Of the four, all at some point got divorced apart from Prince Edward and his wife Sophie, Countess of Wessex.
The Queen Cannot Look Down While Wearing Her Crown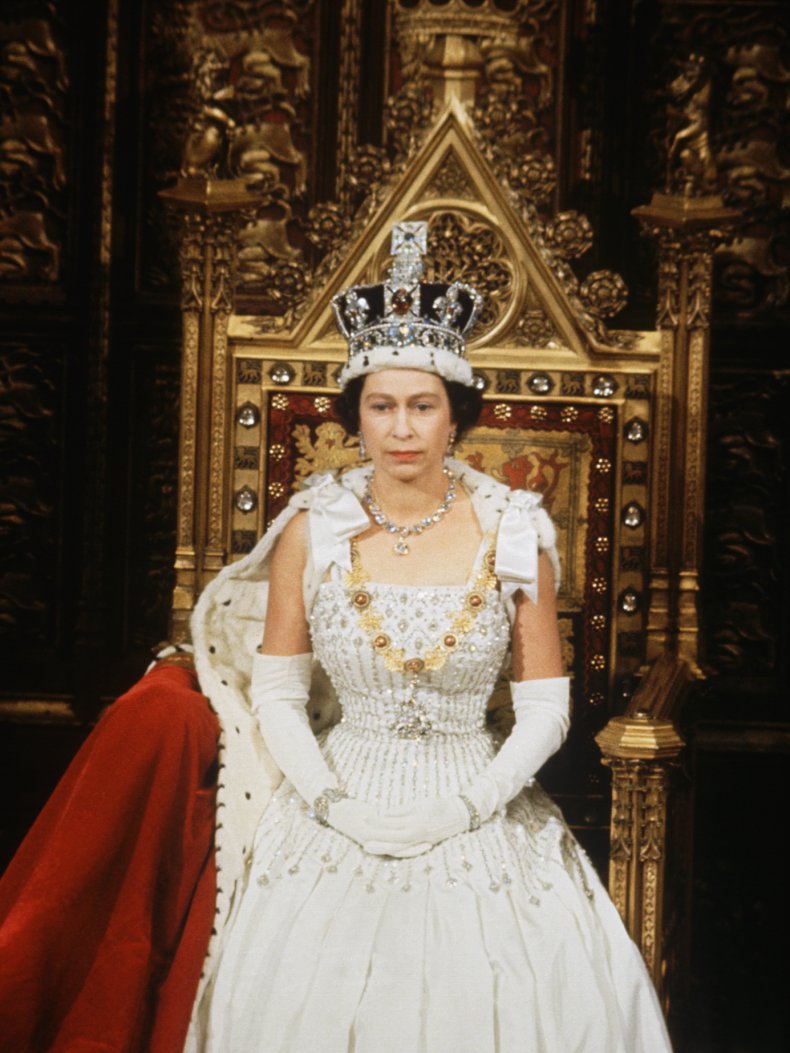 Heavy is the head that wears the crown, or so the queen told the BBC when describing the experience of wearing the Imperial State Crown.
Elizabeth told documentary The Coronation: "You can't look down to read the speech, you have to take the speech up. Because if you did, your neck would break—it would fall off.
"So there are some disadvantages to crowns, but otherwise they're quite important things."
Elizabeth Does Not Carry Money
The queen does not carry money, at least not for buying things with. She does, however, take money to church with her on Sundays for the donation bucket.
The Queen Does Not Have a Passport
Elizabeth is the only member of the royal family who does not need to carry a passport when travelling abroad.
A British passport carries wording that requests the holder be given permission to travel "in the name of Her Majesty."
The Royal Family website states: "As a British passport is issued in the name of Her Majesty, it is unnecessary for The Queen to possess one. All other members of the Royal Family, including The Duke of Edinburgh and The Prince of Wales, have passports."
Elizabeth Danced The Conga Into Buckingham Palace After World War II
The queen celebrated the end of World War II by partying until 3am and dancing the Conga into Buckingham Palace.
Aged 19, she recorded her memories of the final days of the war in her diary, extracts of which were included in biography The Final Curtsey, published by her cousin Margaret Rhodes with her permission.
On Victory in Europe Day, on May 8, 1945, she wrote: "PM announced unconditional surrender. Sixteen of us went out in crowd, cheered parents on balcony. Up St J's St [St James's Street], Piccadilly, great fun."
The next day, she wrote: "Out in crowd again—Trafalgar Square, Piccadilly, Pall Mall, walked simply miles. Saw parents on balcony at 12.30am—ate, partied, bed 3am!"
And Elizabeth was partying again for VJ Day, on August 15, 1945: "Out in crowd, Whitehall, Mall, St J St, Piccadilly, Park Lane, Constitution Hill, ran through Ritz. Walked miles, drank in Dorchester, saw parents twice, miles away, so many people."
On August 16, she wrote: "Out in crowd again. Embankment, Piccadilly. Rained, so fewer people. Congered into house ... Sang till 2am. Bed at 3am!"
The Queen Is Head of the 54-Nation Strong Commonwealth
The queen is not only head of state in 16 countries but also head of the Commonwealth, formed mainly from the countries that made up Britain's empire.
Heads of state meet from each country meet every two years in what is a significant event in the royal calendar.
Her Wedding Dress Fabric Was Bought With Ration Coupons
The queen married Prince Philip in 1947 in the shadow of World War Two while rationing was still in place in Britain.
The Royal Family website states: "Due to rationing measures in place following World War Two, Princess Elizabeth had to use clothing ration coupons to pay for her dress.
"Hundreds of people from across the UK sent The Princess their coupons to help with the dress, although they had to be returned as it would be illegal to use them."