Fake Marina Ovsyannikova Twitter Posts Spread After Russia TV Protest
A fake Twitter account that claimed to be Russian TV producer Marina Ovsyannikova was deleted on Tuesday following her extraordinary protest against the war in Ukraine during a live news broadcast.
Ovsyannikova made international headlines on Monday when she stormed the stage of Russia's Channel One network holding a sign that said "Stop the war," and "They are lying to you here." Ovsyannikova, an employee of the network, also released a video stating that her father is Ukrainian and that she is "ashamed" to work for a "Kremlin propaganda" outlet.
On Tuesday, Ovsyannikova appeared in court in Moscow and was charged with organizing an unauthorized event. She was fined 30,000 roubles, or $280, according to Reuters.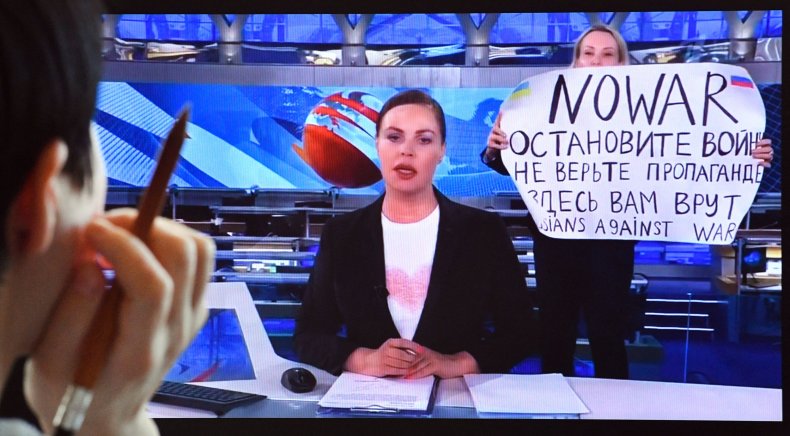 Following the protest, a Twitter account purporting to be Ovsyannikova with the handle @MarinaOvsy amassed thousands of followers. The account shared posts with messages claiming to be from Ovsyannikova on Tuesday morning stating: "I don't regret what I did. Whatever the consequences, I will wear it as a badge of honor."
However, journalists and other users were quick to point out that the account was fake. A spokesperson for Twitter confirmed to Newsweek on Tuesday that the account has since been permanently suspended.
NBC News journalist Matthew Mulligan noted that the profile was only created in March 2022 and previously took on several other false identities—including that of American journalist Juan Arredondo—who was injured in Ukraine on Sunday while covering the war. The fake account had a history of tweeting criticism against Russian President Vladimir Putin and likely latched onto Ovsyannikova's protest to continue its messaging.
"All of this shows that the account has changed identity when different people are in the news," Mulligan wrote on Twitter.
"While all this was playing out and an account was putting words in Marina's mouth, charges were being drawn and her lawyers have been looking for her. Her whereabouts and condition are unknown," he added.
Earlier on Tuesday, lawyers for Ovsyannikova told news outlets that they had been unable to reach her by phone or confirm her whereabouts. One lawyer, Anastasia Kostanova, told BBC Russian that she spent the whole night on Monday searching for the missing producer.
Her lawyers originally feared that she could be prosecuted under a new Russian criminal law that prohibits calling the nation's military action in Ukraine an "invasion" or "war," which could carry a punishment of up to 15 years in prison.
The Russian Parliament passed the law as part of a widespread effort to prevent independent media outlets from criticizing Moscow's invasion of Ukraine. Russian state media has instead been spreading disinformation about the war and pushing messages that are strongly supportive of Putin.
Kremlin spokesman Dmitry Peskov on Tuesday dismissed Ovsyannikova's actions as "hooliganism" and said that the news network and those in charge were dealing with it.
Newsweek reached out to Twitter for comment.
Follow Newsweek's live blog for the latest updates on the Russia-Ukraine conflict.
Updated 03/15/2022, at 1:44 p.m. ET: This story has been updated with additional information and background.