'Fallout 76' Halloween Update: The Best Spooky Scorched Locations
For the Halloween season, Bethesda has added "Spooky Scorched" to the already frightening world of Fallout 76. To help you track down these legendary enemies and pillage their valuable loot, Newsweek has prepared the following guide.
A new update rolled out to Fallout 76 on Tuesday, October 19, introducing both Halloween and "Bombs Drop Day" festivities to the online live service. If you are not familiar with the latter, it commemorates the day (October 23) that nuclear war obliterated the U.S. within the fiction of the game.
Each year, Fallout 76 celebrates this macabre anniversary with a series of unique events and special offers. 2021 is no exception in this regard, as the latest update saw a variety of deals launch in the Atomic Store and even a "Free Play Week," which enables newbies to trial the full experience without paying a cent.
As for the Halloween side of things, Spooky Scorched have dropped into the Appalachia region for a limited time only. These are essentially just legendary versions of the rank-and-file zombies that you are used to fighting in the game. However, they can be easily distinguished by their full Trick 'r Treating getups, as they will be sporting things like pumpkin headgear and skeleton bodysuits (similar to the recent Kaws skin that was introduced to Fortnite).
If you manage to take down one of these special enemies, then you will be rewarded with some impressive gear. All Spooky Scorched are classified as either 1, 2 or 3-star legendaries, which means that you are guaranteed a legendary item for every time you kill one. They will also be carrying a piece of mystery candy (that gives you stat buff) and a treat bag, the latter of which you can open to receive consumables, ammo, and Halloween themed loot.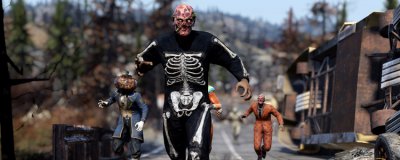 Where To Find Spooky Scorched in 'Fallout 76'
The Spooky Scorched event will end on November 2, meaning that you only have a finite amount of time to hunt down these legendary creatures.
There is an extra pressure here, as some of the Daily Challenges in Fallout 76's Halloween event require you to leave candy out for other players, and you can only get those treats by killing the new enemies. To help you make the most of this limited-time event, here are the best places to find Spooky Scorched.
The Spooky Scorched will appear randomly alongside the standard scorched enemies. This means that they can spawn all over the map.
However, according to the Fallout 76 community on Reddit, they seem to be especially prolific around Helvetia, Wavy Willards, and Morgantown airport. Another location that has a good chance of Spooky Scorched encounters is Camden Park, which is the fairground area in the southwest corner of the map.
Given that the Spooky Scorched spawns are dictated by Random Number Generation (RNG) you are not 100 percent guaranteed to find them in any of the above places. With that in mind, you should also check out the Poseidon Energy Plant and Harper's Ferry landmarks, as these have been identified as a useful farming location too.
You will know when a Spooky Scorched is in your immediate proximity as it will trigger a ghostly musical cue.
In other Fallout 76 news, the game's lead producer spoke to Newsweek about how they want players to give it another chance after its infamously buggy launch, as well as what is in store with the upcoming Expeditions DLC.