Famed Sequoia Grove at Yosemite Park Threatened by Growing Washburn Fire
A wildfire in Yosemite National Park has nearly quadrupled in size as crews attempt to beat back the blaze that is now threatening a grove of towering sequoias that include some of the largest of their kind.
The Washburn Fire currently covers 166 acres and includes a portion of the park's southern edge where the renowned Mariposa Grove sits, according to an update posted to incident information website InciWeb on Friday afternoon. The inferno in the well-known national park is among California's most recent as the state grapples with the increasingly destructive wildfire season.
The National Forest Service posted to InciWeb that shortly after 2 p.m. on Thursday, multiple 911 calls reported smoke visible from the Mariposa Grove area. A "full attack" was launched as fire crews were dispatched to the blaze along with engines, aircraft and other resources. Authorities evacuated the grove, which remains temporarily closed.
"The Washburn Fire entered Yosemite's Mariposa Grove, one of our nation's most treasured giant sequoia groves," Sam Hodder, president of conservation group Save the Redwoods League, said in a tweet. "[This is] a reminder of the urgent need to restore fire resilience to giant sequoia groves. The fires are here and the sequoia are vulnerable. We have to act now to protect them."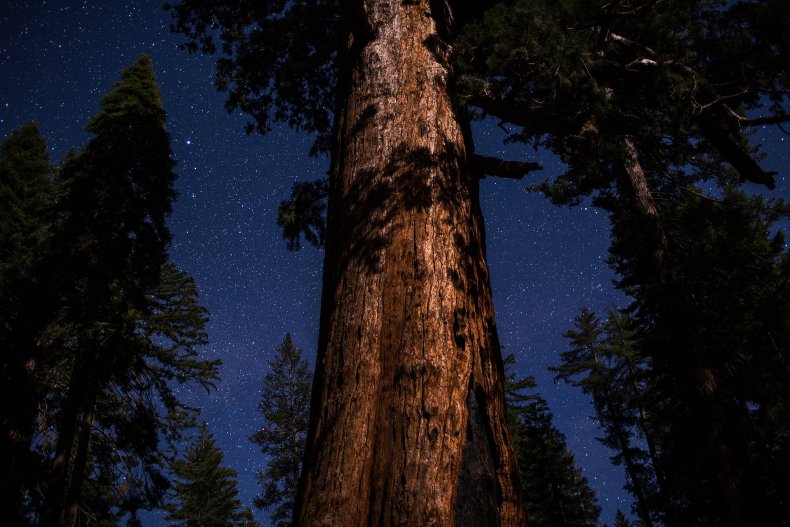 Mariposa Grove is the largest grove of giant sequoias and is home to over 500 of the redwoods, according to Yosemite National Park's website. The Grizzly Giant, one of the largest and best-known trees in the grove, stands at 209 feet tall. It's estimated to be 2,700 years old, making it one of the oldest living sequoias.
President Abraham Lincoln in 1864 signed legislation setting aside the Mariposa Grove and Yosemite Valley for "public use, resort, and recreation," according to the park's website. The grove was later explored by President Theodore Roosevelt.
In a separate incident, park officials in 2018 had to close Yosemite National Park because of a spreading wildfire.
The Washburn Fire was initially mapped as covering 46 acres and continued burning overnight Thursday, according to InciWeb. A park spokesperson told Newsweek in an email that an estimate earlier on Friday put the fire at 250 acres before the acreage was revised. Currently, none of the fire has been contained, the spokesperson said.
Fire crews are continuing to use ground and air resources to extinguish the blaze, the cause of which remains under investigation, according to InciWeb.
Increasingly dry conditions in the west have exacerbated fire conditions in recent years. Crews are currently battling the Electra Fire in central California.
According to Cal Fire, the state's fire response agency, nearly 9,000 fires burned more than 2.5 million acres last year.