Family Who Viciously Beat, Ziptied Burglar Faces Slew of Charges: Deputies
A father and two sons are facing charges for an incident in which they allegedly assaulted a suspect attempting to burglarize their family business.
The Kern County Sheriff's Office in Bakersfield, California, announced on Monday that the family had been arrested after turning themselves in on May 3. The incident they now face charges for occurred in late April, with deputies being called to the scene on April 27 at around 3 a.m. local time, according to KBAK News.
John Sparks, 50, made the call, reporting an attempted burglary at his business, Sparks Custom Pools. When deputies arrived, Sparks and his two sons, Brenden, 23, and Trenton, 20, showed them the suspect, who was lying near them in the parking lot with his hands zip-tied behind his back.
Police took the suspect, whose name has not been released, into custody that night and transported him to a local hospital for treatment. The man had sustained significant injuries to his head and face during his alleged altercation with the Sparks family.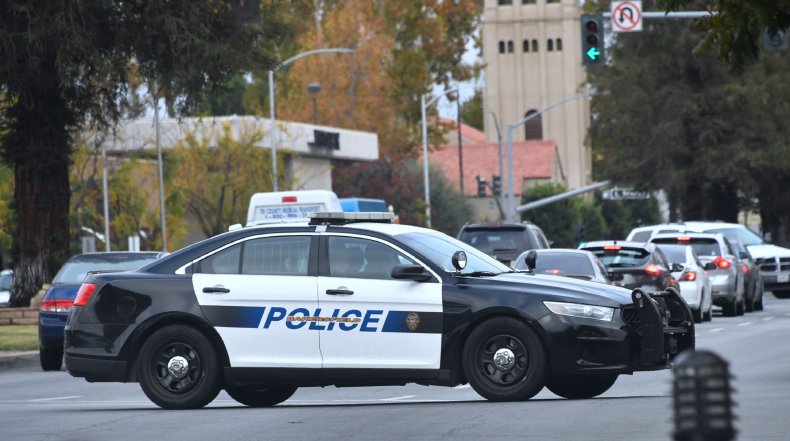 Detectives with the Sheriff's Office's Crimes Against Persons division took charge of the investigation. They determined, based on a report obtained by KBAK, that the suspect had entered a fenced yard on the business's premises and allegedly began taking items from an unlocked vehicle. John Sparks noticed this on security footage and began pursuing the suspect on foot.
He eventually chased the suspect to another business where he confronted him with a gun, detectives explained. He fired a round towards the suspect and was able to get him on the ground, where he applied the zip-tie to his hands.
Brenden and Trenton Sparks arrived at the scene, and the three began to assault the suspect, punching, kicking, and striking him with blunt objects for approximately 45 minutes. They then loaded him into a pick-up truck and drove back to Sparks Custom Pools, where they later met the responding deputies.
Upon learning of this incident, the Kern County Sheriff's Office issued arrest warrants for the father and his sons. After they turned themselves in, they were each hit with a slew of charges.
John Sparks was charged with assault with a gun, assault with a deadly weapon other than a gun, false imprisonment with violence, and assault on a person with force likely to produce great bodily injury, according to KGET News.
Brenden Sparks was charged with assault with a deadly weapon other than a gun and false imprisonment with violence.
Trenton Sparks was charged with false imprisonment with violence and assault on a person with force likely to produce great bodily injury.
The three family members are scheduled to appear in court on June 22.
Newsweek reached out to the Kern County Sheriff's Office for comment.
It's not the only crime that took a turn for the worse for the criminal.
Last April, security footage showed two teens who tried to rob a man but were thwarted by their would-be victim's skills.
Last October, a man's plan to rob a bank was foiled when the teller couldn't read his handwritten note.
And in December, a 12-year-old was shot while allegedly trying to rob a 17-year-old.