American farmers are bracing for a rough summer of excessive heat, which has plagued the nation and the rest of the world, and strained their crops and animals just in time for the global grain shortage.
With temperatures in the 90s and even topping 100 in some places, U.S. farms have struggled to keep farm animals out of the heat and irrigation running as extreme weather has terrified farmers about what's in store for August.
One Massachusetts farmer described the industry as on the brink of "crisis."
"In July, when we're getting the weather that we usually get in August, it's pretty scary," Todd Sandstrum, manager of Medway Community Farm in Medway, told WFXT in Boston. "We're seeing record temperatures this week around the world and I think it really resonates with the crisis that is right on the horizon for us."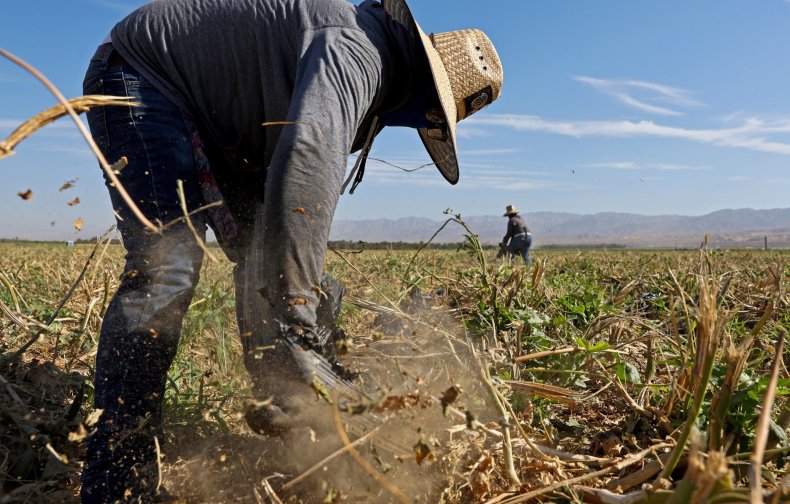 Sandstrum said that the dried-up swamplands meant to water his fields forced him to recently send an emergency request to the town, asking if the farm could tap into the municipal water supply.
Although he was able to secure watering for three days a week, he worries that those parameters could change quickly if the town enters its own water crisis and limits Sandstrum to fewer days.
"We obviously have a pretty substantial water ban in town, but in this situation where we have a community crop, we clearly don't want to lose that," Medway Town Manager Mike Boynton told the Boston station.
Sandstrum said that while the farm is aiming to be off the municipal supply as quickly as possible, it would take a substantial amount of rainfall, which is not in the forecast for the near future.
A farmer in Pennsylvania, Bob Pardoe, said the weather has left him "sitting here watching things dry out."
Pardoe also told The Daily Item that while he has irrigation on some of his crops, his production for the year will be "way down" unless rain comes soon.
It's not just farmers in the North that have struggled with the extreme heat. In March, each of Kansas' 105 counties were placed under a drought watch, warning or emergency by Governor Laura Kelly.
Receiving only half of its normal rainfall this year, Kansas was predicted to produce three-quarters of last year's harvest, according to a May report from the U.S. Department of Agriculture. By July, that estimate fell even further with the slash of another 3.85 million bushels.
At the same time that farmers are trying to keep their crops growing, they're also struggling to get their cattle and sheep enough shade during the scorching conditions, which can cause even barns to becoming unbearably hot.
"The most important thing for the animals is if the temperature drops below 70 degrees at night, they have a chance to recover overnight a little bit, just like we do when we go home to the air conditioning," Mary Margaret Smith, executive program director of Farm Units at the University of Connecticut, told WTIC.
Heat stress in cows can also lead to decreased milk production or sometimes death, which further hurts the pockets of farmers, who are trying to keep business running as usual while looking to beat the heat themselves.
"I'm usually wearing a wide-brim hat, which usually helps keep the sun off my head," said Daniel Goldstein, the manager at Shundahai Farm in Mansfield, Connecticut. "I find the biggest thing for me personally is to keep the sun off my skin. That's why I'm wearing my long sleeves and pants."