'Fate The Winx Saga': How the Netflix Show Links to 'The Winx Club'
Fate: The Winx Saga is streaming on Netflix now, and tells of the adventures of a group of fairies at a magical high school. The story comes from The Winx Club, an Italian animation that ran on Nickelodeon from 2004 to 2009 and in a revived version from 2011 until 2019.
In the Netflix version, a number of the characters will be familiar from the animated version, though with a new set of actors replacing the American voice cast for the cartoon, which included Ariana Grande, Keke Palmer and Dynasty's Elizabeth Gillies.
Returning characters from the Nickelodeon version include Fairy of the Dragon Flame Bloom (played by Abigail Cowen), Fairy of the Shining Sun Stella (Hannah van der Westhuysen), Fairy of Music Musa (Elisha Applebaum) and Fairy of Waves Aisha (Precious Mustapha.)
However, some of these characters have been reimagined for this new Netflix show, which is aimed at a 2021 young adult (YA) audience rather than a younger one. Musa, for example, no longer controls music but instead is an empath, a power that's equally a blessing and a curse as she feels the emotions of everyone around her.
The show also introduces some new characters while cutting out some others – though they are sure to return if there are more episodes. Technology fairy Techna is nowhere to be seen, and the fairy with power over animals Roxy is also absent. Flora, meanwhile, has been replaced by Terra (Eliot Salt), who says she is Flora's cousin in the Netflix show and has similar control over plants. Villainous trio The Trix, meanwhile have been blended into one evil; character, Beatrix (Sadie Soverall.)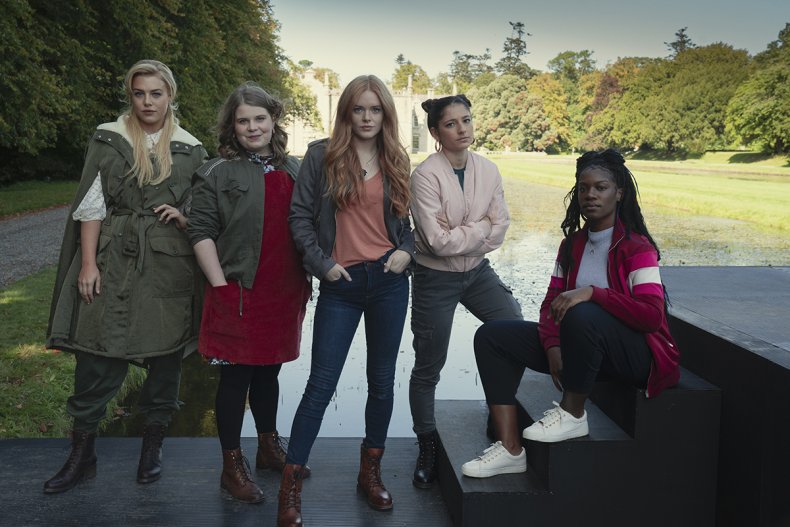 These substitutions, however, are not without controversy. With Musa, who was Asian in the cartoon, played by a white actor and the Latinx fairy Flora missing, many online have accused the show of whitewashing the diverse show.
Star Abigail Cowen said about this in an interview with The Wrap: "If we are lucky enough to get a second season, I think Flora would be brought in and I would definitely welcome that. I'm not a part of the casting process, but I do think, if the series does go to a second season, I think hopefully these concerns are something that can be addressed, because I do think diversity both in front of and behind the camera is vital."
Also, the characters are all without their wings—presumably a way of keeping budgets down, as dozens of CGI fairy wings start to add up. This is explained by the school principal in an early episode, who says: "We had wings in the past... as we've evolved, transformation magic has been lost."
As well as Beatrix, a new version of a villain from The Winx Club, Fate: The Winx Saga creates some evil characters of its own. In Season 1 of the show, the fairies must face off against The Burned Ones, who infect anyone they touch, and who return after 16 years during the season.
Speaking to The Guardian, Fate writer Brian Young said of the turning the show into a YA drama: "It's trying to figure out how we ground this show in real character moments, things that any audience member would relate to. And this is coming from a massive fantasy fan—I had my Dungeons & Dragons character when I was a kid—but it is very easy to spiral off into absurdity with stuff like this."
Cowen said of the new version of the story to The Wrap: "I always like the saying, 'The Winx audience grew up, and so did we.' So it's definitely a reimagining of the Italian cartoon. And we want to surprise and delight those who are familiar with the existing show, while also carefully distinguishing ourselves as the live-action Fate."
Fate: The Winx Saga is streaming now on Netflix.