'Father of the Bride' Director on How His Own Family Inspired Remake
A new version of Father of the Bride has been created for a new generation, and the HBO Max remake was inspired by director Gary "Gaz" Alazraki's own family, he told Newsweek.
The film, similar to the two versions that came before it, follows a father as he comes to terms with his daughter's upcoming wedding.
In this latest remake, father Billy (Andy García) is dealing with daughter Sofia's (Adria Arjona) nuptials as well as the prospect of a divorce from his wife Ingrid (Gloria Estefan).
Alazraki was asked to direct the remake, which is based on Edward Streeter's book of the same name, by Plan B and Warner Bros., and his feelings about the prospect of his daughter getting married in the future, prompted him to say 'yes.'
'Father of the Bride' Director Gary Alazraki's Family Helped Inspired Remake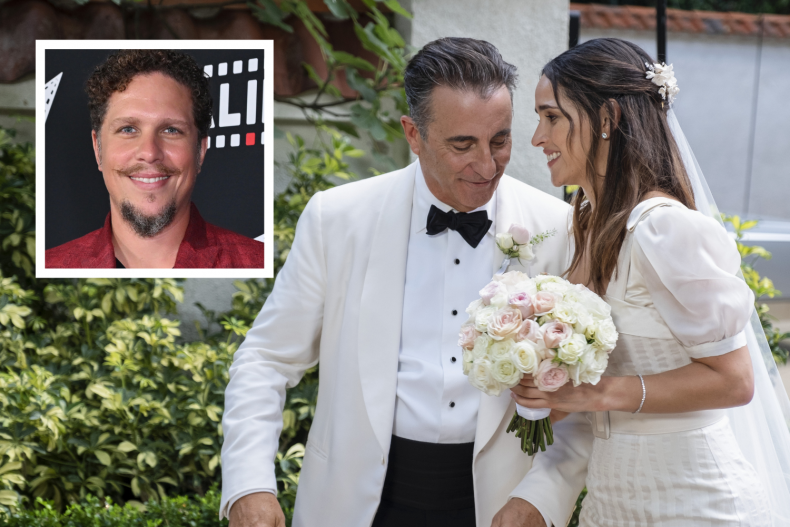 "Since I had just immigrated to the U.S. [from Mexico], this idea of the immigrant approach into the movie was what really resonated with me," Alazraki explained. "When I started to picture what would it be like when my daughter, growing up in the U.S., will bring someone very different to what I'm expecting culturally.
"To see [that], you know, and that's something you open up yourself to when you move to the U.S. So that was my way in."
The Club de Cuervos director added that being invited to make the film "felt like a great opportunity since [he] moved to the U.S. in search of trying to get into the studio system and make a movie, like a crossover film."
He added: "When I got invited to do this it was an opportunity to speak about the differences between cultures, between Mexican and Cuban cultures, and even the difference between Latin and Latin American cultures.
"So, when a studio like Warner Bros. gives you a global platform to say something like that, it's an opportunity that should be taken advantage of.
"And to compound that, you had Andy García [who] is an icon, and an opportunity to direct Gloria Estefan, I was already so excited. Not to mention that Jeremy Kleiner and Dede Gardner were these producers that have been nominated to their heads [for] so many projects, and I love all their movies.
"So the opportunity to learn from them was just another reason why [I wanted] to get on board this project. So all of these things excited me."
Working With Andy García and Gloria Estefan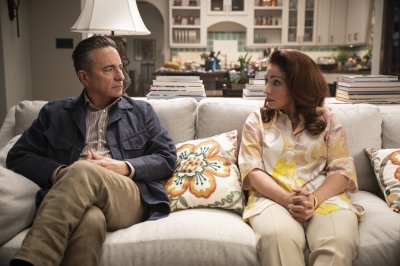 For Alazraki, working with García and Estefan was a delight as both so clearly reflected the characters they played on screen, and he explained the actors were already the best of friends.
"When I started to meet Andy it became evident that he is a man with a lot of gravitas, who really loves and honors tradition in many different aspects," the director said. "From music, to dance, to food, to architecture, and the arts is what connects him to tradition, and he really holds on to these things with love and passion.
"So after a while we got excited to make that the centrepiece of the character and then just around him were a bunch of idiots, like me, who have no regard for tradition, and watch him fume, and that's how we approached it and Andy loved it. He completely played into it."
Alazraki then said of Estefan: "She was great because she has so much bite and irony, and grit that you would never picture from her elegance and from her poise.
"But once you get to know her, she is just fun as hell. So when you tell her 'take Andy to town' she was like, 'Whoa, boy, it's time. It's time to teach this guy a little manners,' you know?
"She just had a blast with the role and made it personal. It just so happens that Andy and Gloria are almost like best friends for the last forty years, they came up together and they're both Miami royalty, they've been together forever.
"He's best friends with Emilio [Estefan, the singer's husband], with Gloria, and they are best friends with him and his wife Marivi. So for them it was almost like an inside joke."
Why the HBO Max Remake Couldn't Reference Originals
As previously mentioned, HBO Max's Father of the Bride is not the first adaptation of Streeter's 1949 novel, with the first coming out in 1950 starring Spencer Tracy and Elizabeth Taylor.
The second adaptation came out in 1991 and starred Steve Martin in the title role, with the film spawning a sequel.
For Alazraki it was important not to make reference to or include any cameos to the other versions of the film, because he didn't want that to detract from the remake and its importance.
"This movie had to be its own thing, or else it ran the risk of undermining itself," the director said.
"So we wanted to... this is like a really beloved adaptation from those two movies, and it had to stay in dialogue with them.
"But it had to be its own thing in order to earn its own position in the Father of the Bride universe."
Father of the Bride is out on HBO Max on Thursday, June 16.
Update 06/16/2022 11:38 a.m. ET: This article was updated to change the studio name Warner Brothers to Warner Bros.