Father and Son Rescued After Drone Operator Spots 'Help' Message On Beach
A father and son have been rescued from a remote beach in Australia after a photographer operating a drone in the area spotted the "help" message they had scrawled in the sand.
According to New South Wales Ambulance, at around 8 this morning, a father and son first ran into trouble when their boat capsized after encountering rough seas around the river mouth of Tuross Head.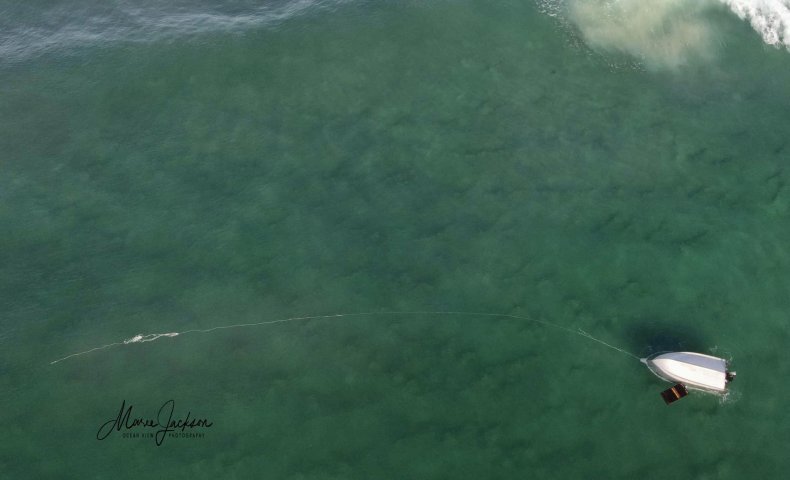 It was a worrying development, and one that could have easily ended in tragedy. A 2022 report by the Royal Life Saving Society found 339 people lost their lives by drowning off the coast of Australia. A further 686 people experienced non-fatal drowning incidents.
However, in this instance, the story had a happy ending. According to NSW Ambulance, the dad "used all his energy" to pull himself and his son to the relative safety of the shore.
Even so, the pair found themselves stranded on a remote area of beach with no way of reaching the mainland. The authorities say the dad decided to make markings in the sand in the hopes of drawing someone's attention to their plight.
It might sound like the kind of thing you would see in a movie but, incredibly, it worked. Though several onlookers spotted the capsized boat, they were unable to see any people in the water nearby. To get a better view of the situation, one decided to make contact with photographer and drone operator Maree Jackson.
Drones have been found to aid the prevention of shark attacks in Australia. One played a key role in rescuing two distressed swimmers in January 2018.
Jackson is a nature photographer who shares and sells her work through the website Ocean View Photography. She spotted the word "help" written in the sand and swiftly contacted the emergency services.
According to New South Wales Ambulance, the father and son were given oxygen at the scene. Both had "swallowed a lot of water," while the father was "treated for cuts and hypothermia."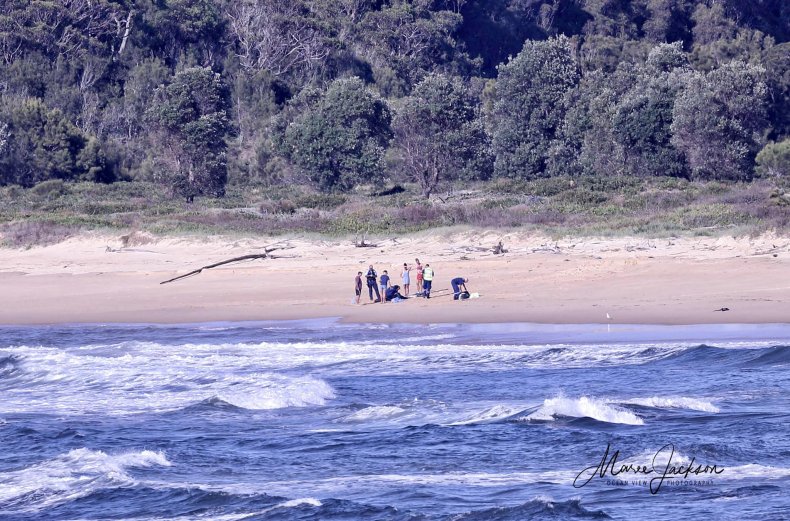 The father was flown to Canberra Hospital in a rescue helicopter and was in a stable condition. His son was taken to Moruya Hospital, though this was thought to be merely a precaution.
Jackson told Newsweek: "It was good to locate them after the boat went over. I thought there was only one person there at first, but I eventually realized the little boy was under his dad's arm."
The photographer said there was an anxious wait while the pair were rescued by the authorities. "It was very concerning as they did not move for an hour on the beach," Jackson said. "It's a difficult location to get to, and they required air-lifting out."
Newsweek has contacted New South Wales Ambulance for comment.
The incident comes after another near-miss in December. A man spent 24 hours floating on a piece of driftwood in shark-infested waters in the Torres Strait, which is between Queensland's Cape York Peninsula and Papua New Guinea.