A man whose son died after a beachfront condo building in Surfside, Florida, collapsed has written a touching message to him.
Luis Andres Bermúdez, 26, was identified by Miami-Dade Police as one of the people who lost their life after part of Champlain Towers collapsed in the early hours of June 24.
"Papa God decided that he wanted one more angel in Heaven," the Puerto Rican man's father, who is also named Luis Bermúdez, wrote on Facebook in Spanish.
"I still don't believe it. I LOVE you and will love you forever. You are and will be the best thing in my life."
He added: "NOW REST IN PEACE AND UNHINDERED IN THE KINGDOM OF GOD. BELLO IS WAITING FOR YOU. I WILL SEE YOU SOON MY LUIYO.
The elder Bermúdez also shared a photo showing him embracing his son in the post.
"My Luiyo, you gave me everything," he wrote on the back of the photo. "May you rest in peace... I will miss you all my life. See you soon. I will never leave you alone."
Police on Sunday confirmed Bermúdez and his mother, 46-year-old Ana Ortiz, were among those killed. Her newlywed husband Frank Kleiman also died.
Bermúdez used a wheelchair due to muscular dystrophy and owned a clothing company called Saucy Boyz Clothing. He described himself as "a creator," lover of sushi and a person with "a big heart" on his Instagram page.
"Just a guy with big dreams and ideas. Creative in every way and looking to collaborate with artists. Making my way up. Blessed," he wrote in a bio on the page.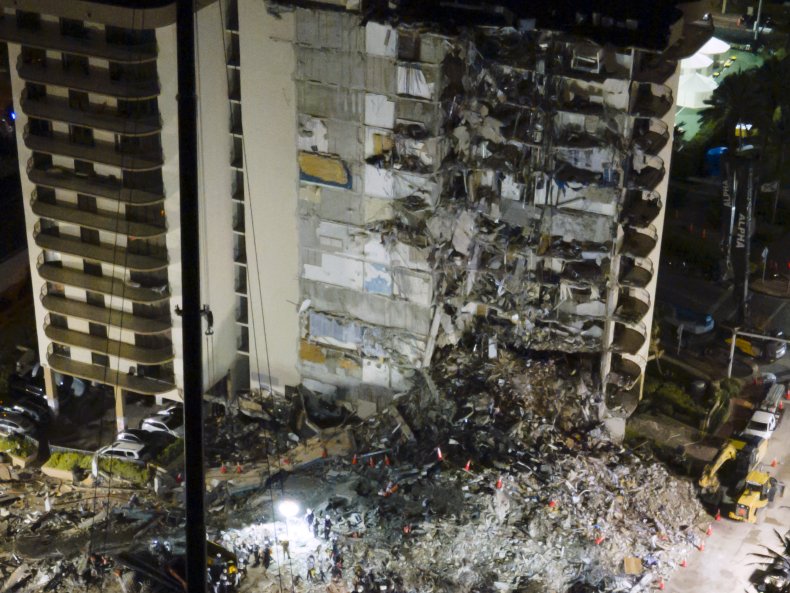 "Luis is a champion survivor who battled muscular dystrophy for years," Jose. J. Ortiz Caroli, who taught him in high school, wrote on Facebook. "His family always worked hard to give him the best quality of life possible. To call Luis unforgettable is an understatement."
The search through the rubble of the collapsed building entered a sixth day on Tuesday. Two bodies were found on Monday, raising the confirmed death toll to 11, while 150 people remain unaccounted for.
"We have people waiting and waiting and waiting for news," Miami-Dade Mayor Daniella Levine Cava told reporters, according to The Associated Press.
"We have them coping with the news that they might not have their loved ones come out alive and still hope against hope that they will. They're learning that some of their loved ones will come out as body parts. This is the kind of information that is just excruciating for everyone."