Comments made by Dr. Anthony Fauci about the updated COVID-19 vaccine have sparked a backlash on social media, with critics falsely claiming that he had admitted for the first time that it is linked to myocarditis.
Fauci appeared on ABC's This Week on Sunday, a day before the Food and Drug Administration approved the newest shots from Moderna and Pfizer for most Americans.
The Centers for Disease Control and Prevention on Tuesday recommended that virtually all Americans should get the new vaccine, which is expected to be available within days.
In Sunday's interview, Fauci said that there was a risk of myocarditis with the vaccine but added that it was very low. Myocarditis is an inflammation of the heart muscle, most commonly caused by infection in the body, that can lead to chest pain, shortness of breath and heart palpitations. Most cases are self-resolving, according to a Johns Hopkins cardiologist.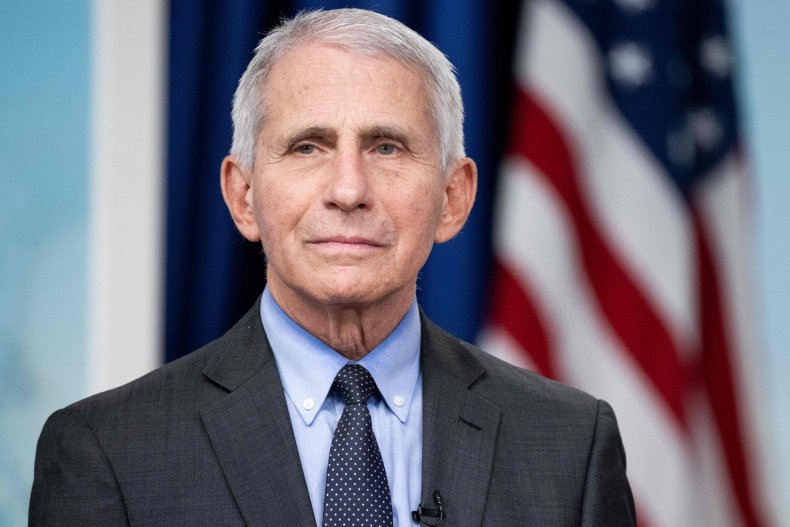 "We have experience with this type of vaccine in billions of people," Fauci, who retired from his role as the nation's top infectious disease expert in December, told Jonathan Karl.
"It's a safe vaccine. Of course, with the mRNA there's a very, very, very low risk, particularly in young men of getting a myocarditis. But if you look at the risk of myocarditis from COVID itself is greater than the risk of the vaccine."
Fauci spoke at the risk of myocarditis from COVID-19 vaccines in an October 2021 interview with NPR. Younger children "are at risk, but a very, very, very rare risk," he said in that interview. "I mean, the myocarditis that has been seen as a rare adverse event is… predominantly in young men, not generally as young as 5 to 11, but there certainly could be some overlap there."
Some right-wing social media users seized on Fauci's comments on ABC and accused him of acknowledging the link between COVID vaccines and myocarditis for the first time.
"Fauci now admits the vaccine causes myocarditis," Sebastian Gorka, a former adviser to former President Donald Trump, wrote in a post on X, formerly Twitter. "Something that would have gotten you banned on twitter if you said it a year ago..."
"Prison now !!!" @Catturd2, described by Rolling Stone as the "sh**posting King of MAGA Twitter," posted on X, formerly Twitter.
The account for the Citizen Free Press, a conservative news aggregation site, wrote: "Fauci now admits the Covid Vaccine causes Myocarditis. Twitter used to ban you for saying exactly this."
Another user wrote: "Fauci now admits Covid vaccines cause Myocarditis. This guy should be on trial for crimes against humanity."
Newsweek contacted Fauci for comment via email.
A small number of people in the United States experienced myocarditis after being vaccinated with the Pfizer-BioNTech or Moderna coronavirus vaccines based on mRNA technology.
But experts on infectious diseases share Fauci's view that the chances of getting myocarditis after a COVID vaccination is rare.
"The big safety issue is, of course, myocarditis," William Schaffner, a professor of preventive medicine at the Vanderbilt University Medical Center and former medical director of the National Foundation for Infectious Diseases, told Newsweek.
"But myocarditis is first a rare event. Number two, it is overwhelmingly very mild, and the people who experience it [usually] recover."
He added: "This is a very, very low risk considering the much higher risk of myocarditis after COVID itself, which often is forgotten. If you're going to get COVID, you're at a much greater risk of getting myocarditis than after the vaccine."
Update 9/13/22, 7:40 a.m. ET: This article and its headline have been updated to better reflect Dr. Fauci's comments and include details about his 2021 NPR interview.