Myocarditis Symptoms Explained as CDC Probes Heart Inflammation in COVID Vaccine Recipients
Last week, the Centers for Disease Control and Prevention (CDC) Advisory Committee on Immunization Practices (ACIP) announced it was investigating reports that a small handful of young adults had developed a condition known as myocarditis after receiving a dose of one of the mRNA COVID-19 vaccines.
CDC monitoring systems have found no more cases of myocarditis in the window following COVID-19 vaccination than would normally be expected in the general population.
The documented cases appear to be "mild" and it is important to note that, to date, there is no evidence that the vaccines caused this condition. Nevertheless, the CDC is now urging clinicians to be alert to young adults who develop potential symptoms of myocarditis after receiving their shots.
What is myocarditis and what are its symptoms?
Myocarditis is an inflammation of the heart muscle (myocardium) that hampers the ability of the heart to pump blood normally.
According to the Mayo Clinic, common symptoms of myocarditis include:
Chest pain
Rapid or abnormal heart rhythms (arrhythmias)
Shortness of breath, at rest or during physical activity
Fluid retention with swelling of the legs, ankles and feet
Fatigue
People with mild cases of myocarditis, or those in the early stages, may not exhibit any symptoms at all, or only mild ones. With more serious cases, complications can include heart failure, heart attack or stroke, or sudden cardiac arrest, which can be fatal.
Myocarditis has many causes but it most often results from a viral infection. As a result, many myocarditis patients also report symptoms consistent with a viral infection, such as headache, body aches, joint pain, fever, a sore throat or diarrhea.
Other causes of the condition include certain bacterial and fungal infections, as well as parasites, such as Trypanosoma cruzi and toxoplasma.
Myocarditis can also sometimes occur if someone is exposed to medication or illegal drugs that might cause an allergic or toxic reaction, as well as certain chemicals or radiation. Certain inflammatory diseases, such as lupus, can also lead to the development of myocarditis.
The chances of developing myocarditis are rare—around 10 to 20 people per 100,000 will experience the condition.
ACIP said the "relatively few" cases of myocarditis seem to have occurred, typically within four days after vaccination—predominantly in adolescents and young adults.
The cases have occurred more often in males than females, and more often following a second dose of the vaccines than a first dose.
In a statement, a CDC spokesperson told Newsweek: "In recent weeks, there have been rare reports of myocarditis occurring after COVID-19 vaccination in the United States and Europe. Reported cases appear to be mild and often go away without requiring treatment."
"These reports are rare given the number of vaccine doses administered, and CDC and FDA [Food and Drug Administration] will continue to monitor and evaluate reports of myocarditis occurring after COVID-19 vaccination. Health care providers should report all cases to VAERS. CDC continues to strongly recommend COVID-19 vaccination for individuals 12 years of age or older given the risk of COVID-19 illness and related, potentially severe, complications. Getting vaccinated is the best way to protect you and your family from COVID-19."
Newsweek, in partnership with NewsGuard, is dedicated to providing accurate and verifiable vaccine and health information. With NewsGuard's HealthGuard browser extension, users can verify if a website is a trustworthy source of health information. Visit the Newsweek VaxFacts website to learn more and to download the HealthGuard browser extension.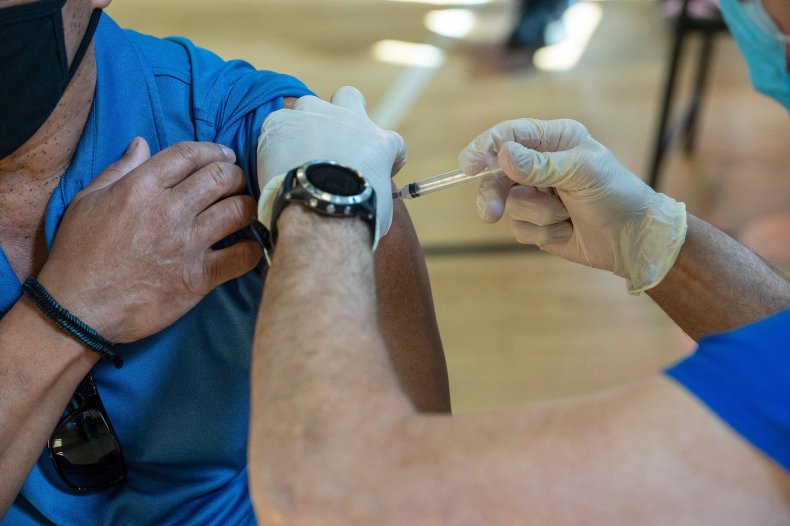 Update 5/25/21. This article was updated with comment from CDC.