Fauci Warns Against Dropping Mask Mandates After D.C. Loosens Certain Rules
Dr. Anthony Fauci on Monday warned against loosening mask mandates in the U.S. after Washington, D.C., moved to end certain rules.
Despite the opposition of its city council members, D.C. recently lifted its indoor mask mandate. This move came as the country is seeing an uptick in COVID-19 cases, with an 18 percent increase in average daily cases in D.C. specifically over the last two weeks, despite hospitalizations being down 20 percent.
In light of this news, Fauci told NPR's Morning Edition that loosening mask rules "adds an extra degree of risk," especially as cases and hospitalizations climb heading into the holiday season.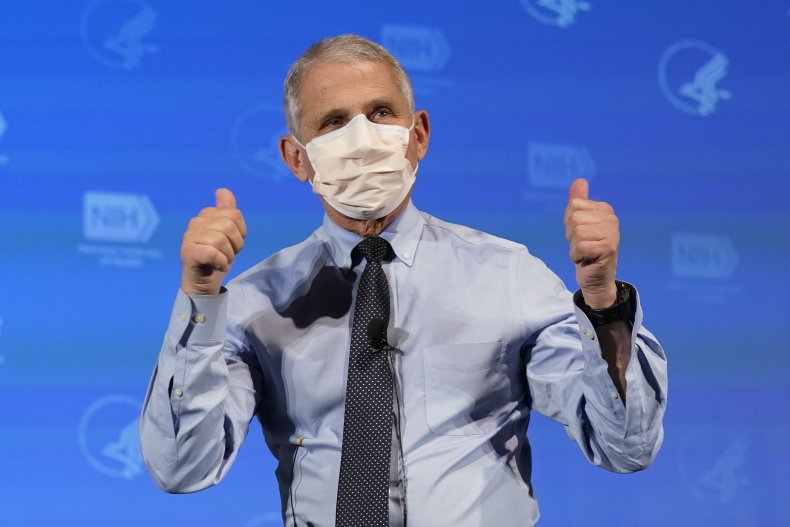 "When you have a dynamic like that...you really gotta be careful," he said. "Masks are not going to be forever for sure. The more people that get vaccinated, the more people that get boosted, the lower the level of infection in the community will be, and then you start thinking about pulling back on masks.
"But you don't want to do it prematurely. As much as you'd like to do it, you've got to be careful."
Even with strides made in vaccinations, Fauci noted that new COVID-19 cases have risen 29 percent nationally in the last two weeks, with hospitalizations up 6 percent. Despite that bad news, deaths from the virus continue to decline, though increases in deaths usually come after an increase in infections.
Fauci also said that he could not necessarily give a timeline for the end of mask mandates, though he is hopeful for it "as soon as we possibly can." As ever, he noted that the way to end the pandemic is to continue getting people vaccinated.
"If we do a good job in getting the overwhelming majority of that cohort vaccinated, we very well may have a situation where the cases go down and we can say no masks," Fauci explained. "I hope that that's as we get through the winter and into the spring. But you can't guarantee it. This virus has fooled us before. It's a very wily virus—this Delta variant."
Fauci's comments alluded to the fact that the CDC previously lifted its recommendation for mask mandates in May for people that were fully vaccinated. Despite being celebrated by many, the move left others confused, as certain localities kept their mandates in place. The recommendation was later reinstated for areas with high levels of community transmission later in the summer, due to the spread of the Delta variant.
Newsweek reached out to the D.C. Department of Health for comment.