FBI Seeking Tips Over Capitol Violence, Aim to Identify Instigators
The FBI is seeking tips to assist in identifying those "actively instigating violence" in Washington, D.C. after the Capitol was stormed by supporters of President Donald Trump in an unprecedented display of chaos.
National Guard troops were mobilized to deal with the insurrection, after crowds descended on the building as Congress convened to certify the Electoral College results.
Four people died amid the violence, according to Washington D.C.'s Metropolitan Police Department. One woman was shot and later died in hospital, while woman and two men suffered medical emergencies which resulted in their deaths. Officers arrested more than 52 people.
An FBI webpage has been set up for people to submit details which could assist its investigations into possible violations of federal law.
"The FBI is seeking information that will assist in identifying individuals who are actively instigating violence in Washington, DC. The FBI is accepting tips and digital media depicting rioting and violence in the U.S. Capitol Building and surrounding area in Washington, DC, on January 6, 2021," a form on the agency's site reads.
"If you have witnessed unlawful violent actions, we urge you to submit any information, photos, or videos that could be relevant at fbi.gov/USCapitol."
It urged people to use its form to submit media which was "related to possible violations of federal law committed."
"Our goal is to preserve the public's constitutional right to protest by protecting everyone from violence and other criminal activity," the form concluded.
Newsweek has contacted the Justice Department for further comment.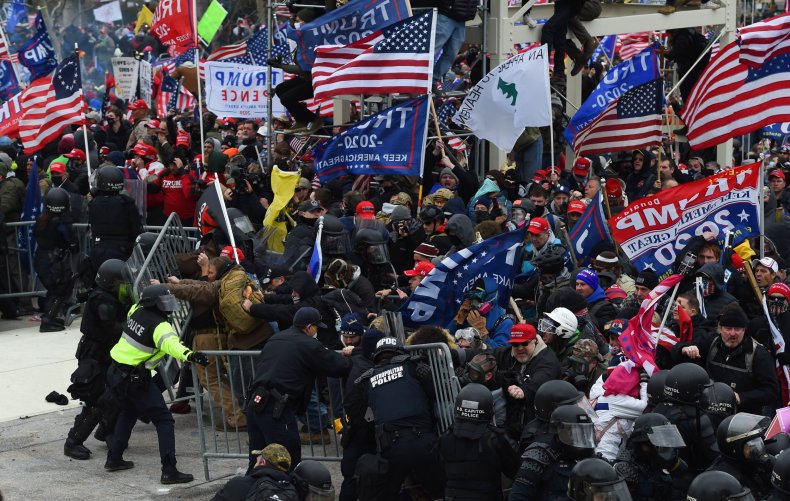 On Wednesday, Acting Attorney General Jeffrey A. Rosen said agents from the FBI had been sent to assist Capitol Police in addressing the situation.
"The violence at our Nation's Capitol Building is an intolerable attack on a fundamental institution of our democracy," Rosen said.
The violence at the Capitol has been widely condemned, with President-elect Joe Biden labeling the events an "assault on the most sacred of American undertakings, the doing of the people's business."
"To storm the Capitol, to smash windows, to occupy offices, and to threaten the safety of duly elected officials is not protest. It's insurrection" he said in a public address.
The storming of the Capitol came as thousands of Trump supporters gathered for a rally, which the president attended. He continued to make allegations of the election having been rigged, despite having failed to substantiate claims of irregularities which would be substantial enough to alter the outcome.
"We will never give up, we will never concede. You don't concede when there's theft involved," Trump told the crowd on Wednesday.