FBI Identifies Pro-Trump Capitol Rioter Brian Gundersen By His High School Varsity Jacket
On Monday, federal agents tracked down and arrested 26-year-old insurrectionist Brian Gundersen for participating in the January 6 riots in the Capitol. The FBI identified him through the letterman's jacket he wore while invading the federal building. Gundersen and the fellow mob of supporters for now-former President Donald Trump had hoped to overturn the results of the 2020 presidential elections which Trump baselessly claimed had been stolen through an unprecedented nationwide conspiracy of voter fraud.
The FBI was able to find out Gundersen's name thanks to the jacket which showed the name of his high school—Byram Hills High School in North Castle Township, New York—and his former football jersey number. Tipsters reportedly helped confirm his identity by sending law enforcement officials multiple images of Gundersen wearing the same jacket elsewhere, including with Fox News personalities.
Gundersen initially denied being in the Capitol on January 6 and then later said that he had been pushed into the building by other rioters. However, his claims fell apart when authorities searched his phone and found a message that he sent two days after the insurrection which read, "We all stormed the us capital and tried to take over the government. We failed but f*ck it."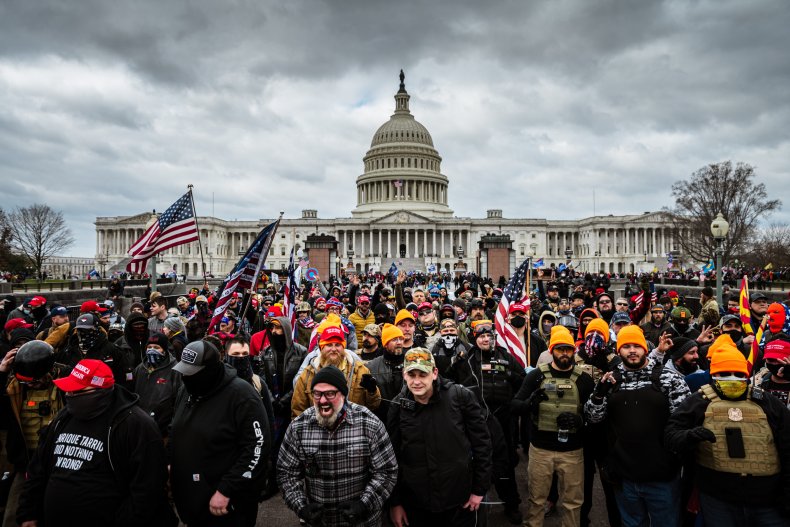 The FBI also interviewed a "close personal" friend of Gundersen's who said that he was "an avid supporter of former President Trump and a follower of commentator Nick Fuentes."
Nick Fuentes is a 22-year-old anti-LGBTQ, anti-immigration podcaster who instructed Capitol insurrectionists to destroy their phones to evade arrest. He has been described as a white supremacist by the Anti-Defamation League and was banned from YouTube in February 2020 for violating the video-sharing site's policies on hate speech.
Republican North Carolina Congressman Madison Cawthorn and other Republican legislators have claimed that Democrats placed "agitators" among the mob in order to make Trump and his followers look bad. However, the FBI has said there is no evidence to back up these claims.
Furthermore, several arrested insurrectionists have said they were following Trump's orders to stop Democrats from "stealing" the election, a claim which has been dismissed for lack of evidence in nearly 87 court cases filed by Republicans and the Trump campaign.
The insurrection at the Capitol left five dead, including a Capitol police officer. Dozens of other officers were also injured in the insurrection, including one that was beaten by an American flag.
A Reuters photojournalist has said they heard insurrectionists inside the Capitol actively hunting for Vice President Pence with the goal of killing him for refusing to oppose Biden's election victory. At another point, rioters seized the gun of Capitol police officer Michael Fanone and encouraged its new owner to kill him with it.
Insurrectionists also shattered windows while trying to access congressional chambers, smeared feces in the hallway and stole computer equipment, potentially constituting a national security breach.
Newsweek contacted the FBI for comment.