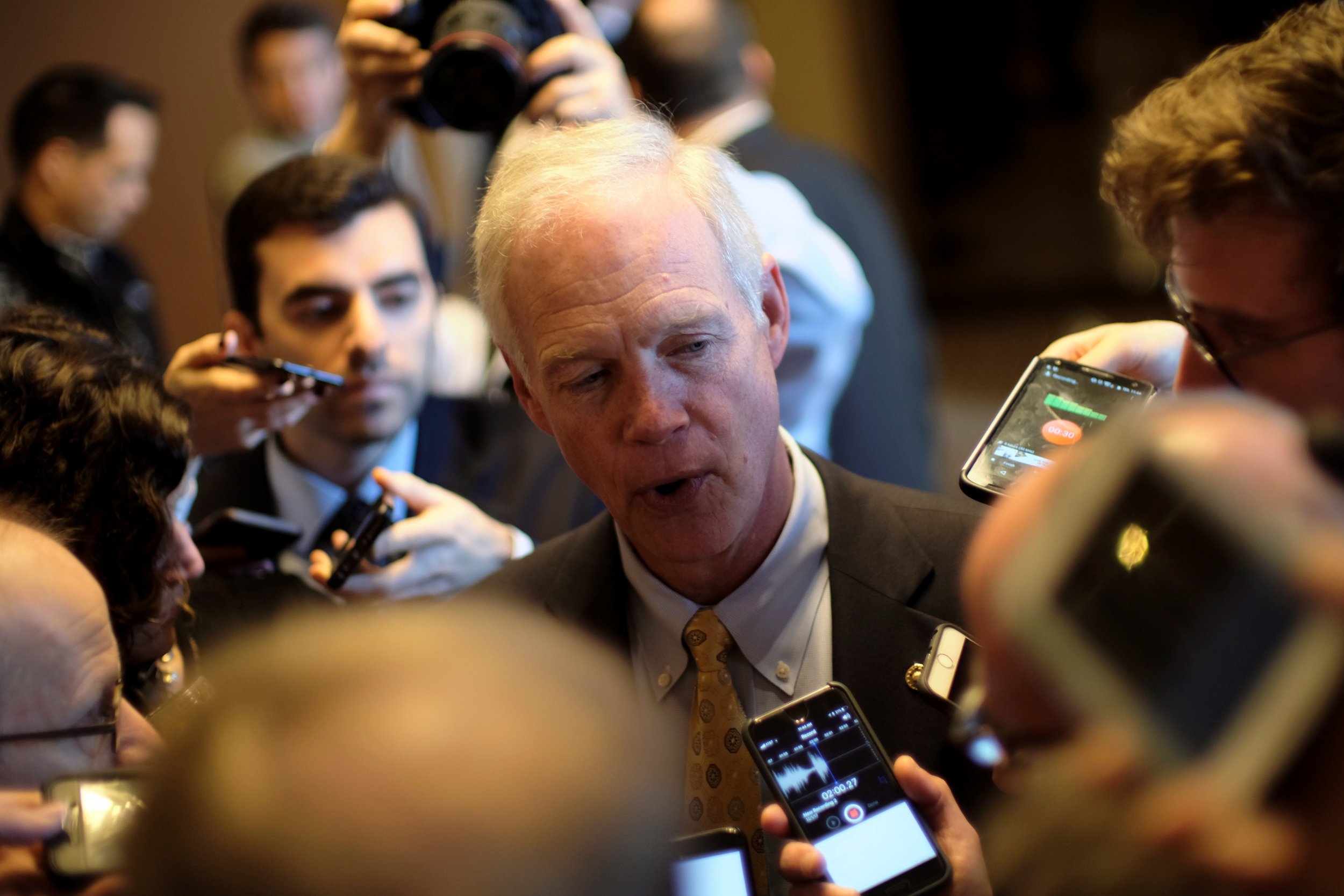 Republicans who claimed to have seen messages that prove there is a secret society operating within the FBI have refused to release the content of the texts.
House Representative John Ratcliffe told Fox News on Tuesday that "in the immediate aftermath" of the 2016 election, "there may have been a secret society of folks within the Department of Justice and the FBI" that were working to prevent Donald Trump from becoming president.
Representative Trey Gowdy then cited controversial texts between senior FBI agent Peter Strzok and lawyer Lisa Page that he said raise questions about whether there was a "secret society" inside the agency.
Senator Ron Johnson also appeared on Fox News and said that an informant told him about a group at the FBI that was holding secret meetings off-site. The text messages corroborated the possibility of collusion inside the highest levels of American law enforcement, he added.
Gowdy's office declined to release a copy of the text message when asked by Newsweek on Wednesday. "As of now, we have not and will not be releasing any of the text messages in our possession," his spokeswoman said. Ratcliffe's office did not respond for a request for the messages. A spokeswoman for Johnson said, "I'll be in touch if I can provide any more information."
Related: What will Mueller ask Trump? The special counsel has given the White House topics for their interview
The relationship between Strzok and Page came to light last month after The New York Times revealed Strzok was removed from special counsel Robert Mueller's Russia investigation last summer after sending to Page a series of texts disparaging Trump in the lead-up to the 2016 election.
Trump and Republicans have said that the messages show there is bias inside the bureau connected to Mueller's ongoing investigation, which is probing whether the Trump campaign aided Russia in interfering in the 2016 election. Trump has called the investigation a politically motivated "witch hunt."
But a copy of the messages obtained by ABC News late Wednesday has called the claims into question.
"Are you even going to give out your calendars? Seems kind of depressing. Maybe it should just be the first meeting of the secret society," Page wrote to Strzok in the message.
ABC News said the message isn't tied to those that come before or after it in the documents, making it difficult to understand its context.
On Wednesday, Johnson, who is chairman of the Homeland Security and Governmental Affairs Committee, told CNN that while he did not know what the text meant, the messages "raise an awful lot of questions. It is my responsibility to try and get answers."
On January 19, the Department of Justice sent Johnson's committee a letter, with 384 pages attached, containing more than a thousand unreleased text messages between Strzok and Page.
"We have no comment beyond the transmittal letter we sent to congressional committees on Friday," a Justice Department spokeswoman told Newsweek when asked to share the messages with the public.
Some Republicans have called the integrity of Mueller's investigation into question, likening it to a "coup d'état" late last year. The FBI has also come under scrutiny. Trump said last month that the agency's reputation is "in tatters," partly due to the text message scandal.
On Wednesday, Trump said that while he will give an interview to Mueller, the public should be more concerned about text messages sent between Strzok and Page between December 2016 and May 2017 that weren't saved properly on government computers because of a technical glitch.
Johnson told CNN on Wednesday that focus of his committee should now turn to "the Clinton email scandal."