FDA Warns Children, Parents of THC Laced Copycat Products After Reports
The Food and Drug Administration (FDA) warned consumers Friday about products that contain tetrahydrocannabinol (THC)—the psychoactive chemical in marijuana, but are designed to look like well-known brands.
The warning comes after the agency has received more than 100 reports of children and adults who "accidentally consumed copycat edible products containing THC and experienced adverse events" between January 2021 and late April of this year.
In some of these instances, the FDA said that those who ate the edibles reportedly experienced symptoms including an increased heart rate, vomiting and hallucinations— "and many required medical intervention or hospital admission."
The FDA noted that seven of the reports said that the edible products looked like popular foods including Cocoa Pebbles, Nerds Rope, Skittles, Sour Patch Kids, and Starbursts.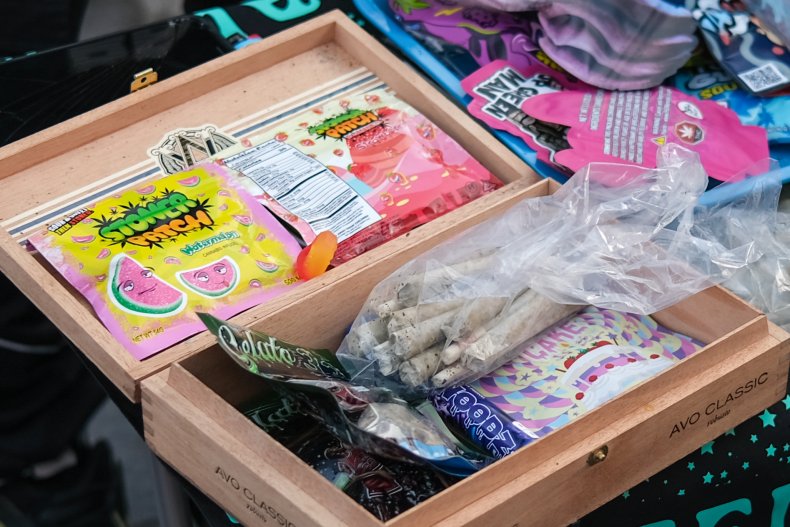 "Some manufacturers are packaging and labeling edible products containing THC to look like popular brands of commonly consumed foods, such as breakfast cereal, candy, and cookies. These products appeal to children and may be easily mistaken for popular, well-recognized foods," the FDA wrote in its alert, adding that it's aware of media reports detailing incidents in which people accidentally consume "copycat edible products containing THC."
The FDA directed Newsweek to its alert about the THC products, but did not provide further comment.
In an incident in Michigan this week, two fifth-grade students were taken to the hospital after consuming marijuana-infused gummies at school.
"Today I sent my baby to school with nothing wrong with him... 2 hrs later I was getting a call that my son was given a marijuana gummy and that 911 had been called & the paramedics was on the way!!" Krystal Hall, who said her son received a gummy from a classmate at Grand River Academy in Livonia, Michigan, wrote on Facebook on Monday.
In another incident in Texas this month, a 9-year-old student was suspended from school after eating candy infused with marijuana that was allegedly given to her by another student.
Last December, a father in Texas was angered after his 12-year-old daughter was given a THC-laced cupcake during class for a student's birthday.
In its alert, the FDA said it "is actively working with federal and state partners to further address the concerns related to these products and monitoring the market for adverse events, product complaints, and other emerging cannabis-derived products of potential concern."
The FDA also said that consumers should call 911 or get emergency medical help immediately if they or someone in their care has serious side effects from ingesting these products.
Marijuana has now been legalized for recreational use in 18 states as well as Washington DC, but the substance remains illegal at the federal level.