'Fear the Walking Dead': Who Played Dakota and Why She Had to Be Killed Off
The Fear the Walking Dead Season 6 finale was literally explosive for some characters, as Teddy (John Glover) set off 10 nuclear warheads across Texas.
Perhaps the biggest casualty of the AMC show, however, was Dakota (Zoe Colletti), pretty graphically incinerated by a warhead after being betrayed by Teddy, the man she trusted most.
In the finale, titled "The Beginning," Dakota realized that Teddy had not actually wanted to be a father figure to her. Instead, he just needed someone who would follow his commands and who would survive the blast with him, so they could be there to turn the second key needed to set off another set of warheads.
After she realized this manipulation, June (Jenna Elfman) and John Dorie Sr. (Keith Carradine) tried to get her to come into a nuclear bunker with them. Instead, she decided to stay out, with Teddy's betrayal leaving her suicidal.
Before the blast decimated her, however, she was able to kill Teddy with a gun before the warheads went off, denying him from dying on his own terms.
Who played Dakota in Fear the Walking Dead?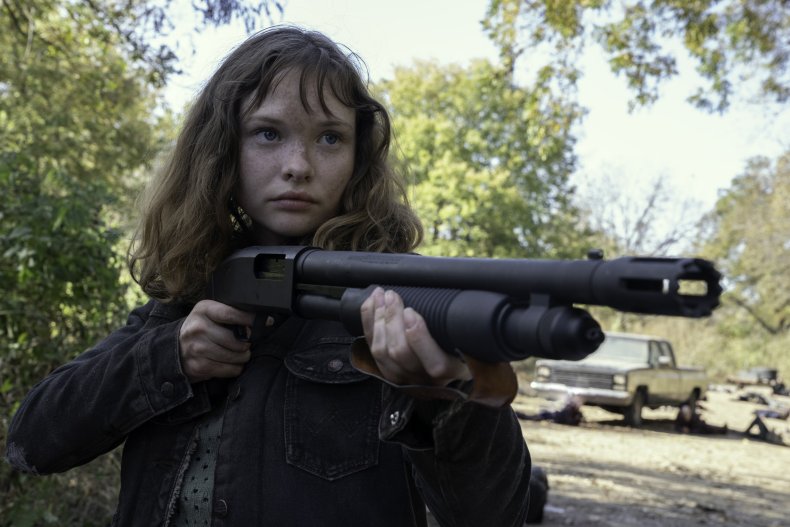 The character was portrayed by 19-year-old American actress Zoe Colletti. Though young, the actor has been on screen since 2006, when she starred in the TV pilot American Men alongside Sean Astin.
Roles followed during her childhood in FTWD's fellow AMC show Rubicon and Fox series Past Life. She then moved to films, appearing in the 2014 Annie remake as one of the lead's fellow orphans (the one known for her catchphrase "oh my goodness, oh my goodness!")
In 2019, she guest starred on Law & Order: SVU before taking the lead role in the film reboot of Scary Stories to Tell in the Dark. She is set to reprise her role in the upcoming Scary Stories to Tell in the Dark 2.
Aside from that upcoming sequel, IMDB lists a number of upcoming projects for Colletti. She is set to star in Mr. Robot creator Sam Esmail's ABC series Acts of Crime, and is set to play The Truth Pixie in festive movie A Boy Called Christmas alongside Kristen Wiig, Maggie Smith and Sally Hawkins.
Why Dakota had to die in Fear the Walking Dead
Asked why the character had to die in an Entertainment Weekly interview about the finale, FTWD co-showrunner Andrew Chambliss said: "From the time we conceived of the character at the beginning of the season, I think we always knew that she wasn't going to be long for this world. We always had her exit in mind."
Describing the character's death as a "good, but a tragic end," he added, "in this final moment, she realizes Teddy doesn't even really have the same viewpoint as her, and is really in some ways, using her. She would rather go out in a blaze of glory, believing what she believes, not changing for anyone, than doing anything that would compromise who she is."
Speaking of the actor who played Dakota, Chambliss said: "Zoe Colletti just did such an amazing job bringing her to life.. we're sorry to see her go, but we loved what she did with the character."
Fear the Walking Dead Season 7 comes to AMC in October 2021. Seasons 1 to 5 are streaming on Hulu, and Season 6 is on AMC and AMC+.