Fed Judge Says 'Criminal' Trump Only Pardons Republicans, Child Murderer Or Turkey
Federal Judge Robert Pratt recently called President Donald Trump "a criminal" and criticized Trump's wave of presidential pardons, stating, "Apparently to get a pardon, one has to be either a Republican, a convicted child murderer or a turkey."
Pratt's comment referred to the December 23 pardons that Trump gave to fellow Republicans, security contractors convicted of killing a child and other Iraqi civilians and the literal turkeys that Trump annually pardons as part of the Thanksgiving presidential tradition.
"It's not surprising that a criminal like Trump pardons other criminals," Pratt said during a Monday interview with the Associated Press. Pratt, a judge in the U.S. Court of the Southern District of Iowa, made the comments when asked about Trump's pardon of two former top aides of Ron Paul's 2012 presidential campaign who were convicted for corruption.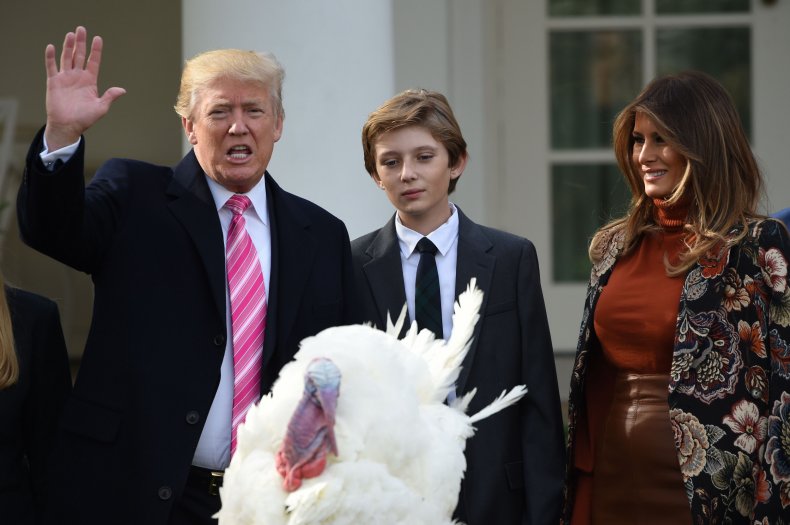 The aides, campaign chairman Jesse Benton and campaign manager John Tate, were found guilty of concealing $73,000 in payments used to bribe state Senator Kent Sorenson into endorsing Paul during his 2012 presidential campaign. Both aides were sentenced to six months of home confinement and probation.
Pratt, appointed by former Democratic President Bill Clinton in 1997, oversaw Sorenson's case. Sorenson's testimony helped convict Benton, Tate and Paul's former deputy campaign manager Dimitri Kesari, the AP reported. In 2017, Pratt sentenced Sorenson to 15 years in prison, partly to discourage other elected officials from similar bribe-taking.
Among the 25 pardons issued by Trump on December 23 were Nicholas Slatten, Paul Slough, Evan Liberty and Dustin Heard, four contractors with the Blackwater firm hired to provide security for U.S. diplomats in Iraq. In 2007, the four military veterans opened fire in a crowded traffic circle killing 13 Iraqis and a child, and wounding over a dozen more, according to Military.com.
All four men pleaded innocent, claiming to have been returning gunfire after being ambushed by Iraqi insurgents. Nevertheless, Slatten was convicted of murder and the three others were convicted of manslaughter in 2014.
Trump's other pardons included former Trump adviser Roger Stone and Trump's former campaign manager Paul Manafort, both of whom were sentenced in relation to the investigation into Russian meddling into the 2016 election.
Pratt isn't the only government official criticizing Trump's pardons. On December 24, Democratic California Representative Adam Schiff tweeted a message alleging that Trump had used a pardon to get silence from Manafort during the investigation into possible Russian influence over the 2016 elections.
"During the Mueller investigation, Trump's lawyer floated a pardon to Manafort," Schiff wrote. "Manafort withdrew his cooperation with prosecutors, lied, was convicted, and then Trump praised him for not 'ratting.' Trump's pardon now completes the corrupt scheme. Lawless until the bitter end."
Newsweek contacted the White House for comment.