Federal Officers Pepper Spray Combat Medic From Vietnam War, Video Shows
Federal agents pepper sprayed a photojournalist during protests in Portland, Oregon, early Sunday morning.
A video of the altercation shows the journalist, identified as Mike Hastie, confronting a group of armed federal officers who have formed a line across one of the city's intersections. Hastie describes himself as an army veteran in the video, saying he served as a combat medic during the Vietnam War.
The video recording begins in the middle of Hastie's comments to law enforcement. After less than 20 seconds, one officer approaches him from somewhere off camera and dispenses pepper spray into Hastie's face. He holds the canister closer than an arm's length from Hastie.
The federal agents, wearing camouflaged military gear, then proceed to leave the area. Upon moving past Hastie, officers tell him to "back up" and "move." One shoves him when the group walks by.
"That was a direct spray," Hastie tells video producer Andrew Kimmel, who recorded the incident, while wiping his eyes. Kimmel later shared the clip to Twitter, alongside a number of others that show federal agents using tear gas and stun grenades to disarm crowds.
Protesters have gathered in Portland every day since George Floyd died in police custody in Minneapolis on May 25. The presence of federal law enforcement officers, deployed to the Oregon city earlier this month in response to ongoing rallies. The Department of Homeland Security (DHS) authorized the deployment of officers from half a dozen federal law enforcement agencies and departments at the beginning of July, according to The Associated Press.
President Donald Trump referred to Portland protesters as "anarchists" in a tweet defending deployment of federal authorities. Similar to demonstrations continuing in cities across the globe, protesters in Portland have rallied against police brutality and systemic racism while showing support for the Black Lives Matter movement.
Federal agents' arrival in Portland during the first half of July sparked contention between law enforcement and the community, as well as local officials and the White House. Last week, protesters surrounded the city's federal courthouse, launching fireworks and throwing trash over the fence that separated them from federal officers inside. Officers responded with tear gas before local police, employed by the Portland Police Bureau, declared a riot and ordered crowds to disperse or face arrest. Their warning threatened additional use of force as well.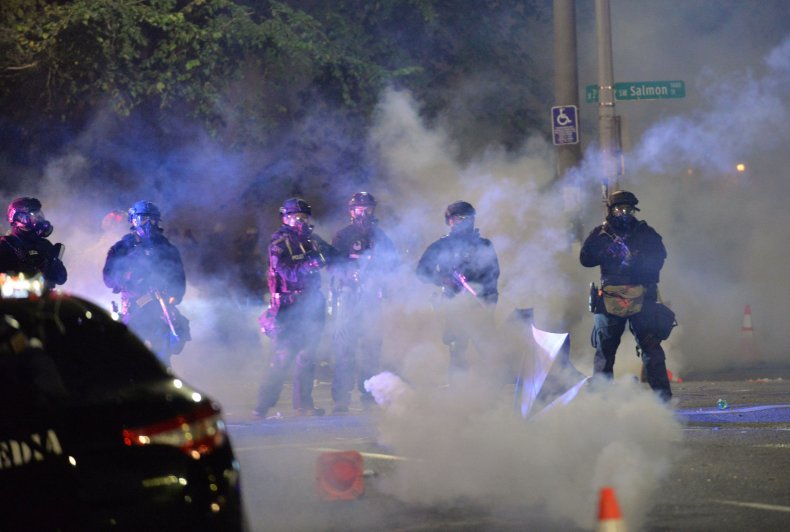 Portland City Council members adopted two new ordinances around the time of last week's courthouse protests, as discord escalated between federal agents and demonstrators. The ordinances, both of which City Commissioner Chloe Eudaly introduced, respectively barred Portland police from cooperating with agents and protected journalists covering protests from police violence.
Newsweek reached out to the DHS and White House for comments, but did not receive replies in time for publication.