Enough Fentanyl to Kill Over 50,000 People Intercepted in U.S.
A shipment heading through the U.S. that contained enough fentanyl to kill just over 50,000 individuals was recently seized by officials.
According to a press release from U.S. Customs and Border Protection, the seizure occurred on Thursday, August 4, when CBP officers in Louisville, Kentucky, encountered a shipment arriving from India.
The package was manifested as medicine; however, CBP officers conducting a further inspection found that it contained something much different. During the inspection, CBP officers found five pill bottles within the package containing pills that were later tested and came back positive for "fentanyl properties."
This seizure came as CBP officers and other law enforcement officials continue to work to stop the flow of fentanyl throughout the U.S.
According to the press release, the fentanyl pills seized by CBP had an estimated street value of at least $15,000. CBP said that the pills contained "enough to kill 50,200 people."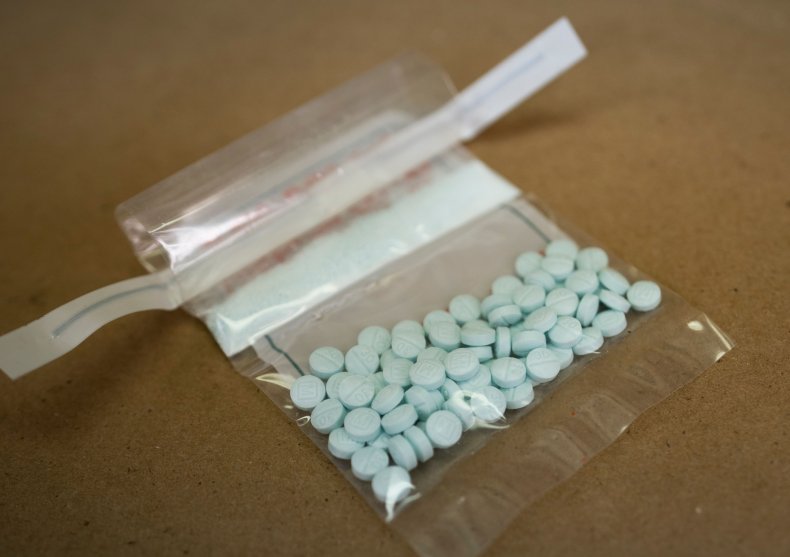 "Even though this shipment may seem like a very small amount, remember two milligrams of this stuff is lethal," Louisville Port Director Thomas Mahn said in a statement. "This seizure showcases the excellent work our officers do every day. This is a dangerous opioid, and our officers were able to prevent this deadly drug from reaching its destination."
The Drug Enforcement Administration describes fentanyl as "a synthetic opioid that is 50-100 times stronger than morphine."
DEA Administrator Anne Milgram has called fentanyl the "deadliest drug" the U.S. has ever encountered.
In the press release, CBP Director of Field Operations-Chicago Field Office LaFonda D. Sutton-Burke said, "This narcotic is not only dangerous to the user, but also very dangerous to our officers....Our officers take every precaution with every shipment they inspect, and we are very relieved no one was seriously injured during this seizure."
In a statement sent to Newsweek, a CBP spokesperson said, "This seizure is just a portion of the illicit drugs CBP officers in Louisville see on a nightly basis. These officers regularly see cocaine, methamphetamine, marijuana, THC products, and illegal prescription medication. These officers do an outstanding job of stopping these shipments before they reach their final destinations."
Last month, CBP officers stationed near the U.S.-Mexico border in California intercepted over $3 million worth of fentanyl. The illicit narcotic was found hidden in a vehicle's spare tire and gas tank as the driver was attempting to gain entry into the U.S.
Law enforcement officials in Colorado also made a similar seizure recently, in what they called the largest seizure of fentanyl on a U.S. highway. Colorado state troopers said that they conducted a traffic stop in July that resulted in the discovery of 114 pounds of fentanyl.
According to data from CBP, in June, officers seized over 600 pounds of fentanyl at the U.S.-Mexico border. So far in 2022, 8,400 pounds of fentanyl have been seized along the nation's borders.