Ferrari Planning 15 New Products by 2026
Ferrari laid out a bold future in its latest Capital Markets Day strategic plan. The presentation covers 2022-2026, but it also explained a lot about what the Italian automaker has in store for the next decade or so with a plan for both hybrids and electric vehicles, carbon neutrality, and news about its upcoming SUV.
The company will launch 15 products between 2023 and 2026, some of which will be variants on current models like the Ferrari F8 and 296 GTS. New vehicles will also join, including the company's first SUV.
The Ferrari Purosangue, whose name means "pure blood", will be unveiled in September. Its chief competitor is expected to be the Lamborghini Urus SUV, which accounts for more than 60 percent of that brand's sales.
Ferrari says Purosangue will only represent 20 percent of the company's sales over its lifecycle, a number that some industry analysts question.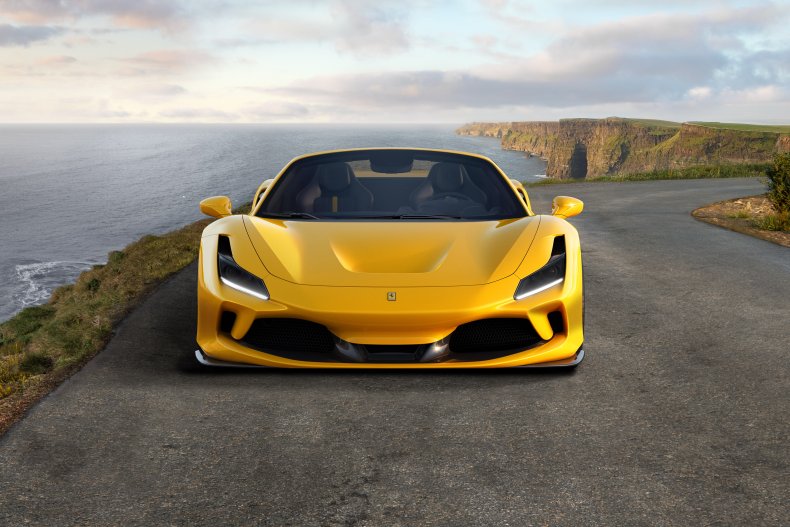 "While I think the Purosangue may be the last thing most enthusiasts thought they would see, it does follow a path already paved by the Urus and is highly anticipated," Jeff Schuster, President of global forecasting at LMC Automotive told Newsweek.
"Unless they purposely restrict volume, I would expect the Purosangue to account for 30-50% of Ferrari sales once fully available. The price point will likely be well above the Urus, but it should be right in the middle of the Ferrari range. Consumers want SUVs, even supercar consumers apparently!"
Ferrari says that by 2026 its portfolio will consist of 40 percent internal combustion vehicles (ICE) and 60 percent hybrids and all-electric models. The only electrified vehicle it has now is the 296 GTS, which features a twin-turbocharged 3.0-liter V6 engine paired with an electric motor to make 818 horsepower and 546 pound-feet (lb-ft) of torque.
By 2030 Ferrari anticipates its product mix to be 20-percent ICE, 40-percent hybrid and 40-percent electric.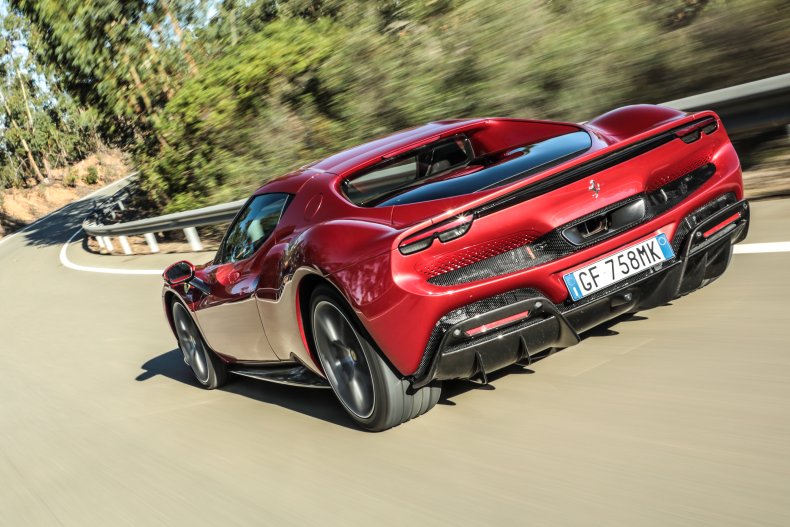 The new hybrid powertrains will benefit from the company's racing in Formula One and sports cars while the new electric motors will be designed and assembled in Maranello, Italy "to ensure a unique driving experience". Ferrari will also assemble the batteries in Italy, though the company says the cells will be purchased "to ensure the highest quality".
Its first electric vehicle will hit the market in 2025.
"I think the electrification mix is reasonable by 2030 given the lineup and various stringent government regulations that essentially will force a mix like this if Ferrari is to exist by 2030," said Schuster.
"Execution of a BEV Ferrari is something that needs to be true to the brand so that will be the test. They promise a uniquely Ferrari experience, so I believe they understand what is at stake. Initially I was a bit surprised by the in-house assembly of batteries but at the volumes it is manageable and gives Ferrari control over the process, which is consistent with the brand," he said.
Ferrari expects to achieve true carbon neutrality by 2030. The company and its operations are carbon neutral now, but only using carbon sequestration credits that offset the emissions it does produce. Currently 15 percent of its emissions come from its operations in Maranello, which are already using renewable energy.
The supply chain procurement, including raw material extraction, accounts for 45 percent of emissions and the remaining 40 percent comes from the vehicle use phase, according to Ferrari. The company is rare in that it doesn't take the vehicle end of life into account "because a Ferrari is forever."