Few Russians Who Watched Navalny's Putin Palace Video Say It Changed Their Opinions
Very few Russians who viewed opposition leader Alexei Navalny's viral YouTube video reporting on President Vladimir Putin's "palace" compound and corruption say their minds were changed after watching the investigative report.
The video was released by Navalny's team after he was arrested by Russian authorities on January 7 upon returning to Moscow. Navalny had been receiving medical treatment in Germany following being poisoned back in August. The U.S. and its European allies, as well as Navalny, have blamed the Russian government and Putin directly for the apparent assasination attempt.
New polling published Monday by Russia's independent Levada Center found that just 26 percent of Russians said they had viewed the video investigation into Putin's alleged corruption, The Moscow Times reported. Of those who watched the clip, the vast majority—77 percent—said the information did not change their existing attitudes toward the Russian president. Just 17 percent of respondents that watched or heard of the clip said it changed their opinion.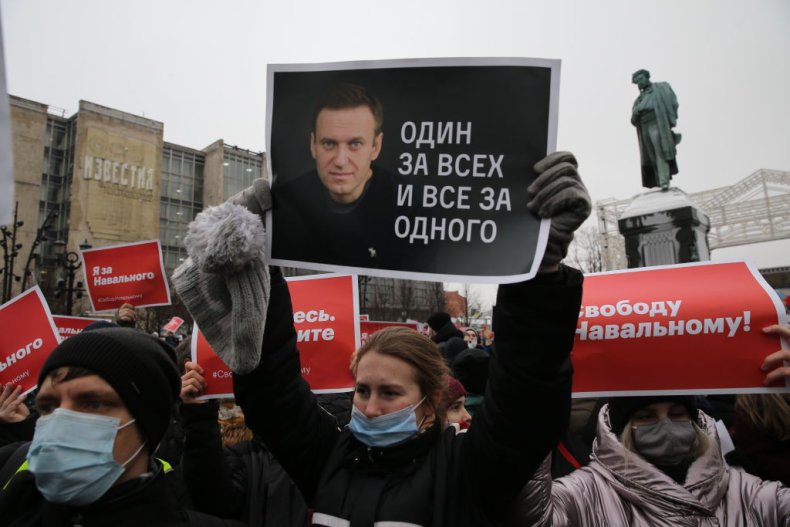 Additionally, 33 percent of viewers said they did not believe the information. Only 17 percent said they did believe the information presented in Navalny's investigation video. Nearly a quarter—24 percent—said that even if the corruption accusations against Putin are true, they still view him as having improved their livelihoods. And 29 percent said that Putin has never abused his power.
The skepticism about the claims from Navalny and his team comes after weeks of protests, in which thousands of Putin critics have been detained during pro-Navalny demonstrations. European leaders and President Joe Biden have condemned the treatment and arrest of the Russian opposition leader, calling for his release as well as an end to Russia's crackdown on peaceful demonstrators. Biden addressed the U.S. concerns about Navalny directly during a January 26 call with Putin, the first the two leaders held since the new president took office in the White House.
Last week, Navalny was handed down a jail term of more than two and a half years for allegedly violating parole terms from a 2014 case against him. The opposition leader and his supporters maintain that the previous case was politically motivated due to Navalny's public profile and staunch criticism of Putin's government.
The nearly two-hour long YouTube video shared by Navalny's anti-corruption team included drone footage of a luxurious 168-acre "secret palace," which reportedly includes a casino, two helipads, a large mansion, an ice hockey rink and an arboretum. The film is narrated by Navalny, who claims that Putin has allowed his associates to "steal whatever they wanted from Russia." According to the report, the opulent "palace" compound is worth about $1.35 billion and was paid for through a web of corrupt funds.
Arkady Rotenberg, a Russian billionaire and close ally of Putin, said at the end of January that he now owns the compounded reported in Navalny's clip, Russian news agencies reported. Rotenberg said that he plans to turn the property into a hotel moving forward.