FIFA Officials Arrested on U.S. Corruption Charges
More than a dozen soccer officials were indicted early Wednesday morning in a New York federal court on widespread corruption charges, following a years-long FBI investigation.
The U.S. Department of Justice indicted nine Fédération Internationale de Football Association (FIFA) officials and five corporate executives with racketeering, money laundering conspiracy and wire fraud in a federal court in Brooklyn, according to a news release. Their indictment was a result of a "connection with the defendants' participation in a 24-year scheme to enrich themselves through the corruption of international soccer," the Justice Department wrote in a statement.
The defendants include two current FIFA vice presidents and the current and former presidents of the Confederation of North, Central American and Caribbean Association Football. Longtime FIFA President Sepp Blatter was not charged.
Authorities in Switzerland had arrested seven of the defendants charged in the indictment, as FIFA leaders gathered for their annual meeting at the Baur au Lac hotel in Zürich.
The guilty pleas of four individual defendants and two corporate defendants also were unsealed Wednesday.
The defendants are from several different countries, including Argentina, Brazil, Cayman Islands, Costa Rica, Nicaragua, Trinidad and Tobago, Uruguay, the United Kingdom, the United States and Venezuela.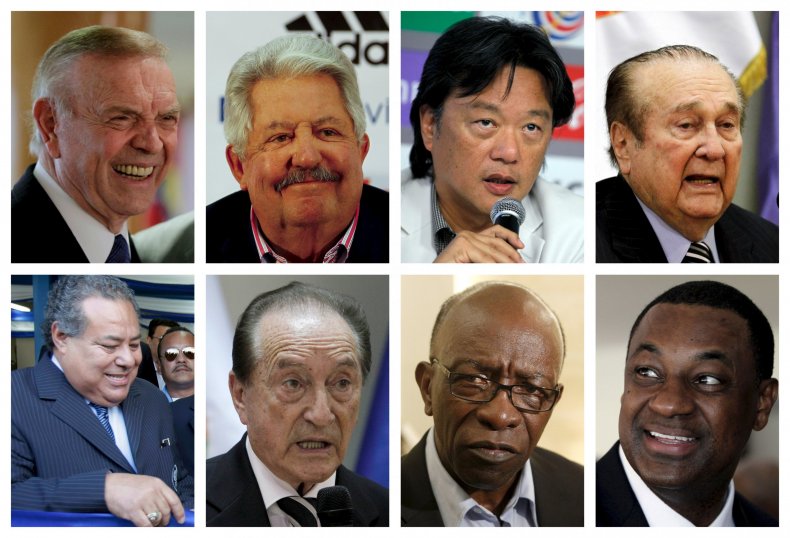 FIFA, a multibillion-dollar organization that regulates soccer worldwide, is composed of 209 member associations.
Swiss officials have opened a separate criminal investigation into the 2018 and 2022 World Cup bids.
In 2010, Qatar won the bid to host the 2022 World Cup. But the outcome has been met with controversy and set off an investigation into allegations of corruption. A top official announced last September that he doesn't think the World Cup will be held in the Middle Eastern country because of scorching temperatures. Russia is set to host the next World Cup in 2018.
The event marks the first major investigation for Attorney General Loretta Lynch since she took office last month.
"The indictment alleges corruption that is rampant, systemic, and deep-rooted both abroad and here in the United States," Lynch wrote in a statement. "It spans at least two generations of soccer officials who, as alleged, have abused their positions of trust to acquire millions of dollars in bribes and kickbacks."
Lynch scheduled a press conference for 10:30 a.m. Wednesday in Brooklyn.