Fifth Harmony on How They Got Over the Loss of Camila Cabello, Took Control and Found Harmony as a Four-Piece
In December, just months after scoring the biggest hit of their career so far, "Work From Home"—with a music video that has been streamed more than a billion times—and embarking on their first international tour, Fifth Harmony's world crumbled. Camila Cabello, one fifth of the band formed by Simon Cowell on his reality singing competition The X Factor in 2012, left the group.
"After four-and-a-half years of being together, we have been informed via her representatives that Camila has decided to leave Fifth Harmony," a statement posted on the band's Twitter page said. In her own statement, Cabello contested that version of events, though both sides wished the other the best of luck. What became apparent in the ensuing confusion was that there was not, in fact, harmony in Fifth Harmony.
In the wake of Cabello's departure, both sides have spoken about the split ad nauseum. In February, Cabello told Billboard she was uncomfortable performing lyrics written by other people and wanted to write and sing her own songs. She is. (The 20-year-old's first solo record will be released in September.) But so too are the remaining members of Fifth Harmony: Ally Brooke, Lauren Jauregui, Dinah Jane Hansen and Normani Kordei.
Cabello did not end Fifth Harmony, in the same way that Zayn Malik's departure did not end One Direction. A month after Cabello left, the now four-piece performed "Work From Home" at the People's Choice Awards in January. They changed the "I" in Cabello's opening line, "I ain't worried 'bout nothin'," to "We," sending an emphatic statement that the group would be just fine.
In the months since that performance, 5H have been in the studio working on their first album as a foursome, and this time, they say, they're doing things their way. The singers have had a much more active role in co-writing songs for their self-titled third studio album, released Friday, and are exerting more authority over their business affairs, too. In January, they signed a newly restructured deal with their label, Epic Records, that gives them more rights and control over the 5H brand. That pact replaces the more stringent contract they signed as music industry novices after The X Factor—the type of deal that favors corporate suits more than the artist.
The girl group's new album, preceded by the more urban and grittier-sounding lead single, "Down," and second single, "Angel," is proof of a maturity acquired through their ups and downs. As Kordei tells Newsweek: "We're women now."
I recently spoke to Kordei and bandmate Jauregui about the new 5H album and their new harmony as a four-piece:
You must have been pretty nervous going into that first performance as a four-piece in January, right?
Lauren Jauregi: There definitely was nerves. We were definitely prepared and excited for it, and we were very grateful that they still wanted us to perform. There were a lot of nerves because you're always preparing for, "What are people going to say?" People love to [criticize], and we're just trying to move forward with our careers.
Why did you decide on Fifth Harmony as the album title?
Jauregui: We were in the process of coming up with different title names. In our careers right now, everything we've done up to this point, we feel like we are definitely owning our name. Especially right now, we have so much to say and we stand by it—we co-wrote half of our album. So, we just felt that Fifth Harmony was the best fit for this album.
You have had much more input this time around in terms of writing songs. Does it feel like a brand new band in a sense?
Normani Kordei: Absolutely. The writing process and creative process was so different, because we were so much more involved. We went into it making sure we represent ourselves as artists. When we did [second album] 7/27, people got to meet us and see who we are as people, and who we were as people wasn't coming through properly in our music. I feel like we were way cooler...there was more to us than this pop realm they were trying to keep us in. We poured our hearts into it this time around.
And in the context of our group, we had to bring ourselves together and our voices together. In the writing process, we got to explore ourselves individually and in the context of creating music for all of us.
Now it's just the four of us, we had to vibe with each other [again]. It was cool for us to have this fresh start.
How does it work now in terms of dividing up vocals and who is going to sing what? (Editor's note: Genius.com found that Cabello sang the most lines on 5H's first two albums.)
Kordei: It's not really about leads for us. For the most part, all of us are really strong vocalists, and this time around, we had a lot more harmony moments, a lot of ad-libs going on, from all of us. You get to explore all of our vocals now individually.
With each other, if someone shows that a [certain] part sounds better with their voice on it, that's what we're going to do. We're all conscious about making sure that we're all represented. That's the point of being a group, really...is to have different strengths, to have different tones and play around with that.
Related: Bleachers: Jack Antonoff On How Girlfriend Lena Dunham and Trump Inspired New Album
Girl bands, historically, don't have as much longevity as boy bands. So the fact that this is album number three is an achievement in itself. What motivates you to keep going?
Jauregi: I think it comes from us valuing what we have and what we've created together. All of us really honor the fact that this group brought us to where we are and created opportunities for us to go to places around the world that we never even imagined.
This whole thing, Fifth Harmony, it's so much bigger than us [individually]. We're just grateful to be able to continue it and that there are people really connect with it. Actually, we're more inspired this time around because we're able to connect with it in a way that we never have before. We have always connected on a scale of, like, socially, like interacting with fans, and how we were able to impact them with things we said. That was always rewarding. But, now, also on a creative level, it's matching that. To be 100 percent in that world with each other is magical.
"Work From Home" was such a blockbuster anthem last year. Was there pressure to try and top that without reproducing a version of it?
Jauregi: We created a body of work that we're so proud of. Every song is strong in its own respect. We picked according to what we were vibing with, so we picked "Down" as the first single because it has tones of the "Work From Home" era but it also opens to a new era. It was a good transition for us for all of the songs on the album. We're going to continue to put out music [from the album] and build that story. "Angel" is an example of the other side of what we're showing on this album.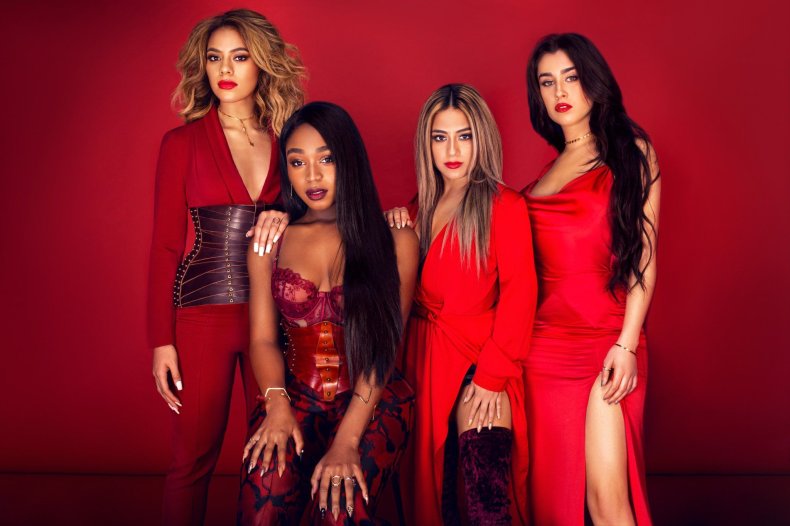 You're much more in control of the business side of things now, too. People might forget that you were very young when you were onThe X Factor and that there's a naïveté when you're new in the music industry—you're happy to sign a contract without realizing how much you're giving up.
Kordei: Absolutely. And that's why this album means so much to us, too. From the outside looking in, it looks all glamorous. We've very grateful; we wouldn't be here if we didn't love music or we weren't artists. But there's a lot that comes with it. We were super young. Our parents were very close by, but obviously they don't know everything the music industry entails, and they were learning as well. For us, it was, like, our dreams were going to come true. But there was definitely a lot we did not know. The questions over the course of our careers that we now have the right [answers] to...we're educated on business.
We actually went through a change a year and a half ago. We brought in a new lawyer, and through her we found new management. That really did help us learn our business and own our business...knowing the right questions to ask, things we wouldn't have even known to ask before. We're very aware now.
How much input does Simon Cowell have now, or do you allow him to have, in the music?
Kordei: [He] gained trust in us. Like I said, we were young, but we also had different personalities. And, to be completely honest, when you get into a girl group, it can be confusing, because we all like different things, we all like different genres of music. But we've grown into our own. We're women now, we're not afraid to stand up for what we believe in and the things we want to talk about in our music.
I remember we had dinner with Simon at his house, and he looked at us like a proud uncle. He said, "I'm so proud of you girls. You've come such a long way. This is the first time I've seen you this happy in such a long time."
In the last song on the album Bridges, you sing about building "bridges, not walls." It seems very much influenced by the turbulent political times we're in. What's the story there?
Jauregi: "Bridges" was co-written by Ally and I. We were working with Sebastian Kole, and we were just talking about the world, because there was some crazy shit going on at the time—all this terror and [President Trump's] executive order [banning people from seven Muslim-majority countries]. It grew out of that...we were cohesive in thinking this is ridiculous and why are we dividing further and further. We genuinely have to be kinder to one another to move forward socially and consciously as a human race. History has repeated itself so many times...we have so much access to information now that we didn't have before that there's no more excuses. There's no more time to sit back and say, "Well, that's never happened before," because yes, it did. The whole message of "Bridges" is to be nice and remember to keep love and positivity in our hearts [so] we keep from repeating history.
Fifth Harmony will be released August 25.