Ryan Tedder on Liam Payne's Solo Material, His Near Breakdown and Adele Beating Beyoncé at the Grammys
In London's Abbey Road Studios, made famous by The Beatles, Ryan Tedder and OneRepublic are recording their own spin on a British classic. It's not, however, a cover of the Fab Four. The group have turned their instruments to a performance of "Champagne Supernova" by Oasis, an eminent force among the 1990s explosion of British indie-rock bands known as Britpop.
OneRepublic's rerecording of "Supernova" will be released on Spotify in June and is part of a campaign by Hilton Hotels tying together music and travel and highlighting the chain's own part in musical history: The first Grammy Awards were held at the Beverly Hilton and John Lennon famously wrote the lyrics to "Imagine" on stationery from the New York Hilton Midtown. After their studio session, OneRepublic perform a live show inside Abbey Road Studios for an intimate audience of Hilton Honors members—one in a series of planned gigs with different musicians held by Hilton and concert promoter Live Nation.
In a break between the recording session and live set, Newsweek sat down with Tedder, OneRepublic's frontman and one of the most in-demand record producers in the music business (credits include Beyoncé, Adele, Ed Sheeran and U2), to talk about tackling Oasis, being on stage with Adele during her shock Grammy victory over Beyoncé, and the new music he's created for One Direction star Liam Payne's highly anticipated solo debut.
What are your experiences of recording in Abbey Road?
This is the greatest studio in the world. It's intimidating. Doing anything Oasis is incredibly daunting. We were given a list of British artists for cover songs [and] I immediately gravitated towards "Champagne Supernova." It's one of the best…it's my childhood. When I was a kid Oasis blew up. They're one of the reasons I wanted to be in a band and not be a solo artist—I watched Oasis, U2 and Blur.
The problem is when I was recording it upstairs, I kept saying, "Could you put the Liam Gallagher filter on my voice?" Nobody sounds like him. I felt like I needed to smoke a carton of cigarettes and drink a fifth of vodka to get that kind of tone. I'm doing my best to capture it, but he just has that vocal swagger. I'm cool with recording it. Anybody can hear it—except Liam and Noel.
What do you think Liam and Noel Gallagher would say if they heard your version?
I'll get slagged off in Q magazine, that's what's going to happen. The nicest thing they could say is, "I would have expected more from a yank," which is a very Liam comment. I sound more like Noel than Liam, because Noel doesn't have the gritty, raspy thing.
Congratulations on your work on Adele's 25 (Tedder produced "Remedy" from the Grammys' Album of the Year.) There was a lot of upset that Beyoncé didn't win the Grammy for Lemonade. You said that album was a transcendent moment for music in an interview with Newsweek last year. What is your take on Adele's win over Beyoncé?
I thought it was [Beyoncé's] year. I was sitting next to Adele's manager, Jonathan Dickens, in the seat to my left. To my right, my wife. ["Hello" producer] Greg Kurstin was in front of me and Adele was in the seat directly in front of me. I turned to my wife halfway through and said, "Where are we going to go for dinner?" I'd decided in my mind it was Beyoncé's night—and I think so had Adele. I was telling my wife, "Jen, we should get up right when they announce Beyoncé so we can beat traffic to get to dinner." I'm sitting there, I'm not nervous, and I dunno if I'm even looking at the stage. [Presenter] Faith Hill says, " 25, Adele," and my face was like, "What?!" And Adele was like, "What?!" Me, Max Martin and the whole crew were like, "Well, this is cool." None of us expected it.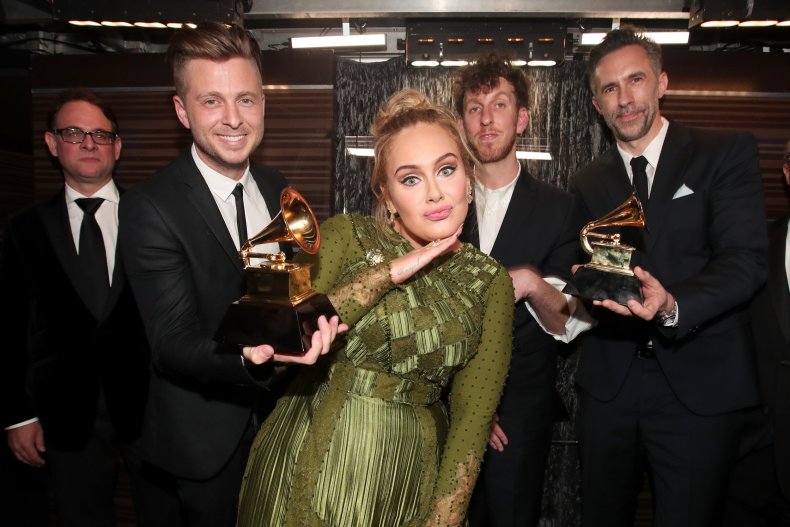 Beyoncé's Lemonade was insane and people watch it. But when you vote for best album, it's primarily a listening experience. I guess if you look at the cold, hard numbers, [Adele] sold 12 million copies in the U.S. alone. If you can sell 12 million copies in one year and not win the Grammy for album of the year, maybe something's wrong. In one sense, who else could have won? But it felt like it was a Beyoncé kind of moment.
Hey, I've lost with Beyoncé for album of the year twice. I will say, the year that Beck won [in 2015], that was some shit. I was so unhappy for Beyoncé that year.
OneRepublic is about to release new music Friday (April 28), which is a surprise because your last album Oh My My just came out in October. Are you already working on a new record?
I'm walking away from the album idea for a while. I decided in October—ironically when we [released] the album. A lot of our fans have been asking incessantly, "What's going on? Are you walking away from the album?" I've been going nonstop for 10 years. We handed in [ Oh My My ] and pretty much the month later, I hit a wall of exhaustion. I pretty much had a breakdown. I got to November and collapsed. I lost it in a hotel room. I'd been gone 220 days in 2016 and it wasn't even a touring year.
I called my manager and said, "Stop everything." He said, "You just put an album out." I said, "I don't care—I'm close to quitting." I stopped everything and walked away from the band thing over the holidays. I came back in January and my manager was like, "What do you want to do with this album?" I had to peel the bandaid off. I said, "I can't deal with that album. I can't promote it, I don't have any energy left. I need to stay in one city and I need to write songs, and I need to work on other people's shit."
Related: John Legend on Donald Trump, celebrity politics and 'La La Land' white savior Backlash
I took the last three to four months only doing songs for other people. Every now and then a song would pop up that would feel like OneRepublic and I'd move it into a separate folder [on my computer]. I have enough of those now that we told the label, "Let's start putting out new music." We are going to play songs off Oh My My on tour, but the psychological toll it takes to make an album…I can't do that for a while. So we're just doing new music all the time. They will likely come every month or every six weeks or so. I have songs with Kygo, I have collaborations with Seeb, with Stargate. I'm in with all these artists so I was talking to Camila [Cabello], Enrique [Iglesias], Disclosure—"We should do something together." It's literally like, if I'm friends with you and we hang out, let's do a song.
It sounds like you've had a busy few months working with other artists. Who have you been working with that we should get excited about?
The amount of stuff I have coming on other artists' records is the most I've had in eight years. All in the last three months: Camila Cabello, Selena [Gomez], Jess Glynne, Foster the People, U2, Pink. It's been so much fun. Every day is a different artist. Camila Cabello has blown my mind.
Camila is an intriguing one. What is her solo material post-Fifth Harmony going to sound like?
I've heard three records including the two I've done. She walked in and played me [three tracks] and said, "Here's just three things I have." I was so intimidated. She was so good. She's not only an incredible singer, but she's also the most talented young artist I think I've worked with in songwriting in the longest time. Her songwriting skills are unbelievable—if a lyric is a B+ she can spot it. She'll go, "No, let's change it." It'd be an injustice if she didn't write her whole album, or co-write it, because she's such a good writer. She's been the most shocking—when you work with a girl from a girl group, you don't know what to expect. I just sent her a new song and we're both ecstatic about it.
And what about Selena Gomez? She found her sound with 2015's Revival, opting for softer, more breathy vocals. What's her new album sounding like?
She's definitely coined her sound. I've heard a lot [of her new music]. What I'll say is what I told her yesterday. I just said, "I don't envy the person who has to pick the singles." I'm not saying that to gas up her album. I've heard song after song that could be a single.
The thing that I discovered with her is she is the opposite of pretentious. No ego. She's genuine and authentic. If a song is a huge hit, but if she hears it and goes, "I don't know if I want to say that," she says pass. She knows what her sound is, she knows what's honest and she's sticking to that. I expect really big things for her with this album.
I'm curious, as a record producer, what you make of the different directions the various members of One Direction have gone in musically. Who could you see yourself working with out of that group?
I've already done a song with Liam [Payne] and I'm actually recording a second song with him next week. His stuff is spectacular. Another one of my writers, Noel Zancanella, who I did a lot of the Taylor Swift stuff with, and some of the Adele stuff that didn't make the album, he has a huge record on the Liam album. It's a dance record. I personally think it's the biggest one on the album. I've heard about three records. I know what the first single is and there's a lot of fame attached to the first single, I'll say that.
How would you describe Liam's solo material?
If you took [One Direction song] "Story of My Life" and turned it into an album, that's kind of Niall [Horan]'s direction, right? Zayn obviously went R&B and urban. Harry is classic Britpop; Mott the Hoople meets Robbie Williams—that lane. I like Louis [Tomlinson], but he's the one I've talked to the least. Funnily enough of all the routes that people have taken, the one lane that was left wide open was straight pop. So Liam is pop, and doing it in a fantastic fashion. He has a killer voice. There's elements of stuff I like from Usher, there's stuff that's edgy like The Weeknd…it's all over the map—it's pop. It's really high quality. I've only done one song with him that I did with Stargate. I'm cutting another song with him next week. The other one that [Zancanella] did with J Kash, it's my favorite record I've heard. If it's not a hit I need to clear my ears out—it's so good.
OneRepublic's cover of "Champagne Supernova" is released on Spotify in June. The band's U.S. tour begins July 7 in Kansas City, Missouri.