John Legend on Donald Trump, Celebrity Politics and 'La La Land' White Savior Backlash
"I've never been so proud of my wife," singer John Legend tweeted earlier this week. The reason for the praise? It had transpired that his wife Chrissy Teigen has been trolling U.S. President Donald Trump on Twitter long before it became popular—since 2011, in fact, when the possibility of Donald Trump's America was just a punchline on The Simpsons.
Legend describes himself as "politically engaged," and has used his fame in the past to campaign for former president Barack Obama, as well as speak out against Trump during the election campaign and beyond. On Saturday, on a red carpet, he called Trump an "asshole" and a "shithead." He also expressed disappointment that his longtime friend and collaborator Kanye West appeared to endorse Trump onstage and later met with him at Trump Tower in December.
"[Trump] has terrible character, terrible instinct and he's completely unfit to be president," he tells Newsweek.
Politics has taken center stage in Los Angeles recently as Hollywood and the recording industry celebrate awards season. Legend is performing at the Grammy Awards on Sunday and taking a seat at the Academy Awards later in February, as both a cast member and executive producer on La La Land, this year's frontrunner for best picture. That could be two potential opportunities for Legend to criticize Trump on a global platform, just as Meryl Streep did at the Golden Globes in January.
Here, speaking to Newsweek, Legend talks about why he thinks artists should be able to get political at awards shows, the backlash against La La Land and why he and Teigen are publicly talking about starting a family through in vitro fertilization (IVF).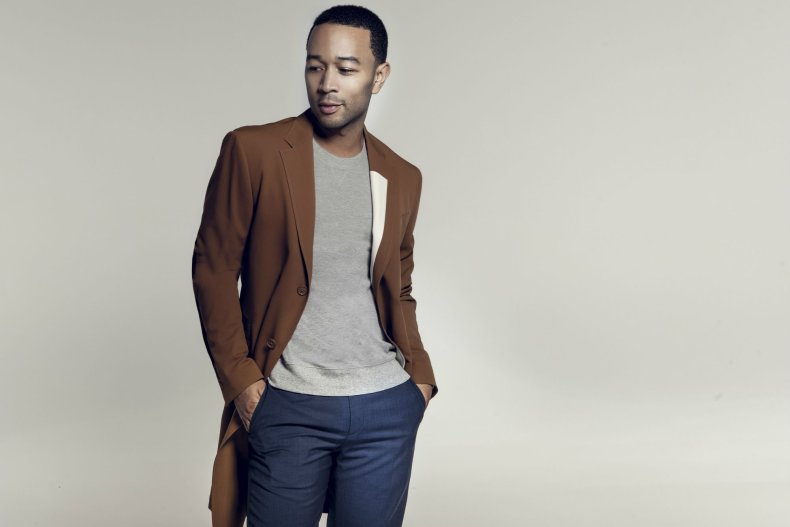 You're performing at the Grammys Sunday and attending the Oscars on February 26. There's been debate that stars should not use these big awards shows as political platforms, like Meryl Streep did at the Golden Globes last month. What is your opinion on that?
Everybody has their own approach. My approach is that politics is a part of our lives and it affects everything we do. As artists, most of us are [American] citizens. We all care about who's running our country and care about what they're doing in our name. Our leaders are representatives chosen by the people, paid by the people and accountable to the people. Artists are the people too. We're given an incredible opportunity to speak in front of the whole country, the whole world, and artists like myself have chosen to use that opportunity to say something that's meaningful and is going to affect a lot of lives. That doesn't mean me saying one thing at the Grammys, or one thing at the Oscars, is going to change the world… It can be done really well and powerfully. I applaud the artists that do it right.
You and Chrissy have been very outspoken about President Trump for a long time. Even if you don't agree with his politics, do you think it's fair to give him a chance to acclimate in these first 100 days?
It's been a terrible first couple of weeks. He's attacked the press pretty terribly and freedom of religion… He hasn't divested his businesses and he's clearly got plans to act in ways that could benefit his own businesses. We have no idea what's going on with him in Russia—but it smells fishy.
There's a lot going on in the last two weeks that validates what I was saying before, that he's unfit and unqualified to be president. It's likely going to be dangerous for the country that he's in charge.
My biggest worry is that he's going to put us into a stupid war based on his own ego and his own insecurities. We should be worried. It's not good news.
Would you and Chrissy consider moving to another country?
We don't need to live [in the U.S.]. There are a lot of professional reasons we live in Los Angeles. We always see ourselves as American citizens first, but we're also global citizens. We're always going to travel and be in other places. But moving to another country affects how you work. It's a major choice to make and we're not ready to make that choice.
You and Chrissy have been to several White House correspondents' dinners under the Obama regime, and campaigned for him. You also executive-produced Southside With You, a biopic about Barack and Michelle Obama's early years together. Are you sad now they're gone?
It's been emotional for a lot of people. People saw what a beautiful and powerful couple they were, and what they did for the country. Now people are seeing the alternative I think it's even more stark a comparison how great Obama was and how great Michelle was as First Lady. People's appreciation for them is at an all-time high.
Related: Zara Larsson on her new album, hiding from Beyoncé and fighting male oppression
You criticized your friend Kanye West for meeting with Donald Trump. Have you had a chance to talk to him about that?
I think he regrets his support for Trump now, too, from what I've been reading. I think anyone who thought Trump would turn out to be a good president [is] realizing they were probably wrong about that. I don't want to be right about him being terrible, because if he's terrible that means something terrible is going on in the country.
Chrissy recently revealed that your next child will be a boy because "that is the embryo we have left." You had your daughter, Luna, via IVF. Some people criticized Chrissy on Twitter for not having children "naturally." It seems reproductive rights are also under attack in the U.S. right now.
Having control over reproduction is one of the most important rights a woman has. Choosing when you want to have a child or not affects so much of your life and your body. There are some people that want to take away that right, particularly our Vice President Mike Pence, enabled by President Trump. This is a time for us to be worried about women having their full reproductive rights.
There are some who look down on people that have fertility issues and need to use IVF. We have had fertility issues for years and had to use IVF. Some people can't reproduce naturally. We're glad we had Luna the way we did, and hopefully we'll have a few more kids through IVF. We think it's a viable issue for people having fertility issues and encourage people that can't have kids the old-fashioned way to do it the way we've done it.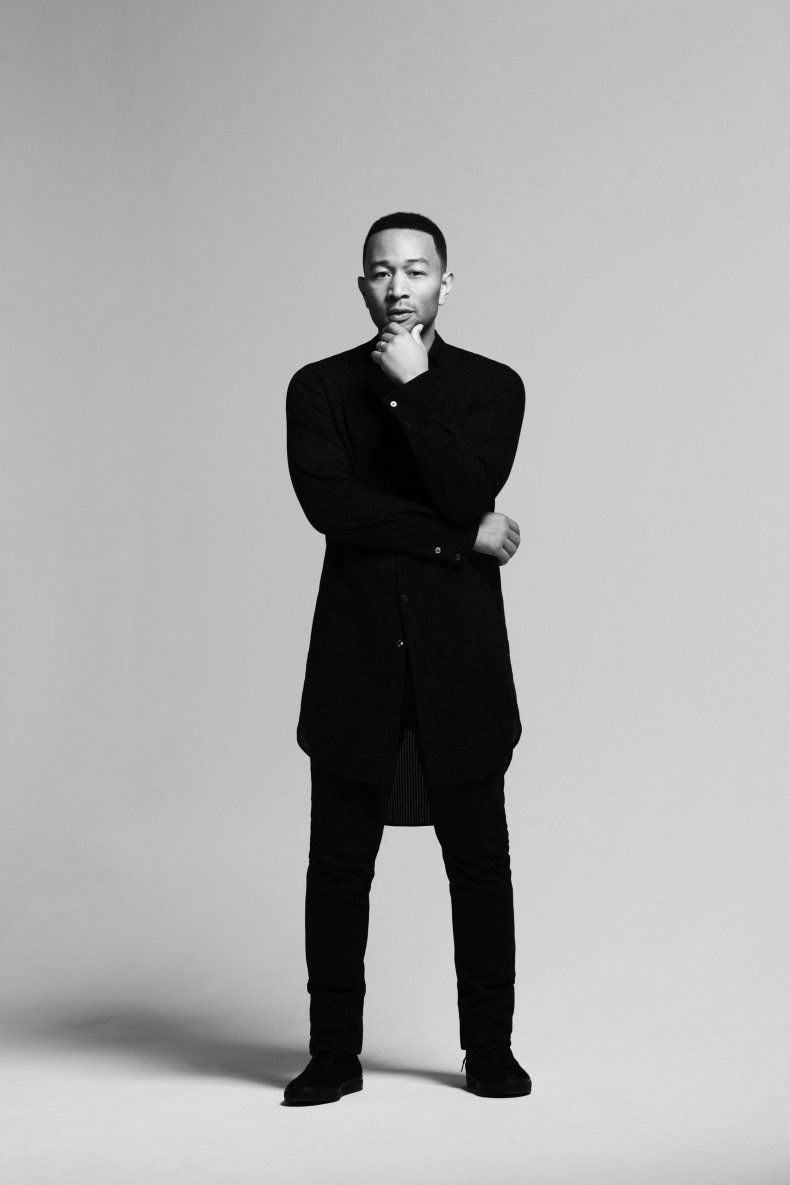 Let's talk about La La Land . It swept the Golden Globes and is up for 14 Oscars. What has all of this recognition been like for you, living within the bubble?
It's been incredible. I feel so happy for Damien [Chazelle, director] because this has been his vision for a long time—to see it come to fruition and for him to have done it so beautifully, and at such a young age, is incredible. The team is incredible: Justin Hurwitz, the composer, and of course Ryan [Gosling] and Emma [Stone].
There has been a bit of backlash against the movie in the last month or so, now that it's become such a big awards contender. What do you make of that?
That happens all the time. When you win seven Golden Globes and are nominated for a record amount of Oscars, of course someone has to say, "It's good but it's not that good." It's almost like a rule. The reason the film is getting all this recognition is because people love it and that's not changing at all. People have quibbles with it but you could have quibbles with every movie. This movie is making people feel good in a time where a lot of other things aren't making people feel good.
Related: Inside the magic of 'La La Land' with music director Marius De Vries
Some of the criticism has been about Ryan Gosling's character, Sebastian, and the way that jazz is portrayed in La La Land . Some critics feel Sebastian is depicted as "the white savior of jazz" and a staunch traditionalist. Another critic felt your character Keith's modern jazz tastes were sneered at. How do you respond to that?
I never thought Keith was mocked in the film. I always thought Keith represented a viable alternative [of jazz]. In fact, the scene in the rehearsal room where I'm giving [Gosling's character] a lecture about being a revolutionary and a traditionalist, I think it's a pretty powerful scene. Damien and I never wanted Keith to be ridiculous, or his song to be terrible or hated. We wanted to present Keith as a viable alternative for Sebastian, but something he was choosing not to do. Sebastian was stuck in that traditionalism. The film doesn't necessarily approve of how traditionalist he is. The film agrees with Keith when he says, "How are you going to be a revolutionary when you're such a traditionalist?" I don't think Sebastian is seen as the savior people are saying it is. He's a flawed character that is a bit dark and stubborn, but he's also an interesting guy. Part of the story is the love story and why him being so stubborn may have gotten in the way of him falling in love.
More diversity and inclusion has been a big discussion point around awards season for the last few years and a subject you've spoken on before . This year, there's a lot of diverse movies breaking through and winning awards— Fences , Hidden Figures and Moonlight to name a few. Is it bittersweet to see La La Land dominate the conversation?
I think they are being recognized. We were just at the [Screen Actors Guild Awards] and Hidden Figures won for best cast, Viola Davis won for best supporting actress and Emma [Stone] won for best actress. People are going to vote for who they thought did the best job. I'm happy that movies with diverse casts were made and it shows that given the opportunity, actors of color can give world class performances and be recognized for them. But they have to be given the opportunity to do so. I'm happy the film industry is giving actors of color—and directors and writers of color—the opportunity to have their talents heard. With those opportunities, those artists will show they're worthy of awards.
You produce movies and television shows, like the slavery drama Underground . Can you tell me about your work as a producer and championing diversity in an industry that has historically been lacking in that area?
The past is the past. I do believe that Hollywood has been listening to the people and they realize that America, and the world, are really diverse and there's a lot of types of people that want to see representations of themselves on screen—and they're not all white guys. Hollywood is realizing that both on TV and film. That doesn't mean we become complacent now.
It's not just about black actors, writers and directors. There's a lot of other ways you can have inclusion and diversity. There are lot of Asians, Latinos and Muslims who want to see themselves on television, and deserve to be seen. When I talk about inclusion, it's not just about black people.
John Legend's album Darkness and Light is out now.