One Republic's Ryan Tedder On Prince, Beyoncé And His Alternative Rock Ambitions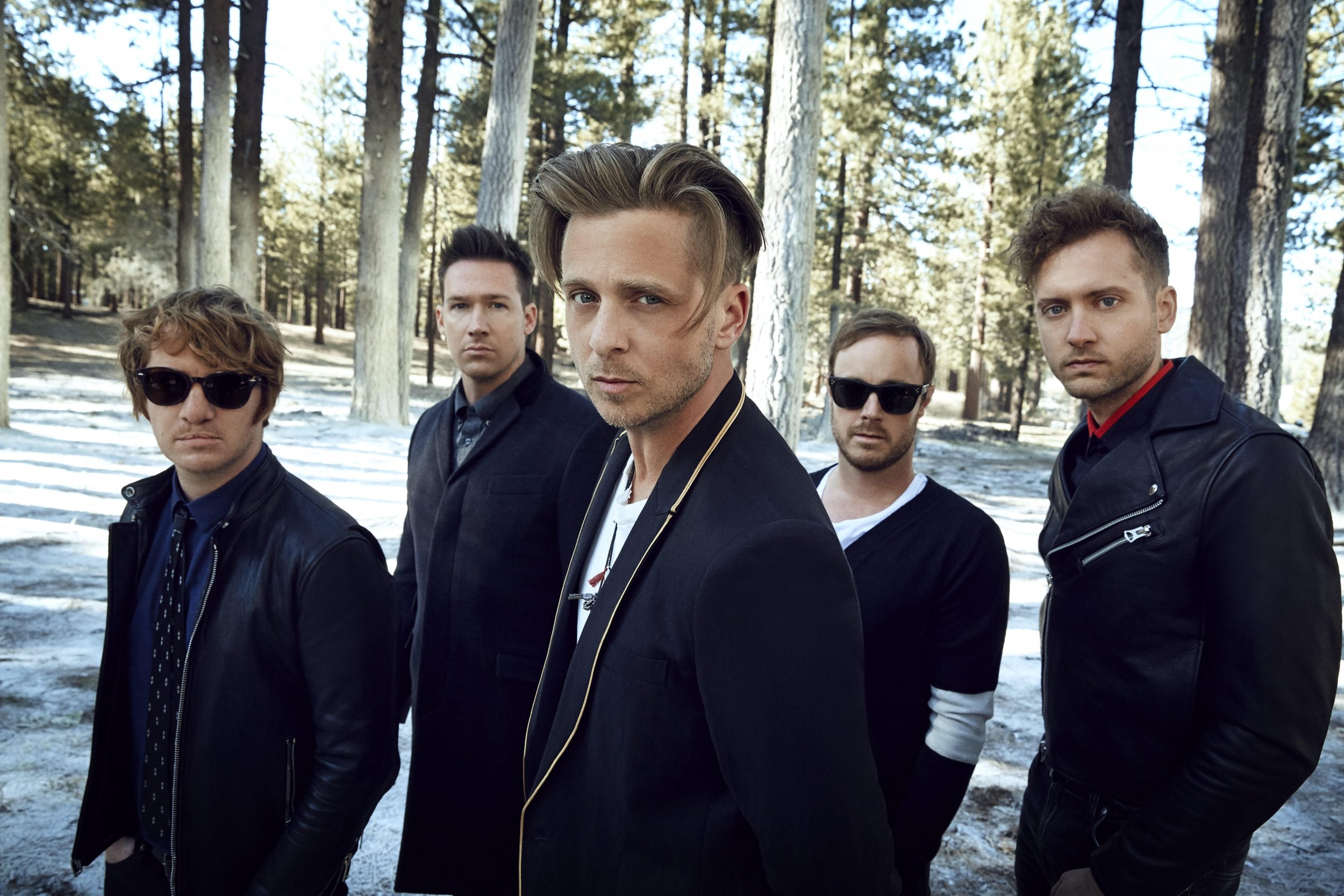 Ryan Tedder may be pop's most reluctant frontman. The songs he works on have an uncanny way of being certified platinum, from his band OneRepublic's hit songs, like "Apologize" and "Counting Stars," to his work for other artists such as Beyoncé, Adele, Taylor Swift, Ellie Goulding, and One Direction.
Yet pop was never Tedder's first love. And it still isn't. "A grand irony," he says with a laugh, that he is known for his sonar-like precision in producing irresistible pop anthems. Tedder initially envisioned OneRepublic as an alternative rock band. "I tell people this and they never believe it. The first song OneRepublic put out is a five-minute song that displays my love of Doves, a Mancunian band, and Jeff Buckley."
Then when hip-hop producer Timbaland remixed their track "Apologize" for his 2007 album Shock Value and turned it into a global hit, the band's trajectory changed. Through a perfect storm of a breakthrough single and a collaboration with then-newcomer Leona Lewis, for whom Tedder wrote and produced a little number called "Bleeding Love," Tedder and OneRepublic had arrived.
But Tedder, 36, will be the first to tell you that it wasn't until the 2013 release of OneRepublic's most successful album yet, third studio record Native, that he began seeing the band on the same level as the A-list acts he often works with. And now he's the kind of guy who receives, casually as can be, a text from Bono as he speaks with a reporter.
Meeting at a London hotel as part of the promo tour for OneRepublic's as-yet untitled fourth album and its first single, "Wherever I Go," Newsweek and Tedder talk about Beyoncé, Adele, the double-edged sword of success and that trouble with Kelly Clarkson.
Newsweek: 2007 was your breakthrough year with "Apologize" and Leona Lewis's "Bleeding Love." Did you have an inkling your fortune would change, after all the hardship you experienced in your early career?
Ryan Tedder: I had been signed and dropped as a solo artist, signed and dropped as a band. By the third go-around, I had zero delusions of grandeur. I'd been humbled.
When the remix of "Apologize" was coming out…we didn't want the [Timbaland] remix to come out, it was supposed to come out as our record. We started as an alternative rock band, our first major gig was Coachella, and a few months later "Apologize" comes out and we get thrown in the pop world. I'm not saying pop is bad but it wasn't our trajectory.
I knew "Apologize" was a big record but I never anticipated it would do what it did. I felt it emotionally. With all the songwriting I did for years—I've had some dance hits, hip-hop hits—but the ones that have stood the test of time are the ones that make people feel, so "Apologize" and "Bleeding Love" became my litmus test for what makes a good record.
Speaking of good records, "Counting Stars" is OneRepublic's biggest hit to-date. Is there a pressure, then, to top that with new track "Wherever I Go?"
I definitely felt the pressure. Our last album, more or less, made the pressure. Our first album did pretty well, our second one did well, and then our third album… My manager always says no other act has sold five million albums as quietly as we did. I'm tired of being quiet. This album is not quiet.
I hate picking a first single. We always pick the wrong one. This one, thankfully, has taken hold. I think one good instinct I have is, if I have something enormously successful, I never try to duplicate it. From a business standpoint, maybe that's not the best business model, but from an artistic standpoint, it's the only way I stay alive. The idea of trying to do "Bleeding Love" part two… In the pantheon of songs that I've done, you won't find another that sounds like it. You might feel the spirit of it in some songs, but I won't ever try to recreate the sound.
I feel the pressure of "Counting Stars," but comparing that to anything on this album is apples and oranges.
How do you instinctively know great pop when your own tastes differ so greatly?
To this day I don't listen to pop. I know the day that I start listening purely to pop is the day I stop writing great songs. On this new album, my inspiration is more LCD Soundsystem, Daft Punk and Peter Gabriel… That's the stuff that I listen to, but it informs pop.
As they say in the U.K., I'm a punter [customer], I have a punter's set of ears—my default setting is your average human being. When you combine that with my taste in music, listening to more left-of-center bands, the juxtaposition of those two things equals the records I've written, from "Bleeding Love," to Ella Henderson's "Ghost," to Birdy's "Wings." These wouldn't exist if I wasn't listening to more left-of-center stuff.
It's been nearly 10 years since "Bleeding Love," the track that really made you one of music's most coveted producers. How do you reflect back on that song now?
I was trying to write a Prince record. That was 100 percent the motivation—the opening chords, the organ, everything about it. "I Would Die 4 U" inspired "Bleeding Love." When I was doing "Bleeding Love," Prince comes from a religious background like I did, grew up in church, so he had a spirituality, almost a gospel thing. Then he also had sexuality and was edgy. The whole thing stems from me trying to channel a melody and a beat that felt like what he would do.
Did you ever get to meet the great Prince?
It was a very passing meeting. We got nominated for a Grammy for "Apologize" so we got invited to his Grammy after-party. Then we got turned away at the door because it was over capacity. The fire marshal was shutting down his house. I have a great picture of us with Prince in front of the bushes at this house in Beverly Hills.
You spoke about never duplicating past hits. Kelly Clarkson claimed in 2009 you reused the same music for her song "Already Gone" as you did for Beyoncé's "Halo." What happened?
What happened was, "Halo" was written in the key of C, but when Beyoncé recorded it she dropped it to A or A-minor. She dropped it into the same key as Kelly's song. But my original demo was a different key, different tempo, different chord changes. There are only 12 notes in a scale, so all of us writers are dealing with the same 12 notes.
I have never in a million years sold the same track to different artists. Never will. I don't give enough shits about the money, or having a hit, to do that. I'm too keenly aware of my reputation and the future of working with other artists to ever bastardize one song for another.
Nothing remotely similar has happened since, which I think speaks volumes to the fact that it didn't even happen to begin with.
Is it flattering that Beyoncé still closes her live shows with "Halo"?
I'll always love that song. I've been asked to rewrite that song for a number of artists, and I'd love to do another one like that with only her. Beyoncé's gone in a different direction, musically, but if she was ever like, "Screw it, I want to do a gigantic pop record," I'm a phone call away. She's the only person I would ever [do that for]. I've not done anything else that sounds like that since then.
Were you surprised that she got so personal on her new album Lemonade?
There is nothing she could do in 2016, or moving forward, that would surprise. She's super-savvy, super-talented and she's surrounded by the right people. She's making the right moves at the right times. And she's killing it.
She hasn't just done music, what she's doing now transcends music—she's creating culture. I always say one of the most dangerous things is for an artist to believe they're the hit and not the song—the song is what got you here. In super-supremely rare instances, artists themselves become the hit. Beyoncé is officially the hit. Adele is the hit. The rest of us still need to write the hits, one after another.
You produced "Remedy" on Adele's latest album, 25. At this stage, after all the success she's had, can you really produce her in the studio? Can you really tell Adele: "Change this"?
I have the benefit of having a long-term relationship with her. I've known her since right after 19. The cool thing about her and I, we want the best take period—the best take, best lyric, best performance.
I play the piano on "Remedy" and I don't consider myself an A-level piano session player. I wanted to redo the piano with a brilliant pianist, but she insisted we keep my take on it because there was an emotional context there and it wasn't perfect. Perfect isn't perfect. I hear that record and can hear the couple of moments that I go off tempo, and it drives me crazy, but it's part of what makes us human.
It's difficult to produce Adele because everything she sings sounds like a hit, so it's a lot harder on the songwriting process. She could sing "Feliz Cumpleaños" in Spanish and somehow you go: "That is probably a top 10." Her voice is that damn good. So you have to be harder on yourself and the songs, because her voice will convince you that what you're writing is better than it is.
OneRepublic's new single "Wherever I Go" is out now.