Couple Who Found Love Again in 70s Reveal Top Dating Tips After Viral Video
Looking for a companion, an equal person to be with sometimes but not always. So read the dating profile of Lin Rubin, who is in her 70s and had been single since 2008 following a divorce. "That was my sense of what I needed" at the time, she told Newsweek.
Harold responded to Lin's profile listing on Silver Singles, a dating website, even though he was on another site (eHarmony). "These sites seem to cross post, it just happened. There was my man." Harold—who was only the second person to respond to Lin's dating profile ad—"just popped up" in her email.
"When he doesn't shave, I see the mountain man I love. When he shaves and dresses up, I see my knight in white shining armor. But mostly we just see and feel a lasting love," said Lin of her current husband.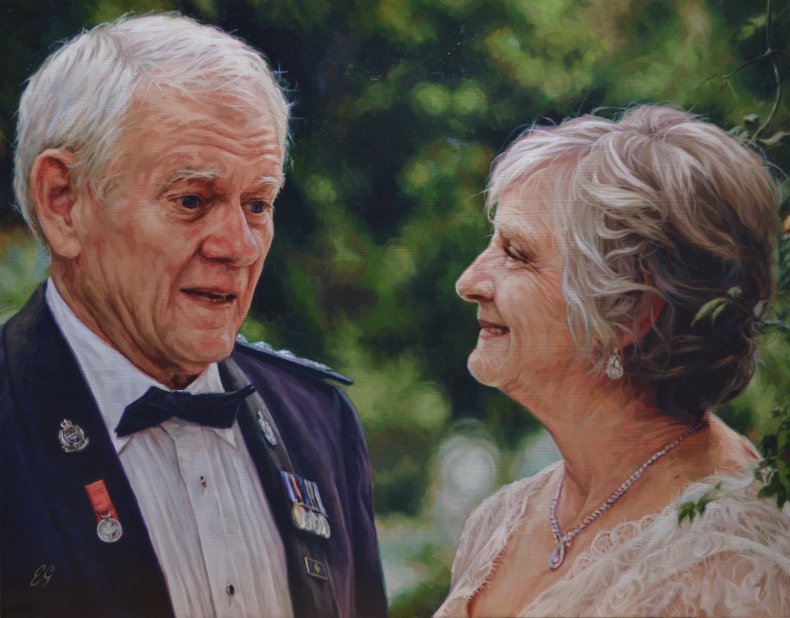 The couple, who met just months before the COVID pandemic, form the subject of a painting in a viral video shared by artist Elysia Gilman on TikTok and Instagram (known as @elysiagilmanart on both platforms), who depicted a touching moment captured between them on their wedding day in 2020.
Lin was "not sure what to expect" when she joined the dating site and was "very careful" when she first met Harold. "We talked. He had been a professional like me, owned his own home and was economically independent as I was. So we decided to meet up."
The couple got together for the first time over a long weekend in May 2019. "We were well-aligned, but, being ever cautious, I was vocal and adamant that I wanted a companion but not an individual who was looking for a nurse with a purse! I was 70 and he was 72."
What struck her most about Harold when they met was his "display of respect towards his wife who had passed away," in addition to being "sensitive and non-threatening."
She said her first "serious attraction" towards him came that weekend when he spoke about "the loving relationship" he had with his wife, who passed away about six years ago unexpectedly.
"The more he expressed himself, I thought 'what a wonderful, self-assured and sensitive man.' That was it, I was hooked. He could be a candidate as a companion," Lin recalled thinking.
The pair eventually bought a home together in the Canadian city of Victoria, the capital of British Columbia, where the couple are now based, after she rented out her condominium ("forever being cautious"), while he put his home up for sale ("not cautious at all") in September 2019.
"We developed wills together that left nothing to each other, but rather protected each other's future by ensuring that a remaining spouse could live their lives in our joint home with no disruption," Lin said.
With the COVID pandemic in full swing, the couple opted for a wedding in their backyard in July 2020, with just two friends and Lin's daughter as guests.
Lin said: "Life carried on and COVID was rampant so we worked hard and loved it all just in our own bubble. Harold is a terrific cook and he took over kitchen duties, while I whiled away my time in the garden."
These days the couple loves to check out different pubs for lunch, going to the theater and planning their travels together.
"We always enjoy our time together, we need no one else it seems," said Lin, noting she is most grateful to his former wife, who "must have done a lot of heavy lifting to make my love the way he is."
Until 2022, the pair had "a circadian rhythm" going in their life together. That is, before "[Vladimir] Putin interfered" and the war in Ukraine began, Lin said.
The couple felt compelled to support a Ukrainian refugee family, both financially and living in their home, to get settled. "This activity just added cement to our bond to each other. A good relationship shares values and shows their values for sure," she said.
Meeting Harold in the later stages of her life has been all the more significant in recent months, during which Lin developed cancer.
"I have nodular melanoma [a type of skin cancer] and am in treatment every four weeks for a year. Currently, things are not stable, but with the incredible health care in Canada, I have confidence that the outcome will be the best possible. When/if things go south, I will avail myself of the MAID (Medically Assisted in Dying) program," she explained.
One element that does concern Lin about her cancer is "the pain it will cause my love [Harold]." During the past six months, Lin said she has been "grateful to have him by my side as my companion and husband" and "we love each other with every fiber in our bodies. Together we will get through this."
The Secret to Dating and Finding Lasting Love
Lin said: "There are a few fundamental things that cannot be glossed over," such as the following:
Mutual respect and equality
Acceptance—we all have warts and foibles.
Doing the little things for each other that show you're caring
Loving yourself before you try to love someone else.
Clearly don't sweat the small stuff because, really, it's all small stuff.
Not having to be in each other's space all the time. With us, Harold gets to enjoy television and sports, while I get the quiet time to read, so it works perfectly.
Do you have a special love story that you want to share? Email life@newsweek.com with some details and your story could appear in Newsweek.