Sweet Note Previous Homeowners Left Newlywed Buyers Melts Hearts: 'Karma'
A picture claiming to show the heartwarming note a couple in their 80s left for the newlyweds who bought their house has gone viral on Reddit.
The image was shared to social media by a user posting under the handle SarahEH and has been upvoted over 70,000 times.
Few things in life are as stressful as moving house, as a survey of 1,000 Americans showed. Moving was selected by 45 percent of respondents as the most stressful event in life in the 2020 survey conducted by OnePoll on behalf of North American Van Lines.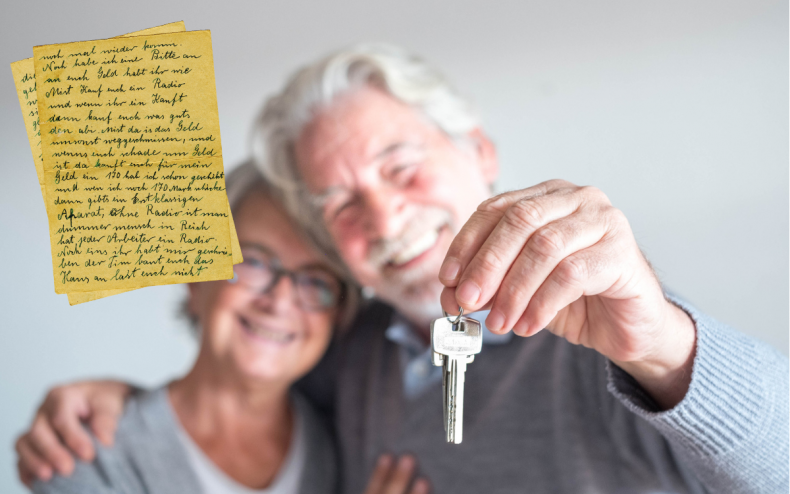 In fact, moving was said to be more stressful than going through a breakup (44 percent), getting married (33 percent), having children (31 percent), and starting a first-ever job (28 percent).
As with any stressful situation in life, every bit of help you can find goes a long way, whether it's enlisting friends to pack and unpack boxes or providing a place to stay during the transition.
However, one elderly couple found a unique and thoroughly charming way to alleviate the stress associated with a move by leaving the newlyweds who were set to move into their former home of some 30 years a touching note wishing them luck for the future.
The picture shared to social media provided a snapshot of the handwritten message, which has been melting hearts ever since it was posted online.
It reads: "We arrived here in our 50's & left in our 80's - I hope you also have a good run! The house is blessed with 'good karma' - so we pass it onto you! Congrats! -'Cookie' & 'Bud.'"
Offering a small glimpse of the life previously lived within those four walls, the couple decided to have the note framed, having evidently been touched by the message it contains.
However, as the reaction on Reddit shows, they aren't the only ones to have been affected by the note, with users flooding the post's comments section with messages.
"That's so sweet," Healthy_Nebula1993 wrote, with Helvetica_Light adding: "I love the fact that the new owners kept the little note in a frame."
NatureBride commented: "Love this. Plan to do this with our home as well" while Desperate_Celery_99 adding: "I love this. We had the pleasure of meeting the previous owners before purchasing. Sweet elderly couple who were THRILLED to see a young family starting out."
Serenade-to-a-cuckoo, meanwhile, shared a similar story, writing: "I got a greeting card on the second year of home ownership from the former owner saying she thought I was doing a good job and wishing me good luck. It was so nice and meant a lot to me."
Newsweek has contacted SarahEH for comment.