The Red Flags You Should Watch Out For When Online Dating
Although one in every four couples meets online, dating apps are still a minefield. While 40 percent of American singles have used a dating app in the last year, user-reported pitfalls are well-documented. You might meet the love of your life—or you could get catfished, ghosted, harassed, or even drawn into an MLM scheme.
Fortunately, Chloe Gray is here to help. Dubbed the "female Hitch," Gray helps struggling singletons to craft the perfect profile that'll land them love (or at least more matches). From offering consultant services on Reddit as a student to a thriving business, the therapist-turned-dating-coach can spot a red flag a mile away— and help you to do the same.
Here are her top five red flags to look out for when swiping:
Negative or demanding profiles
Missing information
Bragging
Heavily filtered photos
Inconsistencies
Negative or demanding profiles
While online dating can be tough, Gray said that creating a list of expectations for potential matches is "always" a red flag.
She told Newsweek: "If they have a huge list of what they expect of you, the person behind the profile is usually either controlling or incredibly bitter about online dating.
"It's completely normal to get frustrated or need a break, but [this attitude] is unlikely to lead to a healthy relationship."
She said common examples include "no fat chicks", "don't bother swiping if you aren't going to respond to my messages," and "if you don't have a good job and are at least 6' don't bother."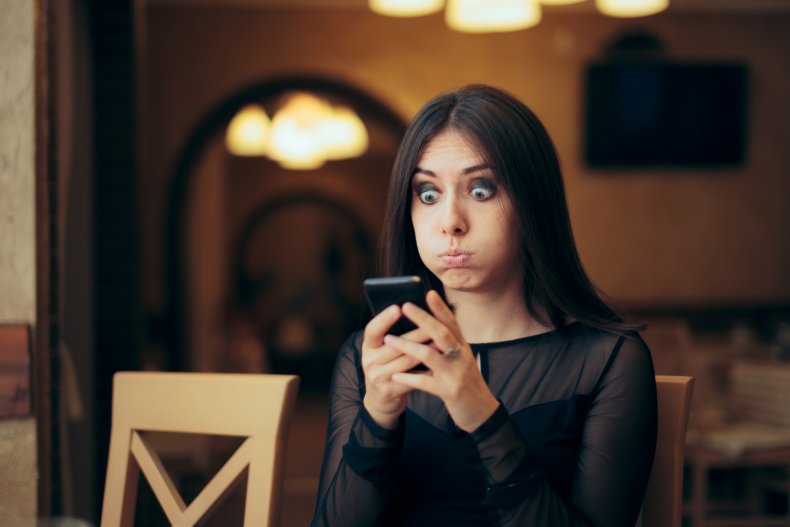 Missing information
What's worse than a bad bio? No bio at all. "The lifestyle information on dating apps is often overlooked, but it's really important," said Gray.
A lack of information on their profile could mean they're lazy or boring, but it could also be a sign they're hiding something. For example, they could be lying about their age, if they have a partner or children, or if they do drugs.
"Be cautious," Gray recommends, especially if certain issues are a dealbreaker for you.
Bragging
Confidence can be an attractive trait. Overconfidence is less so.
"There is a fine line between showcasing your lifestyle in your profile and bragging," said Gray.
"There's nothing grosser than a profile full of someone posing in front of their shiny new car, on their fancy boat, sternly staring you down behind their powerhouse desk, or trying to get you to believe that their Rolex collection just so happened to be sitting next to them."
If you can't be bought, avoid these profiles—or at least watch the Tinder Swindler first.
Heavily filtered photos
There's nothing wrong with wanting to look your best online, but heavily filtered photographs can be a sign of insecurity.
"If their photos show anime-sized eyes, impossibly small waists, and their face is somehow devoid of pores, their photos were almost certainly filtered," said Gray.
To avoid being catfished or going on an awkward date with someone you're not attracted to, give overly-edited photos a pass.
Inconsistencies
It's always a risk getting to know someone new, but their profile can help you figure out if a match is worth putting your trust in.
"Are they claiming to want a long-term relationship, but most of their photos are in bars and clubs with their arm around models?" said Gray.
If you're looking for lasting love, but their profile indicates they're searching for something more casual, swipe left.
Have you noticed any red flags that made you end a relationship? Let us know via life@newsweek.com. We can ask experts for advice, and your story could be featured on Newsweek.