'Finger-Lickin' Gourmet': KFC Launches 11-Course Fine Dining Menu
Kentucky Fried Chicken (KFC) Australia is preparing to launch a dining experience that may surprise some fast food fans. The restaurant will open a short-term degustation menu in Sydney, complete with 11 courses and a wine pairing.
For the price of $75 AUD a person (approximately $53.90 USD), Australians will be able to enjoy this tasting menu between April 1 and April 3 at an undisclosed location in Alexandria, a suburb of Sydney.
The prix fixe menu will include "Supercharged Wings" cooked over a bed of charcoal and "Popcorn Chicken" served with celeriac soup, mushroom gnocchi and basil topped with an edible floral garnish, according to a press release. The "La Di Da Drumstick" will feature the KFC drumstick dusted with quinoa and gold.
British chef Nelly Robinson is partnering with the restaurant to develop the lavish courses. Robinson owns his own restaurant in Sydney, which offers an eight-course degustation menu that changes every 10 weeks.
"Finger-lickin' gourmet," a TV anchor remarked on 7NEWS in Adelaide after KFC's new menu was announced. "Didn't think I'd ever say that together."
To book a seat, fans of the fried chicken restaurant must sign up on a waitlist, where they are asked to explain which KFC dish they believe is "worthy of a la-di-da degustation."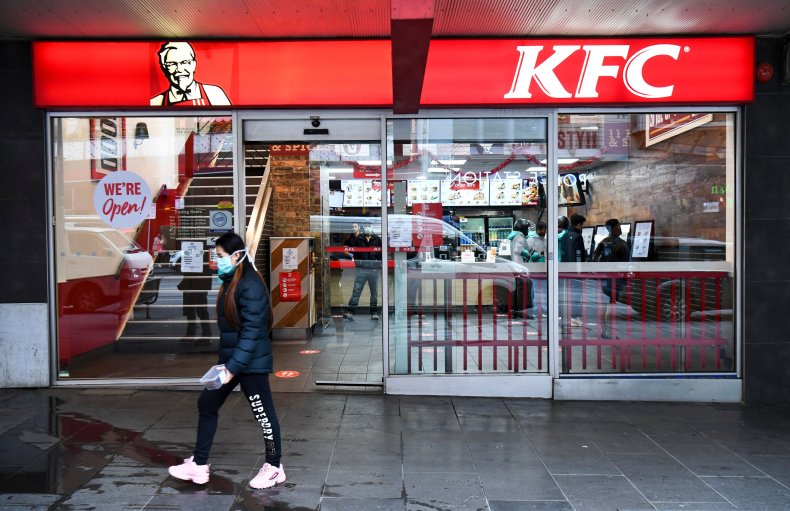 In January, 7NEWS reported that KFC Australia was suffering from a poultry shortage related to supply chain issues as COVID-19 cases rose across the country. A spokesperson confirmed to the outlet that some locations were being forced to offer a reduced menu.
One restaurant's sign told diners: "Due to supplier issues, we have no original chicken, zingers, fillets or wings. Please refer to sold-out stickers for available items."
KFC also addressed the shortage in a statement on its website, saying: "Like many businesses across Australia, our supply chain & workforce has been impacted by COVID-19. Rest assured we're doing all we can to get back to fryin' everyone's faves as soon as possible."
In the United States, a KFC customer went viral last week for his outrage over the chain's allegedly increased prices.
"I know I ain't tweakin'," TikTok user @eyedealistic.don said in a video that has reached 1.3 million views. "But this s**t done got higher than a motherf**ker." $57 for a 16 piece 8 biscuit!"
A chorus of viewers agreed in the comments.
"KFC is the biggest rip off," one user wrote. "Meanwhile a whole rotisserie chicken $4.99 at Costco."
"What's that noise? Oh that's me getting my pots and pans out the drawer lol," another viewer joked.
Newsweek reached out to KFC for comment.