Fiorina Comes Out Ahead in Scrappy Republican Undercard Debate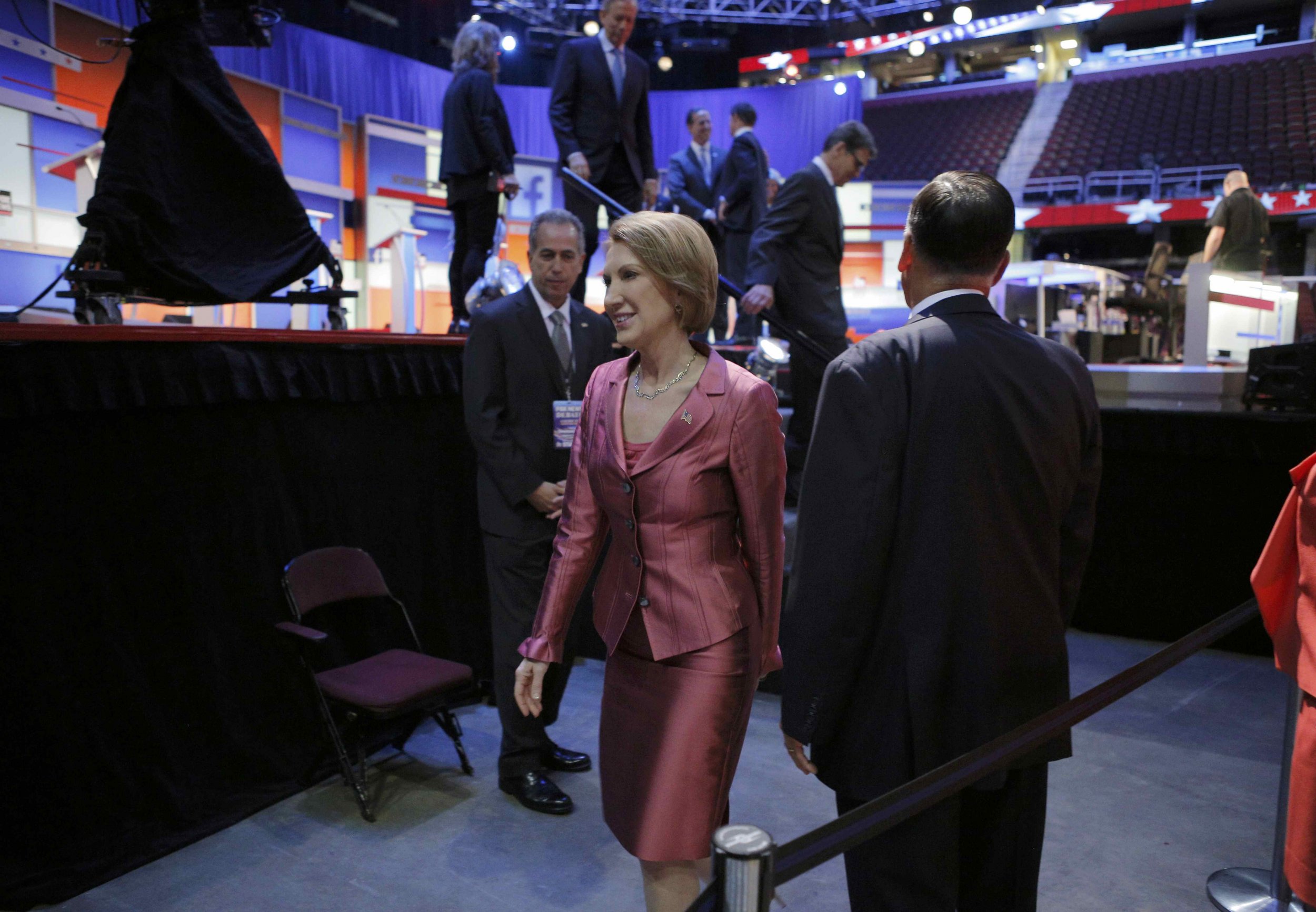 It didn't have a prime-time audience, but the undercard for the main Republican debate at 9 p.m. proved a scrappy affair, befitting candidates who are desperately scraping for some traction in a crowded primary.
The 80-minute debate featured seven Republican candidates whose polling numbers were too low to qualify for the prime-time event on Fox News. And they tried to make the most of the national exposure, seizing on every question to frame their candidacy and throw a few elbows as well, although not at one another. The group's favorite targets: Hillary Clinton and Donald Trump, the front-runners in the Democratic and Republican races, respectively.
Former Hewlett-Packard Chief Executive Carly Fiorina went after both candidates with particular zest, calling Clinton a liar and questioning Trump's core values after his flip-flopping on issues like immigration, abortion and health care. Fiorina even jabbed at fellow GOP candidate Jeb Bush, though not by name. The Republican Party needs to nominate "someone who cannot stumble even before he gets into the ring," Fiorina said, poking at the former Florida governor's frequent verbal gaffes in the early months of the campaign.
Overall, Fiorina had one of the strongest performances of the night—she was composed, well-spoken and as comfortable speaking on foreign affairs as she was on the economy. "Obama has presented the American people with a false choice," when it comes to defeating the terrorist group known as ISIS, Fiorina said. It doesn't necessarily require another American war in the Middle East, she said. But "we have to stop the money flow," while also providing far more support to Arab allies like the Kurds, Egypt and Jordan.
As blogger Nate Silver at FiveThirtyEight pointed out, Fiorina was easily generating the most search traffic during the first half-hour of the debate, according to Google Trends, though South Carolina Senator Lindsay Graham saw a big spike in traffic later on. Fiorina's main pitch: Washington needs an outsider. "Only someone who will challenge the status quo…can lead this nation," she said in her closing remarks. "I will do that."
Two second-time presidential candidates are also hoping their largely successful debate nights will help boost campaigns that have underwhelmed on the trail thus far. Rick Santorum, the former Pennsylvania senator and outspoken social conservative, is trying to set himself apart as a champion for blue-collar workers as well as a reformer in Washington. "For 16 years, I fought the insiders, and was able to get things done," Santorum said late in the debate.
Former Texas Governor Rick Perry, meanwhile, avoided the major stumbles that cost him in the 2012 race, although he did accidentally call the country's 40th president "Ronald Raven," quickly setting off a new Internet meme. Folksy and relaxed, he joked about bringing a bottle of Wite-Out with him on his first day as president (to erase all of President Obama's executive orders). Asked to list two words that describe Clinton, Perry quipped, "good at email" (Santorum and Louisiana Governor Bobby Jindal were the only two of the seven who actually managed to give a two-word answer.)
But Perry stumbled a bit when discussing foreign policy and the Iran nuclear deal. And he risked coming off as too glib and lighthearted in a debate that focused intently on heavy subjects such as terrorism and abortion.
Graham is the Republican known for tossing off the tart one-liners, but the garrulous senator was uncharacteristically subdued Thursday evening. He did, however, reinforce his hawkish national security pitch, even managing to turn one question about reproductive health provider Planned Parenthood into a discussion about war in the Middle East.
The three other participants—Jindal, former New York Governor George Pataki and former Virginia Governor Jim Gilmore—all avoided stumbles. But they also did little to help themselves break out of the pack. If anything, Gilmore and Pataki reinforced just how long they've been out of politics, talking about their leadership in office during September 11. That was 14 years—or seven elections—ago.