Fired Hawaii Worker Who Sent False Missile Alert Had Mistaken Drills For Real-Life Events Before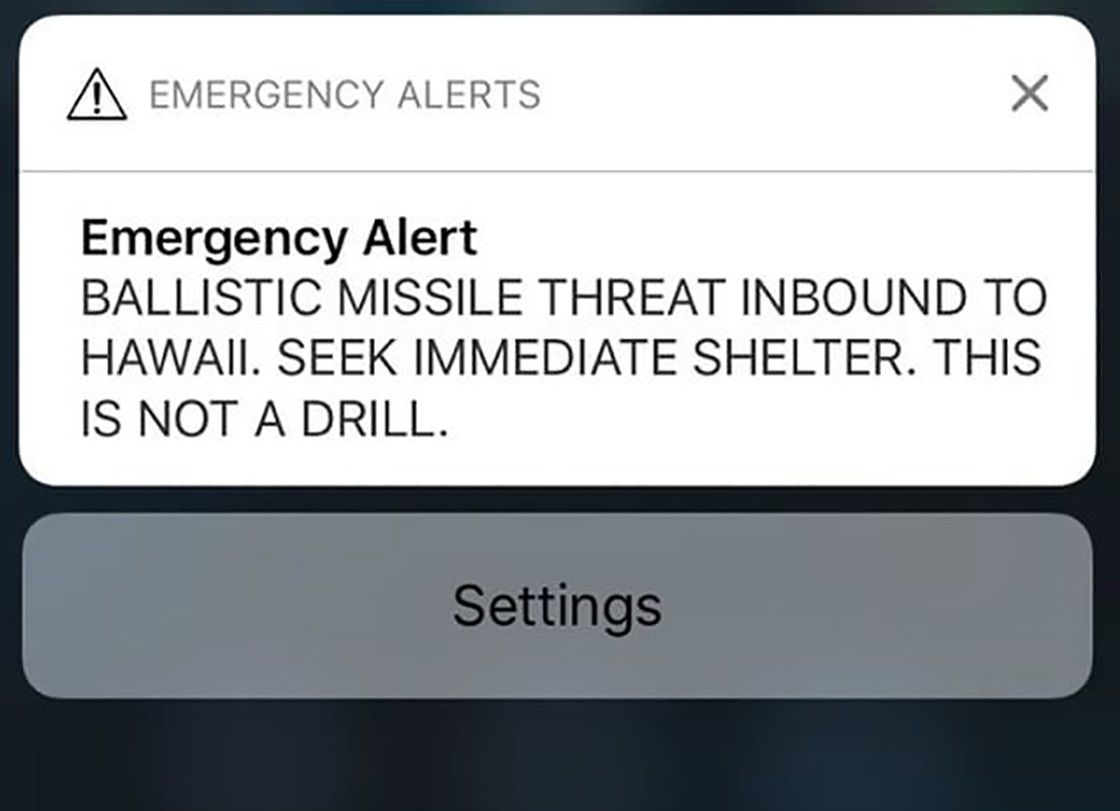 Hawaii's emergency management agency knew for years that the worker who caused panic across the state after sending out a false missile warning earlier this month had difficulties performing his job.
The Hawaii Emergency Management Agency worker had previously mistaken drills for tsunami and fire warnings for actual events, the state said on Tuesday in a release of reports on an investigation into the incident.
The worker's performance was so troubling that colleagues were not comfortable working with him, the state found.
Despite their concerns, supervisors allowed the employee to keep his job, even though his position had to be renewed each year, the Associated Press reported.
On January 13, the agency erroneously issued alerts to cellphones and broadcast stations across the state warning thousands of people that they were about to be struck by a nuclear attack.
After causing pandemonium that saw Hawaiians scrambling for safety and preparing for imminent death, the agency took nearly 40 minutes to retract the false warning, which came at a time of heightened fears over the nuclear threat from North Korea.
Hawaii Governor David Ige has previously said he was unable to communicate that there was no missile threat earlier because he could not remember his Twitter password.
Read more: Hawaii missile phone message terrifies state but is false, officials say
A Federal Communications Commission (FCC) report found that the worker responsible for the alert had genuinely believed an attack was imminent.
The FCC said it was told the employee thought the threat was real due to a mistake in how the drill was initiated, according to the FCC. He said he hadn't heard the word "exercise," despite others being able to hear it when it was repeated several times.
"The day shift warning officer heard 'this is not a drill' but did not hear 'exercise, exercise, exercise'," the report states. However, it adds that the FCC had not yet been able to interview the officer who triggered the alert and therefore could not confirm he genuinely believed there was a threat.
The state's findings revealed that the agency was plagued by issues that went beyond a single employee, including vague guidelines on how to handle missile alerts, as well as workers not being required to get any approval before sending out alerts. The agency also appeared to lack preparation on how to handle the situation in the event of a false alert.
The FCC said a "combination of human error and inadequate safe guards" contributed to false alert mishap on January 13.
The agency's administrator Vern Miyagi resigned as reports on the incident were released. Officials said the employee that sent out the alerts and whose identity has been kept anonymous, had already been fired on Friday.
A second worker also quit before disciplinary action could be taken, while another was suspended without pay, AP reported.
Ige has asked the Hawaii National Guard's deputy commander to prepare another report outlining changes that need to be made to improve the emergency system. The first version is expected to be released in two weeks, with a final version to be complete in six weeks.