'First ISIS Recruiter' in Rwanda Shot Dead by Police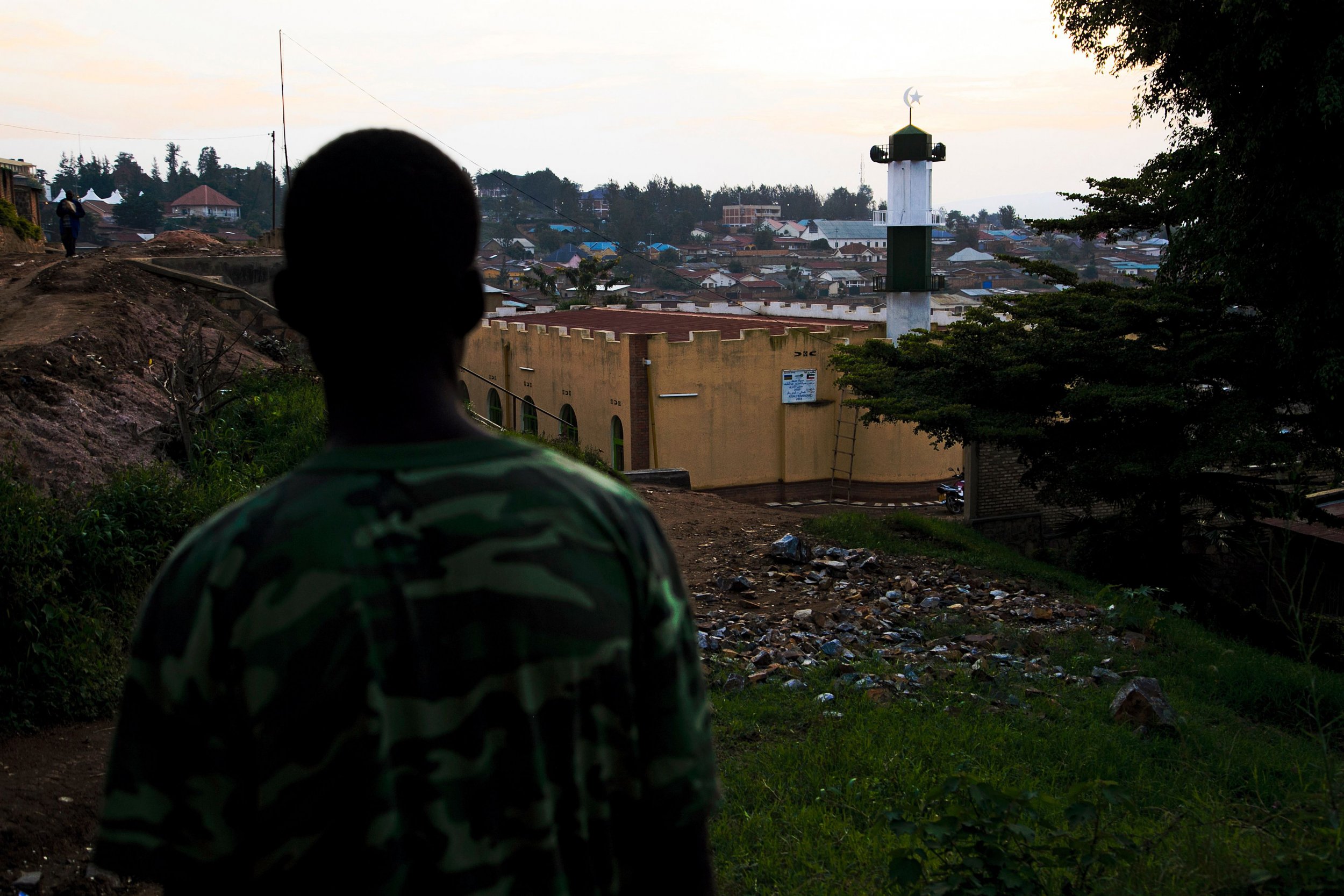 Rwandan police have shot dead a suspected recruiter for the Islamic State militant group (ISIS) in what a police spokesperson described as the first such case in the country.
Muhammad Mugemangango was deputy imam of the Kimironko Mosque in the capital Kigali, according to a statement from Rwanda National Police released on Monday. He was shot dead by officers after attempting to flee a police vehicle when in transit. The statement said that Mugemangango was "under investigations [sic] for mentoring Rwandan youths into jihad and recruiting them to join Islamic State (ISIS) in Syria."
Commissioner Celestin Twahirwa, spokesman for Rwanda National Police, tells Newsweek that this was the first arrest of a suspected ISIS recruiter in the country. "We take it to be an isolated case and it doesn't have much threat so far," says Twahirwa, who adds that no other suspects from the Kimironko mosque are currently under investigation.
The police statement added that Rwandan police had "detected formation of terror networks and we will do our best to unmask the network [sic] and deal with them in accordance with the law." Twahirwa, however, downplayed the danger posed by such networks. "There is no threat at the moment," he says.
Mugemangango was being held at Kanombe police station "on suspicion of involvement in terrorist activities," the statement said. He was taken to his residence in Kimironko on Sunday evening and attempted to flee a police vehicle on the way back to the station when police shot him. The statement added that the case remains under investigation.
Bat-el Ohayon, cofounder of sub-Saharan African risk consultancy Afrique Consulting Group, says that Rwanda does not have a history of extremism. She adds that the incident highlights a growing continental trend, whereby ISIS- and Al-Qaeda-affiliated groups are posing an increasing threat to African governments. Examples include Boko Haram, which pledged allegiance to ISIS in March 2015 and continues to be suspected of attacks in Nigeria and neighboring countries, and Somali militant group Al-Shabab, which recently attacked an African Union base housing Kenyan troops and a beach restaurant in the Somali capital Mogadishu.
"Rwanda would be an ideal target for these groups given that it remains an important investment hub for foreign companies and is a regional leader," says Ohayon.
Of Rwanda's population of 12.7 million, just 1.8 percent are Muslim. The vast majority of Rwandans are Christians, with Roman Catholics and Protestants making up 49.5 percent and 39.4 percent of the population respectively. Reuters reported that Rwanda's main Muslim group, Rwanda Muslims, said it would circulate anti-radicalization messages around all the country's mosques.
The group added that it knew of five Rwandan Muslims who had gone missing after traveling to southern Rwanda to preach at universities, but it is not clear if there is any connection between them and Mugemangango.