First Look: 'Flamingo Kid' Musical Starts Performances in Hartford and Debuts Video
The Flamingo Kid, the latest 1980s movie to be adapted into a musical, is now running at the Hartford Stage Company in Connecticut. It has a book and lyrics by Robert L. Freedman, music by Scott Frankel, and choreography by Denis Jones—whose work can be seen on Broadway in Tootsie—and is directed by Darko Tresnjak of Hartford Stage.
A coming-of-age story set in 1963, the movie, which starred Matt Dillon, was a hit with critics in 1984. It tells the story of Jeffrey Winnick, who leaves behind his blue-collar roots for a job working as a cabana boy at the upscale El Flamingo club on New York's Long Island. Winnick falls for Karla, a smart young woman from California. He also falls—in a manner of speaking—for her Uncle Phil, played by Marc Kudisch, who shows him the ropes and a few shortcuts of the business world.
Flamingo features a bouncy score by Frankel that includes the song "Never Met a Boy Like You," an early 1960s-style pop ballad sung by Samantha Massell and Jimmy Brewer.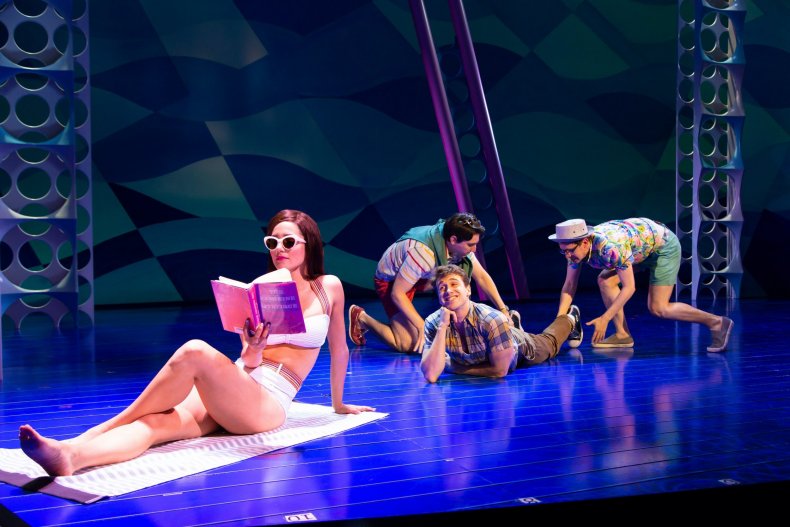 In adapting the movie, the creators say they tried to remain faithful to its spirit. Freedman says, "Luckily for us, The Flamingo Kid movie is fondly remembered by some, but is not so widely known that people will come to the theater expecting a completely faithful recreation." This contrasts to two current Broadway shows, Tootsie—which is very widely known—and Beetlejuice—which has a rabid fanbase.
"Musicals allow characters to express their innermost feelings in songs in a way that films can't," says Freedman. "Moreover, we are telling a story that speaks to an audience in 2019. It's not just a nostalgia trip back in time—though, of course, that's part of the fun."
One aspect of the original screenplay that attracted Freedman to the show was that "the El Flamingo is a Jewish beach club. In the movie, no one is Jewish, or Italian or Irish (all of whom had their own clubs at the time), which is quite a common thing in Hollywood films: to whitewash the ethnicity out of a story. We wanted to make it authentic to the times. In 1963, Neal Marshall was a cabana boy at a Jewish beach club, this is his own coming-of-age story."
Frankel received a Tony Award nomination for Grey Gardens, the haunting story of two eccentric, poverty stricken women in East Hampton, New York. And while Flamingo also tells the story of an outsider and is set in another summer town on Long Island, its score is Grey Gardens' diametric opposite in substance and tone.
Frankel has been a fan of the music of the 1960s: "I'm trying to evoke the sound of the Brill Building, where writers like Neil Sedaka, Burt Bacharach, Carole King and Gerry Goffin wrote songs and pitched them to music publishers and recording artists. For the character of Phil Brody, I had the swingin' sounds of Bobby Darin in my ear. In the second act, there is a dance number at the El Flamingo club that consciously evokes Little Richard. Other elements of the score have a more 'classic musical theater' sound."
Freedman adds, "Some of the score both evokes and comments on 1963, as well as the craze for Latin dancing."
Freedman was also "very attracted to the beach club milieu. The El Flamingo in the show is a haven for Long Island Jews who were restricted from the other clubs. I love the opportunity to celebrate the culture and the personalities that I recognize so well (even though I was raised in Los Angeles)."
He felt particular empathy with Flamingo's emotional story about fathers and sons. "There's a lot of my own working-class father and my mother in the musical," he says. "The need to rebel and form your own identity apart from your parents is a universal struggle that everyone can relate to."
"At its center," says Frankel, "it is a triangle between a father, a son and a surrogate father figure, a seductive character who suggests that one can get rich quick without paying your dues and without being honest. So it's also a morality tale, in some ways.
"The struggle for any teenager to become an independent adult involves rebelling and questioning your parents' values as you wrestle with your own. That seems pretty universal."
Finally, The Flamingo Kid will be the last show directed by Tresnjak at Hartford Stage, where he served as artistic director for eight years. During his tenure, he directed two musicals that have gone on to Broadway: the Tony award–winning A Gentleman's Guide to Love and Murder— for which Freedman also wrote the book—and Anastasia, which had a book by Terrence McNally, with music by Stephen Flaherty and Lynn Ahrens.
Tresnjak says he will be busy. He plans to "check up on all the international productions of Anastasia. And, in addition to The Flamingo Kid, I'm working on two new musicals. I'm writing the book and lyrics for a ribald chamber musical. I'm collaborating with composer Oran Eldor. Additionally, Robert Freedman, Scott Frankel and I have been working on a musical based on a seminal horror novel."
He also says he hopes people will come to support Melia Bensussen, the incoming artistic director, and her vision. "Theaters are not museums. Productions don't hang on the walls in perpetuity. As artistic directors, we curate a living, real-time exhibit, and change should always be celebrated," he explained.
The Flamingo Kid is now running at the Hartford Stage. For more information go to HartfordStage.org