First-Time Mom at 50 Opens Up About Infertility and Failed Rounds of IVF
After several years of trying, and numerous disappointments, Sandi Savage, author of the soon-to-be-released memoir Savage Path, stayed strong and believed she would one day become a mom. But, little did she know that she would become the proud mother of a beautiful baby daughter, at the age of 50!
Sandi and her husband Tim, from Lexington, Kentucky, welcomed their daughter Josephine Jane, named after Tim's grandmother and Sandi's mother, last August, and have since had their happily ever after.
But the road to this happy moment for the couple was long and hard. "My husband and I got married late in life, I had my 40th birthday on our honeymoon, and the next year I was diagnosed with breast cancer," she told Newsweek.
"So that began our process of talking to the doctors about our fertility, because we did want children and knew that we had to put it on hold to go through surgeries and chemotherapy and that kind of deal."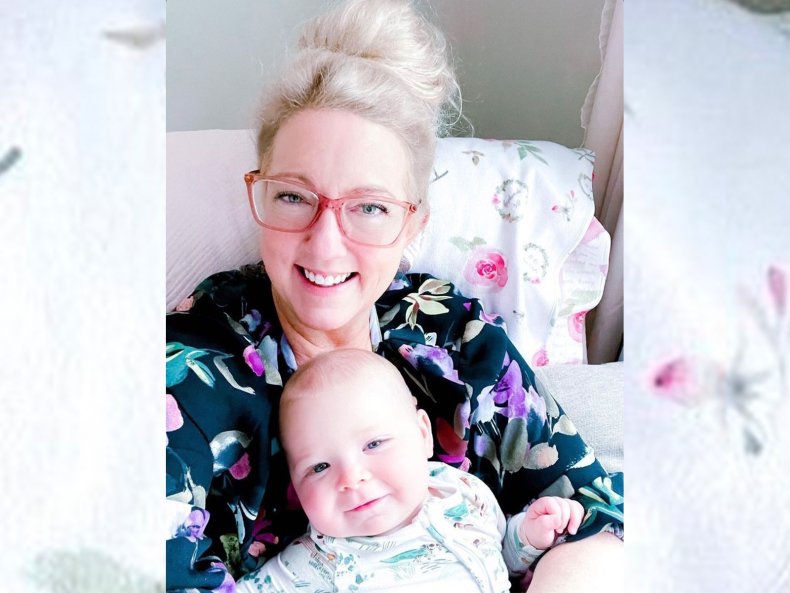 Data published by the Centers for Disease Control and Prevention (CDC) shows that each year in the United States, about 264,000 cases of breast cancer are diagnosed in women and about 2,400 in men.
Of those affected, according to the study, about 42,000 women and 500 men in the U.S. die each year from breast cancer.
Sandi spent the next year in and out of hospitals, adding: "I had a lumpectomy, a double mastectomy, went through some rounds of chemo and then healed from that, and the doctors cleared us to be able to start trying to have children, so we started to try but I was not getting pregnant."
The couple spoke to numerous fertility doctors and started the process of retrieval, in order to create an embryo and go through IVF, but after multiple rounds it still wasn't happening for them, until one day, out of the blue they received the biggest blessing.
Sandi said: "My husband's brother's wife offered to become our gestational carrier. So she started the process of transferring our embryos and one took."
According to Sandi, her sister-in-law, Alyssa, 36, who already has two kids with her husband, approached them one day saying she felt ready to carry a child and asked: "Would you please let me carry my niece or nephew for you?"
The couple warned Alyssa this wasn't going to be an easy journey, that she would have to take loads of medicines and face long travels since their fertility doctor was out of state, but she was determined to bring her niece into this world and didn't hold back.
And so the couple and Alyssa began the process and transferred their embryo into the sister-in-law to safely carry for the next nine months. She said: "It was beautiful. She was so amazing, and I'm so thankful that she asked because it wasn't on our radar for anyone else to try and carry for us."
The US Department of Health and Human Services says that fertility usually declines with age in both men and women, but the effects of age are much greater in women.
Women in their 30s are about half as fertile as they were in their early 20s, and their chance of conception declines significantly after age 35.
But according to Sandi, there are so many things that I think are different about being an older mother, and while some things are harder, some other things are easier.
"I've lived a lot of life previous to becoming a mother, and so I'm able to take that life experience, that is wisdom on my part, and understand how to raise her in a way that she's strong and independent."
She stressed the fact that being an older couple they were also way more stable, in many aspects of life, including financially, which can be very hard nowadays for younger people. "She's having the benefit of being born into a stable environment."
The biggest drawback for the new mom is how physically demanding motherhood is. "It is physically demanding to have a newborn when you're over 50 years old. So getting up at night and all of that, I have to make sure that I'm really taking care of myself and being as healthy as possible, so that I have the energy to care for newborn."
Sandi describes her daughter as a "wild, wonderful, sassy child", saying she's very intelligent and an overachiever. "She is hitting milestones about a month and a half earlier than she should be, so she is a beautiful handful."
Talking about how mentally and physically challenging the whole process was, and how much faith in it you need to have, she recalled an episode from a few years ago.
"About four years ago, my husband did a Facebook Live and said we're believing for our daughter and we're going to name her Josephine after my grandmother, and we know that this is going to happen." And it did indeed happen!
The biggest advice that Sandi gives women in a similar position to hers, is to find a fertility doctor they're comfortable with, as they're going to spend a lot of time together.
"I looked through and spoke to multiple doctors until I found a doctor that I was comfortable with, that would come alongside us in our journey because I didn't know how long it was going to take. And so I knew if there was a doctor that I was going to be communicating with and dealing with for five years, I needed to have a good relationship with him."
She also said you have to be mentally and physically ready for this and be sure this is the path that you want to take, "there's a lot of medication and a lot of injections."
And lastly, she said it's very important to keep trying, as this doesn't always happen on the first try, "I know women who went through 13-14 transfers before they were able to have their child. So even though it's hard, keep at it if that is the desire of your heart."