Five Key Takeaways From Joe Biden's DNC Rally Speech in Maryland
President Joe Biden delivered an often impassioned speech at a Democratic National Committee (DNC) campaign rally in Rockville, Maryland on Thursday where he touted his administration's achievements.
The president offered more strong criticism of the Make America Great Again (MAGA) movement and former President Donald Trump in a speech that marked Biden's return to the campaign trail ahead of the midterm elections.
Biden warned that a lot is at stake in November's elections as Republicans seek to retake the House of Representatives and the Senate but he also appeared to dismiss GOP criticism of his administration on issues such as inflation.
Here are five key takeaways from Biden's speech.
1. A Lot at Stake on the Ballot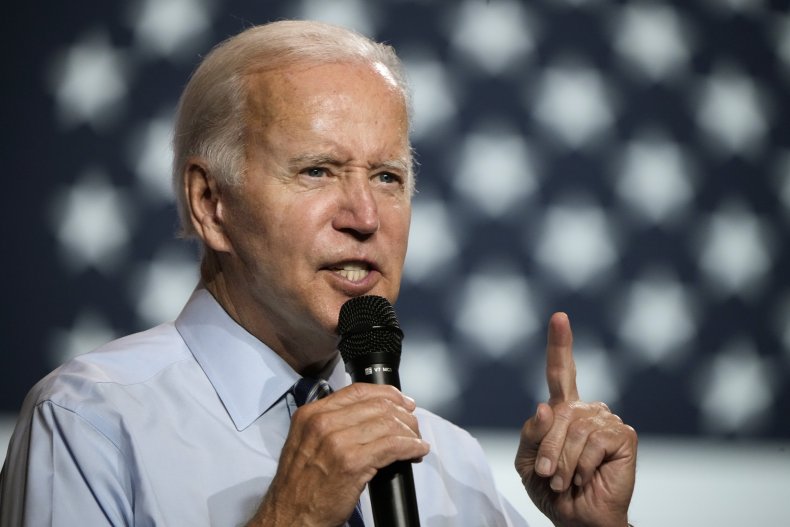 President Biden warned his audience on Thursday that major issues were on the ballot this November and said he wanted to be "crystal clear" about what those issues are.
"Your right to choose is on the ballot this year," the president said. "The Social Security you paid for from the time you had a job is on the ballot. The safety of your kids from gun violence is on the ballot."
"And it's not hyperbole—the very survival of our planet is on the ballot. Your right to vote is on the ballot. Even the democracy. Are you ready to fight for these things now?" Biden asked the crowd.
2. MAGA Republicans
Biden took aim at the former president and MAGA Republicans, as he has in the past, but he also made an appeal to conservatives.
"In 2020, you and 81 million Americans voted to save our democracy," the president said.
"That's why Donald Trump isn't just a former president. He is a defeated former president," he said.
Biden urged people to vote in order to "literally save democracy again" in a likely reference to the so-called "Big Lie"—unfounded claims by former President Trump and his allies that the 2020 election was stolen from him.
The president went on to say that Trump and Republicans "have made their choice to go backwards, full of anger, violence, hate and division."
Biden mentioned Maryland's Republican Governor Larry Hogan, saying he was in the mainstream. Hogan has been a strong critic of Trump.
"I respect conservative Republicans. I don't respect these MAGA Republicans folks," the Biden said.
3. The Economy
Biden also focused on economic issues, touting jobs numbers.
"Ten million new jobs more than we've ever created before at this point in anyone's presidency, 3.5 percent unemployment rate, a near record low in the history of this country. A 15 percent drop in child poverty compared to two years ago and more than 220 million Americans vaccinated. Record small business creation," he said.
"A big reason for all this is the American Rescue Plan that I signed into law shortly after I took office with the help of your members of Congress," the president said.
Biden went on to highlight the recently passed CHIPS Act, calling it a "groundbreaking law." He said semi-conductors would be produced in the U.S. again and the new law would create tens of thousands of construction jobs and billions in investment.
The president also touted deficit reduction and criticized Republicans for not voting in favor of the Inflation Reduction Act.
4. Inflation and Gas Prices
The cost of living, highest inflation rates since the 1980s and elevated gas prices have been persistent problems facing the administration for months but the president appeared to bat away criticism about the cost of living on Thursday.
"Our critics say inflation," Biden said. "You mean the global inflation caused by the worldwide pandemic and [Russian President Vladimir] Putin's war in Ukraine?"
"We're making progress," the president said. "Since I took office this year, gas prices are down more than a dollar this summer and we're gonna keep it going down."
5. Abortion and Social Security
As part of his criticism of Republicans, Biden said that the GOP threatens both abortion rights and Social Security. He highlighted Republican efforts in several states to restrict abortion rights since the Supreme Court overturned Roe v. Wade in June.
"Just take a look at what happened since the Supreme Court overturned Roe v. Wade," Biden said. "In red state after red state, there's a race to pass the most restrictive abortion limitations imaginable, even without exception for rape or incest."
"But these MAGA Republicans won't stop there," he said. "They want a national ban, they want to pass a legislative national ban in the Congress. If the MAGA Republicans win control of the Congress, it won't matter where you live. Women won't have the right to choose anywhere. Anywhere. Let me tell you something. If they take it back and they try and pass it, I will veto it."
Biden touched on Social Security as he had toward the beginning of his address.
"Everybody thinks I'm exaggerating when I say this, but they're coming after your Social Security as well," Biden said. "And you think I'm kidding. Go read the only election year plan the Republicans have put out."
He was referring to an agenda written by Senator Rick Scott from Florida, chairman of the National Republican Senatorial Committee (NRSC). That agenda included an idea that would require Congress to renew Social Security every five years. Scott's agenda is not the official position of the GOP, however, and Senate Minority Leader Mitch McConnell has reportedly warned the agenda could harm the party's electoral chances.
"That's your money," Biden said. "You pay for it. You pay for it."