Senator Susan Collins paved the way for an easy Supreme Court confirmation for Judge Ketanji Brown Jackson on Wednesday after the Maine Republican announced she'd be the first GOP vote to back President Joe Biden's nominee.
Despite a contentious Senate hearing last week—in which Republicans grilled Jackson on her record and history as a public defender—there are five potential GOP senators who might still join Collins in voting for Jackson's nomination.
Among these senators are Lisa Murkowski of Alaska, Mitt Romney of Utah, Roy Blunt of Missouri, Rob Portman of Ohio and Richard Burr of North Carolina.
Murkowski was among the three Republican senators who backed Jackson when she was nominated to the D.C. Circuit Court of Appeals last year—along with Collins and Lindsey Graham—but she has said that her prior support should not be used as an indicator as to how she'll vote next Monday.
Murkowski has also pushed back against the line of questioning from her Republican colleagues on the Senate Judiciary Committee, saying that while Jackson's record on child pornography cases is "worth looking into," it would only be a major factor if it's a "pattern."
"If it is an issue of…one-offs that have been hyped into more than that, I think that's something we need to try to discern," Murkowski told Politico last week.
Romney, another moderate Republican, could also join Collins in supporting Jackson.
While he opposed Jackson's nomination to the appeals court, he has also spoken out against his Republican colleagues for their criticisms of Jackson during last week's hearing, calling the attack on the nominee "off course" and saying "my heart would like to be able to vote for her confirmation."
Romney has yet to reveal his vote, but said last Tuesday that he "enjoyed" his meeting with Jackson and that "her dedication to public service and her family are obvious."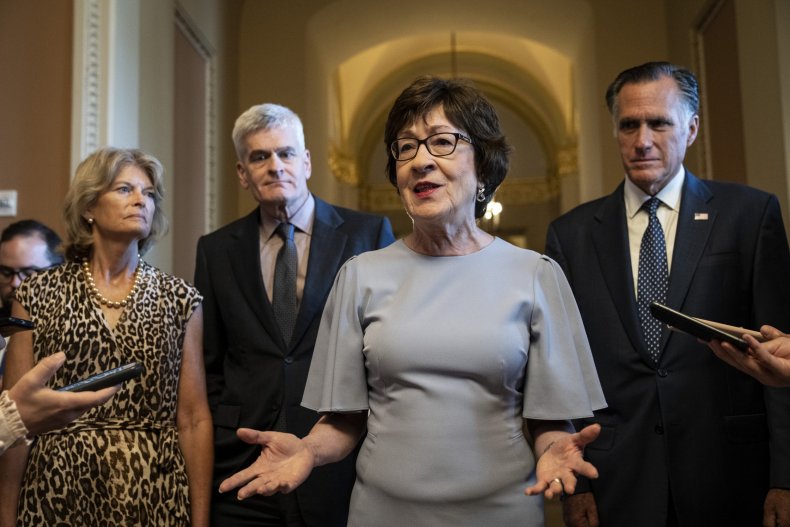 Another potential win for Jackson may come from Missouri's senior senator.
Although the state's other senator, Josh Hawley, who sits on the Senate Judiciary Committee, seems like a guaranteed "no" on the nominee, Blunt, who is retiring and thus not running for re-election this year, has said he doesn't want to rush his decision that that he'd "really like to vote for the first Black woman to go on the court."
But Blunt added that his decision will ultimately come down to Jackson's "view of what the court does and their view of what the law is all about."
The senator has a history of working on bipartisan efforts. He was one of five Republicans who worked closely with the White House to compromise on infrastructure last year and has one of the higher rates of agreement with Biden, voting with him 57 percent of the time, according to FiveThirtyEight.
Portman, who is even more likely to vote with Biden, at 68 percent of the time, could also vote for the historic confirmation.
While he's said that Jackson doesn't share his judicial philosophy, the retiring senator believes "she's a qualified person" and that he "liked" her when he met with her on the Hill earlier this month.
Burr, who is also retiring after this Congress, will be another vote to watch.
The North Carolina Republican typically votes along party lines but did surprise during former President Donald Trump's second impeachment trial when he voted to convict.
Burr met with Jackson on Tuesday, with questions about expanding the Supreme Court, but the senator has not alluded to how he will vote.
While Republican votes for Jackson remain up in the air, Senate Judiciary Committee Chairman Dick Durbin, a Democrat, said he's "still hopeful" there could be bipartisanship support behind the first Black woman nominated to the Supreme Court.
"I still think there's a chance," Durbin told reporters last week.
Collins' Wednesday announcement means Jackson will have the guaranteed simple majority needed to join the high court.
While it remains unclear how moderate Democrat Senator Kyrsten Sinema will vote, Senator Joe Manchin has already stated he would vote for Jackson's nomination.
Sinema is known not to preview her votes, but the Arizona senator has been supportive of the president's judicial picks so far. Of the 42 federal judges confirmed by the Senate last year, Sinema did not vote against a single one.