Ketanji Brown Jackson Only Has 1 Other Obstacle After Manchin Backing
All eyes are now on Democratic Senator Kyrsten Sinema of Arizona ahead of the Senate's vote on Supreme Court nominee Ketanji Brown Jackson's confirmation.
Sinema could be the last obstacle for Jackson after Senator Joe Manchin announced on Friday he intends to vote "yes" on Jackon's appointment to the bench.
The two moderate Democrats have opposed some of President Joe Biden's key priorities and have the power to sink Jackson's nomination in the 50-50 split Senate, where a simple majority is all that's needed to confirm a Supreme Court justice.
Manchin described Jackson's record and career as "exemplary."
"After meeting with her, considering her record, and closely monitoring her testimony and questioning before the Senate Judiciary Committee this week, I have determined I intend to vote for her nomination to serve on the Supreme Court," the West Virginia senator said in a statement.
Newsweek reached out to Sinema's office for comment but her team said that the senator doesn't preview her votes.
The good news for Democrats is that Sinema, like Manchin, has been a reliable supporter of Biden's judicial picks so far. The two did not vote against any of the 42 federal judges who were confirmed by the Senate last year.
Sinema met with Jackson on March 10, describing their meeting as "productive."
"As I promised Arizonans, I am carefully considering Judge Jackson's nomination," Sinema said in a statement at the time. "Today, we had a very productive meeting and I welcomed hearing directly her belief in the importance of an independent judiciary, her judicial philosophy, and her approach to precedent. I look forward to watching her nomination hearings ahead of a Senate vote."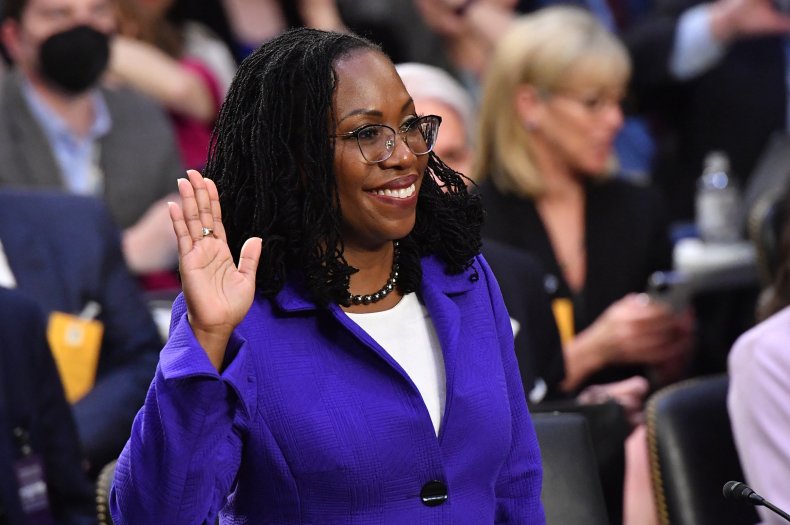 Jackson, if confirmed, will be the first Black woman to serve on the Supreme Court in its 233-year history.
Jackson faced confirmation hearings in the Senate Judiciary Committee this week, where she was questioned on her record, her judicial philosophy and her previous work as a public defender.
After the hearings wrapped on Thursday, Senate Minority Leader Mitch McConnell formally announced he couldn't support her. The Republican leader cited her answers to questions about adding seats to the Supreme Court as part of the reason for his decision.
It remains unclear if Jackson will see any GOP support. When she was confirmed to a federal appeals court last year, three Republican senators supported her: Susan Collins, Lisa Murkowski and Lindsey Graham. But Graham sparred with Jackson during her confirmation hearings and had publicly lobbied for Judge J. Michelle Childs to be nominated by Biden to replace retiring Associate Justice Stephen Breyer.
The Senate Judiciary Committee is expected to vote to advance Jackson's nomination by April 4. The matter will then go to the full Senate, where Majority Leader Chuck Schumer plans to have a vote before the Easter recess.