Joe Manchin to Vote for Ketanji Brown Jackson, Likely Securing SCOTUS Seat
Senator Joe Manchin intends to vote for Supreme Court nominee Ketanji Brown Jackson, he announced on Twitter Friday, likely securing her historic confirmation to the bench.
The West Virginia Democrat said that his decision came after meeting with Jackson, considering her record and watching her testimony before the Senate Judiciary Committee.
Because the Senate is split 50-50 between Democrats and Republicans, securing the vote of moderate Democrats like Manchin has been seen as crucial for Jackson's confirmation. A tie vote on the nomination would be broken by Vice President Kamala Harris.
Manchin said in a statement that the responsibility of considering and consenting to a Supreme Court nominee is one "I take very seriously" and that he has determined that he intends to vote in favor of Jackson.
"Judge Jackson's record and career are exemplary," he said in the statement before outlining some of her past work and achievements.
"Her wide array of experiences in varying sectors of our judicial system have provided Judge Jackson a unique perspective that will serve her well on our nation's highest court," Manchin said.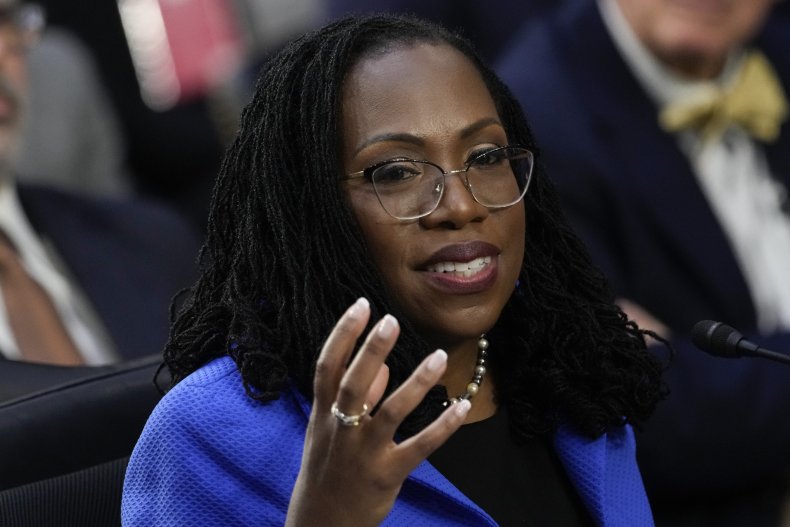 The senator said that Jackson was "warm and gracious" when they met. He praised her temperament, which he said makes her an "exceptional jurist," as well as her "deep love" of West Virginia and "commitment to public service."
"I am confident Judge Jackson is supremely qualified and has the disposition necessary to serve as our nation's next Supreme Court justice," his statement said.
Fulfilling his promise to nominate a Black woman, President Joe Biden selected Jackson to replace retiring Justice Stephen Breyer, who announced in late January that he would be stepping down
Securing Manchin's vote was a major victory for Jackson and the Biden administration after she faced several days of tough questioning before the Senate Judiciary Committee this week.
Several Republicans criticized her handling of child pornography cases, and she was asked at one point how she would define what a woman is.
Amid the tough questioning by several Republicans, Jackson also received strong support from several Democrats. Senate Judiciary Committee Chairman Dick Durbin, a Democrat, condemned the way some of the GOP members handled the hearing and their treatment of Jackson, calling it "unfair, unrelenting and beneath the dignity" of the Senate.
New Jersey Senator Cory Booker, also a Democrat, said on the first day of the hearings that he felt a "sense of overwhelming joy" at the prospect of Jackson's nomination.
"This is not a normal day for America. We have never had this moment before," he said.
The committee will vote April 4 on Jackson's nomination, which will then be considered by the full Senate.
The promise of Manchin's backing came after Senate Minority Leader Mitch McConnell announced Thursday that he "cannot and will not support" Jackson's nomination.
Update 03/25/22, 11:10 a.m. ET: This story was updated with additional information and background.