Justice Stephen Breyer Is Retiring, Opening Up a Spot for a Joe Biden Nominee
Associate Justice Stephen Breyer plans to retire at the end of the U.S. Supreme Court's current session, granting President Joe Biden the opportunity to make his first nomination to the high court.
NBC News was first to report on Breyer's retirement decision on Wednesday.
Biden told reporters Wednesday afternoon that he will have "more to say later" about Breyer's retirement once the associate justice makes an official statement.
"There has been no announcement from Justice Breyer — let him make whatever statement he wants to make, and I'm happy to talk about it later," Biden said.
Breyer, who was nominated by former President Bill Clinton, joined the court in August 1994. At 83, he is one of only six justices who continued to serve on the court after reaching that age since the 1950s.
Breyer has faced calls to retire since Biden took office last year. Progressives pushed for Breyer's retirement when the balance of the court shifted as three justices were confirmed during former President Donald Trump's time in office.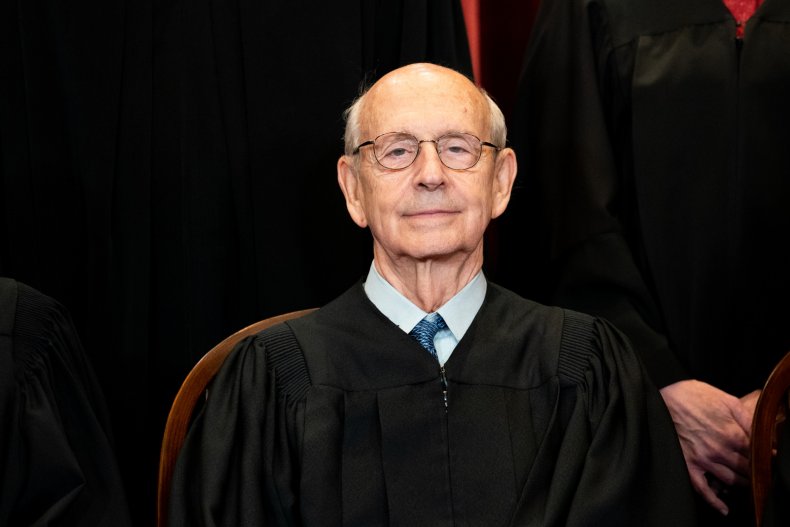 Last year, several members of Congress publicly said they wanted to see Breyer retire before the 2022 midterm elections so that the Senate, which currently has a narrow Democratic majority, would have an opportunity to confirm a Biden nominee. While Democrats currently have control of both chambers of Congress, the party's majority in each is tenuous and could flip to the Republicans following the upcoming election. The loss of a Democratic majority in the Senate could make confirming a Biden Supreme Court nominee more difficult.
"If he's going to retire, it should be sooner rather than later if you are concerned about the court, because what happens in the U.S. Senate matters," Minnesota Senator Amy Klobuchar said during an interview with CNN last summer.
Representative Ted Lieu of California also said Breyer should "retire prior to the midterms" during a June 2021 interview with CNN. "I think that would be best for our country," Lieu added.
As calls for his retirement mounted last summer, Breyer told reporters he hadn't yet made any decisions regarding when exactly he would step away and said those decisions would depend upon both his health and the court itself.
With the associate justice's retirement now imminent, attention turns to Biden, who will be tasked with selecting his first Supreme Court nominee as president. During his campaign for the presidency, Biden said he would nominate the first Black woman onto the bench. Judge Ketanji Brown Jackson, of the U.S. Court of Appeals for the District of Columbia Circuit, and Justice Leondra Kruger of the California Supreme Court, are two of the individuals whom speculation has focused on in discussions about Biden's potential pick, according to The New York Times.
In a Wednesday statement, Joni Madison, the interim president of the Human Rights Campaign, said Breyer was "a brilliant legal mind" and "a champion of liberty and equality."
"The stakes could not be higher for LGBTQ+ people, women, and Black and brown communities when it comes to the next Supreme Court Justice," Madison said, adding that Biden's nominee to fill Breyer's seat will have "big shoes to fill, as they will shape the future of progress on LGBTQ+ equality and play an outsized role in defending the rights and protections that have already been won."
"President Biden has the opportunity to help shape a court that reflects the beautiful diversity of our country," Madison said.
Newsweek reached out to the White House for comment and will update this article with any response.
White House press secretary Jen Psaki addressed the news of Breyer's retirement in a tweet posted Wednesday afternoon.
"It has always been the decision of any Supreme Court Justice if and when they decide to retire, and how they want to announce it, and that remains the case today," Psaki tweeted. She added the White House had "no additional details or information to share" at that time.
After the news about Breyer's retirement broke, Democratic Senate Majority Leader Chuck Schumer, released a statement about Breyer's retirement that described the associate justice as "a model jurist" who has served the U.S. "with the highest possible distinction."
"He embodies the best qualities and highest ideals of American justice; knowledge, wisdom, fairness, humility, restraint," Schumer said. "His work and his decisions as an Associate Justice on the biggest issues of our time—including voting rights, the environment, women's reproductive freedom, and most recently, health care and the Affordable Care Act—were hugely consequential. America owes Justice Breyer an enormous debt of gratitude."
Schumer concluded his statement by saying Biden's nominee to fill Breyer's seat on the court "will receive a prompt hearing in the Senate Judiciary Committee and will be considered and confirmed by the full United States Senate with all deliberate speed."
Update 1/26/22 2:01 PM ET: This story has been updated with comments from President Joe Biden.
Update 1/26/22 1:36 PM ET: This story has been updated with additional information and background.