Stephen Breyer Turns 83 Amid Push From Democrats to Retire Before Midterms
U.S. Supreme Court Associate Justice Stephen Breyer celebrates his 83rd birthday on August 15, becoming only the sixth justice among those appointed since the 1950s to reach that age while actively serving.
Breyer was appointed to the high court by former President Bill Clinton during the mid-1990s and marked 27 years on the bench earlier this month. Though Breyer is seven years younger than the oldest justice to serve on the court—a record held by Oliver Wendell Holmes, Jr., who was 90 at the time of his retirement—progressives have frequently called upon Breyer to retire since President Joe Biden took office in January.
Speaking with CNN last month, Breyer said he hadn't yet made any decisions regarding when he would retire and added those decisions would be based on his health and the court itself.
The push by progressives for Breyer's retirement comes at a time when the court is dominated by conservative-appointed justices. With a Democrat now in the White House, some progressives are eager for Breyer to give up his seat before the 2022 midterm elections. If he does, it would open up the door for Biden to appoint a younger justice—whom Biden has previously said could become the first Black woman on the court—while Democrats have a majority in the U.S. Senate.
Six of the Supreme Court's current justices were appointed by Republican presidents. After former Associate Justice Ruth Bader Ginsburg's death last fall, Breyer became the final holdout from the Clinton era, with justices Sonia Sotomayor and Elena Kagan both appointed during former President Barack Obama's time in office.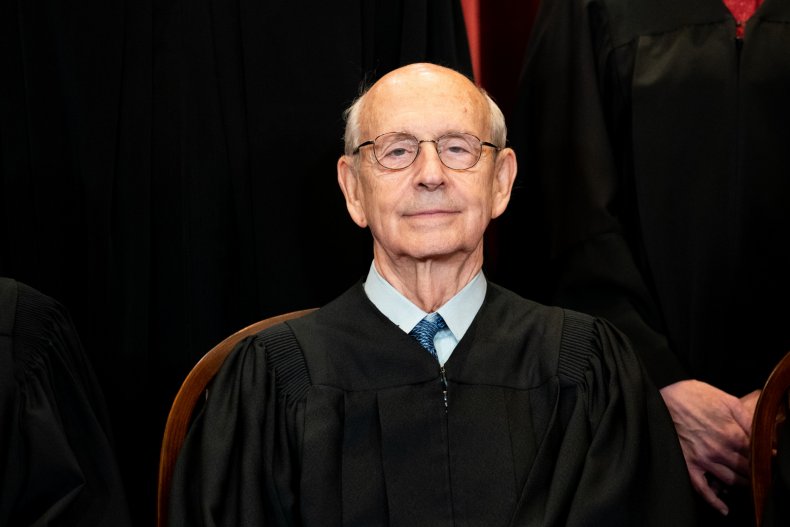 Ten years stand in between Breyer and Associate Justice Clarence Thomas, who at 73 is the second oldest justice on the court.
Ginsburg's death at 87 in September 2020 sent a shock wave through the progressive wing of the Democratic Party. Often heralded as an icon among liberals, Ginsburg's passing paved the way for former President Donald Trump to name a third new justice during his single term in office, bringing the court to its current lineup. Trump's pick, Amy Coney Barrett, is the court's youngest member at 49.
Pressure began mounting on Breyer this spring ahead of the court's summer recess, a time some justices have in the past chosen to make retirement announcements. Anthony Kennedy, who was appointed to the court by former President Ronald Reagan, was the most recent justice to do so when he retired at 82 in the summer of 2018.
As The New York Times explored last month in an article about Supreme Court retirements, the three surviving retired justices were all appointed by Republican presidents, and all retired before they reached the age Breyer is now. Justices appointed by Democrats and Republicans have died while on the bench, and their retirement ages vary widely, with John Paul Stevens serving as an example of a justice appointed by a Republican, former President Gerald Ford, who became the second-oldest justice to serve in the court's history before he retired at 90.
But with Ginsburg's death still so recent in the memories of American progressives, their concern over the court's lineup has inspired many to try to nudge Breyer toward making an announcement.
In April, the progressive nonprofit Demand Justice initiated a campaign encouraging Breyer to retire that included an online petition and a billboard truck that the organization said would drive around the Supreme Court building in Washington, D.C. In a news release announcing the campaign, Demand Justice referenced previous retirement proclamations by associate justices David Souter, who retired shortly before his 70th birthday in 2009, and John Paul Stevens, who relinquished his seat in 2010 at 90.
Demand Justice's executive director, Brian Fallon, said Breyer was "firmly in the window" in which a retirement announcement could be expected.
"The only responsible choice for Justice Breyer is to immediately announce his retirement so President Biden can quickly nominate the first-ever Black woman Supreme Court justice," Fallon said.
The nonprofit has continued encouraging Breyer to hang up his justice's robes in the months since. In June, it led a group of more than a dozen organizations, including Black Lives Matter and Women's March, in elevating calls for Breyer to leave the bench, citing concern about a potential "even further-right Supreme Court" if a future Republican president were to name Breyer's successor instead of Biden.
In addition to pressures from progressive groups and some legal scholars, Breyer's position on the court has also been a point of focus for some members of Congress. In mid-April, Represntative Mondaire Jones of New York told Cheddar News he believed it was time for Breyer to retire.
"There is no question that Justice Breyer, for whom I have great respect, should retire at the end of this term," Jones said. He then appeared to reference Trump's replacement of Ginsburg's seat last fall: "I mean, my goodness—have we not learned our lesson?"
Two months later, Rep. Alexandria Ocasio-Cortez was asked if she agreed with Jones' opinion during an interview with CNN's State of the Union. Though Ocasio-Cortez said she would need to further consider the question, she said she was "inclined to say yes."
"It's something I'd think about, but I would probably lean towards yes," she said.
Rep. Ted Lieu of California told CNN in mid-June while he acknowledged the timing of Breyer's retirement would be "a very personal decision," he agreed with Jones and Ocasio-Cortez.
"I do believe that he should retire prior to the midterms," Lieu said. "I think that would be best for our country."
Minnesota Senator Amy Klobuchar also recently pointed to the upcoming midterm elections as a potential deadline for Breyer. "If he's going to retire, it should be sooner rather than later if you are concerned about the court, because what happens in the U.S. Senate matters," Klobuchar said last month.
In contrast with speculation among congressional Democrats, the White House has not publicly urged Breyer to hasten his retirement plans. During a press briefing with reporters in April, Psaki said Biden believes the decision is Breyer's to make.
"He believes that's a decision Justice Breyer will make when he decides it's time to no longer serve on the Supreme Court," Psaki told reporters.
Newsweek reached out to the Supreme Court for comment but did not receive a response in time for publication.