Amy Klobuchar Says If Stephen Breyer Decides to Retire From SCOTUS, It Should Be Done Sooner
Senator Amy Klobuchar (D-MN) believes that Supreme Court Associate Justice Stephen Breyer ought to retire "sooner rather than later" if retirement is on his mind.
During a Sunday morning appearance on CNN, Klobuchar declined to speculate on the much-rumored and discussed suggestion of Breyer retiring from the high court, but did offer her perspective on the possibility.
"When you look at the [Supreme Court], [Breyer] has to be concerned about the makeup," Klobuchar said. "And you have to be concerned about how you get a justice on the court with all the manipulation that [Senate Minority Leader] Mitch McConnell has engaged in. So that would lead me to say, sooner rather than later.
"He makes his own decision about if he's going to retire," she continued, "but if he's going to retire, it should be sooner rather than later if you are concerned about the Court, because what happens in the U.S. Senate matters."
Breyer himself told CNN that he has not made any decisions about when he might step down, despite the recent speculation. He also said that he enjoys being the senior liberal justice for the Supreme Court, a role he ascended to after the passing of Ruth Bader Ginsburg in September 2020.
When asked what factors might lead him to consider retirement, Breyer was curt and to the point.
"Primarily, of course, health," Breyer said. "Second, the court."
Breyer, 82, is a 27-year veteran of the Supreme Court, having been appointed in 1994 by former President Bill Clinton. He is typically associated with the Court's liberal wing, alongside Associate Justices Sonia Sotomayor and Elena Kagan. They are currently overshadowed by the conservative faction, made up of Chief Justice John Roberts and Associate Justices Clarence Thomas, Samuel Alito, Neil Gorsuch, Brett Kavanaugh and Amy Coney Barrett.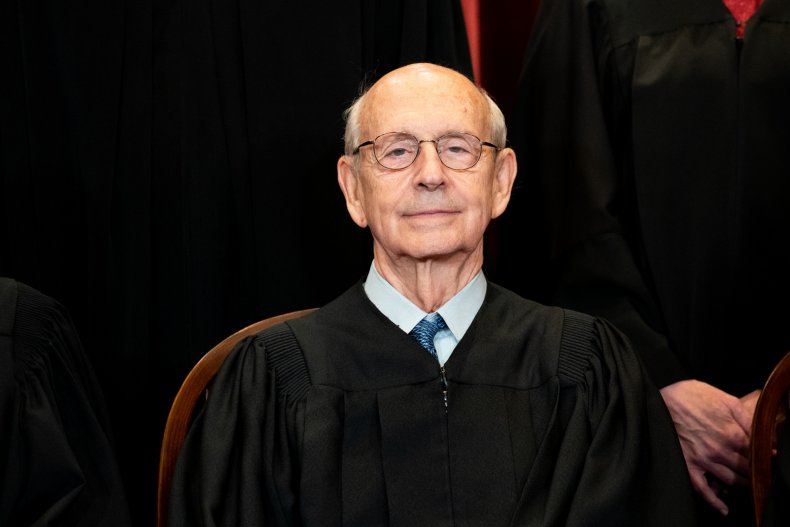 There is persistent concern from Democrats and progressives over maintaining the liberal wing of the Supreme Court after former President Donald Trump filled three vacancies in his single term with Gorsuch, Kavanaugh and Barrett. Allowing President Joe Biden to fill Breyer's seat with a younger, left-leaning justice would help maintain a liberal presence on the bench in the face of the current 6-3 conservative majority.
A progressive group, Demand Justice, led by a former Obama administration official, is launching a campaign calling for Breyer to step down.
Supreme Court justices serve lifetime appointments unless they voluntarily retire.
Newsweek reached out to Klobuchar's office for a statement on the CNN comments but has not heard back at this time.